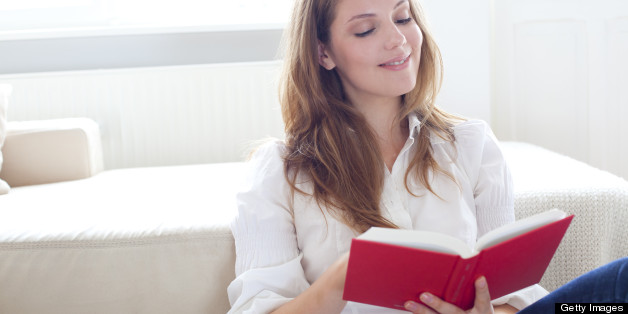 It may seem like a bizarre question to ask, but several recent events have me thinking about it.
It first came to mind when I was reading and reviewing Jon Harrison's excellent debut, The Banks of Certain Rivers for my 52 books in 52 weeks project (where I'm reading, you guessed it, 52 books in 52 weeks). This is one of the better books I've read in a while, and I've been telling everyone I know (and even some I don't) to read it.
The Banks of Certain Rivers is self-published, and this got me thinking of the rise (and rise) of a several self-published authors over the last year or so (Tracey Garvis Graves, Colleen Hoover and Hugh Howey for instance), and the various attempts I've read about how to crack the code of their success. The common theme seems to be: word of mouth.
So the idea of how people choose the books they read, and what role word of mouth (in whatever form) plays in that has been on my mind. And that got me thinking: what does word of mouth mean, really? And, more importantly, how does it work?
When I asked him, Jon Harrison had this to say on the what-does-it-mean front:
For me, word-of-mouth book recommendation means exactly that: someone (a friend, a coworker, the woman who cuts my hair) telling me verbally about some book they read and loved and that I absolutely should check out. I have a friend who's been pestering me for two weeks about a book he recently read and loved; even though his daily 'Have you read it yet??' voicemails are getting annoying, I've made room for it next on my pile.
Author Gwendolen Gross (her most recent is the excellent When She Was Gone, which I also highly recommend) gave me a very similar definition, and thinks that the role of word-of-mouth in publishing:
Is vast. While online advertising, and online bookselling has become a whole new animal, there are still times I want to hear about a book to read from someone I know, in words, out loud. Writing is a solitary act; reading makes it profoundly social. Sharing what we've read, discussing, disagreeing, learning -- it informs how we think about other people's words and other people's lives.
So now that I had a confirmation of the "what", I shifted my focus trying to get a handle on whether word-of-mouth is actually what drives book sales. To try to get some answers to that question, I went to a couple of sources.
The first was my Facebook fan page where I conducted an, admittedly, unscientific poll of how people decide on the books they chose to read.
This is the graphic representation of the results: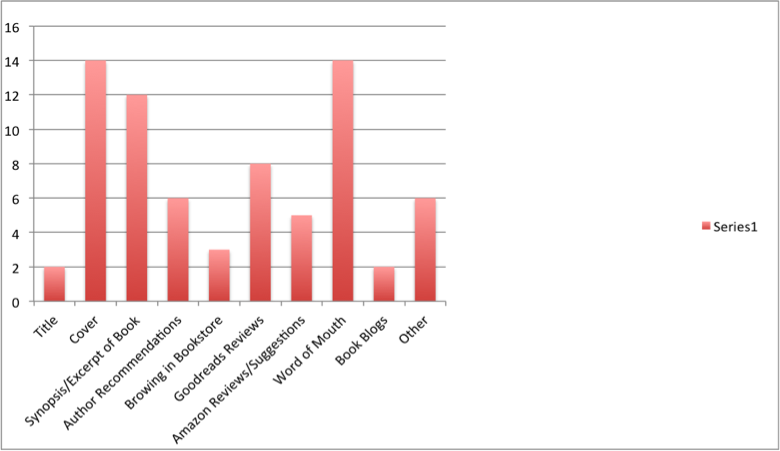 What's interesting -- to me -- here is that while "word of mouth" tied for the top answer in my poll, what it tied with was the book's cover, and the next highest answer was the book's synopsis or an excerpt from it. Clearly, then, the book itself (both the outside and the inside) needs to make a good impression on a reader before they buy it.
Author M.J. Rose (The Book of Lost Fragrances, the upcoming Indie Next Pick Seduction) agrees:
No matter what you do for a book ... advertising, reviews, visibility, great covers, wonderful contests, it all comes down to the reader reading a few pages or the flap copy or the reader reviews. Readers can test drive a book before they buy -- and do. So as much as WOM matters -- nothing matters if the book itself isn't a WOW.
But of course, before a reader can see the outside or the inside of a book, you have to get their eyes on it.
So how do you do that, particularly in a day and age where the obvious places -- bookstores -- are places people spend less time in (and might not even carry the book you want to read)?
There is where we come back full circle to word-of-mouth, I think. But what kind of word-of-mouth?
I asked Tracey Garvis Graves what she thought the most important word-of-mouth tools were for the success of her book, the engaging On the Island, which she self-published before landing a traditional publishing deal on the strength of its success. She said that:
Goodreads, book blogs, and Facebook were the most effective for spreading the word about On the Island. Also Twitter to an extent. Amazon reviews helped a bit, too, but I think readers trust personal recommendations from people they know more than the opinions of people they don't know.
You'll note that she mentioned Goodreads first and it is high on the list in my poll as well. Goodreads would certainly agree. They recently gave a presentation on word of mouth -- and how you can see it show up graphically on Goodreads -- using then self-published author Colleen Hoover's book Slammed as an example. Following the statistics they keep, you see the effect of (a) a giveaway (getting eyes on the book), (b) early reviews (written by book enthusiast who have lots of friends on Goodreads who look to them for recommendations, called 'early influences'), and (c) having enough reviews to turn up Goodreads' book recommendation feature etc. (where Goodreads suggests books to you based on your previous reads.)
Of course, as Garvis Graves points out:
I think there has to be a perfect storm of 'word of mouth,' visibility, and a large number of readers who not only hear about the book, but read it and connect with it as well. It's an elusive combination.
Having read and very much enjoyed both Gross and Harrison's recently released works, I hope that elusive combination materializes for them.
And there's my word of mouth. What's yours?