For the last five summers, I've attended the Jackson Hole Writers Conference in Jackson, Wyoming. Besides the beautiful setting, I always enjoy the conference enormously -- it's a great opportunity to mix with other writers in all stages of their career, and I particularly enjoy the manuscript critiques we on the faculty get to do. Reading the first fifteen pages of 10-15 people's manuscripts is a pretty unique experience for a writer and has given me insight into my own writing.
So, I know why I go to the conference. But I have always wondered why its founder, author Tim Sandlin (Rowdy in Paris, The Grovont Series) keeps running the conference year after year. So I finally decided to ask him and he was kind enough to answer.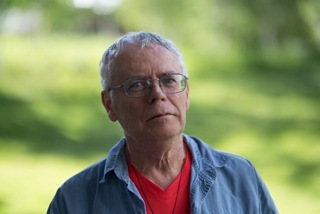 Q. What is the Jackson Hole Writers Conference?
TS: Three days of lectures, workshops, panels, and one-on-one critiques in Jackson, Wyoming, the last weekend in June.
Q. When did you start it?

TS: Twenty-three years ago.
Q. Why?
TS: Because I had written almost every day for over twenty years, but I didn't know other writers and didn't know people with mutual interests. I thought it would be fun to meet the writers I admire most.
Q. What do you think makes your conference special or different?
TS: Our faculty is open and willing to talk to participants. Most conferences guard the agents and editors from the registrants. We do not separate faculty from students. Everyone is equal and everyone talks to everyone else. We do not invite faculty who are unwilling to mingle.
Also, we are the only conference I know of to offer three fifteen-minute one-on-one critiques of each student's work.
Q. What's your favourite part of the conference?
TS: I enjoy all of it, especially the keynote addresses. They are always an inspiration. I come out of the conference every year charged up to write. I also love the student readings on Saturday evening. Many of them are amazing.
Q. Who will be there this year?
TS: The faculty is still being chosen, but we have commitments for Tobias Wolff, Nina McConigley, Jeff Greenwald, Nahid Rachlin, Stefan Block, as well as poets Joe Wilkins and Eric Shaffer. Three agents and three editors are coming from New York.
Q. How do you select the faculty?
TS: As I mentioned before, the faculty consists primarily or writers I want to meet. They must be accessible and kind. We don't do prima donnas. People who run writers conferences talk to each other. It only takes one tantrum to get a famous writer off our list.
Q. You also have "resident faculty" -- faculty that comes back year after year -- why do you do this? What do you think it ads to the conference?
TS: The resident faculty gives us consistency. These people have become a family along with many of the frequent returning registrants. We all look forward to seeing each other every June. The faculty is also the filtered for good readers. Not everyone who can write can critique.
Q. You're teasing a couple of surprises for this year's conference, any hints?
TS: I have no idea what you are talking about.
Q. What are you working on now yourself?
TS: I'm writing my 11th novel. It's called Rowdy in China.
The conference takes place this year from June 25-27th.