God Uses My Hands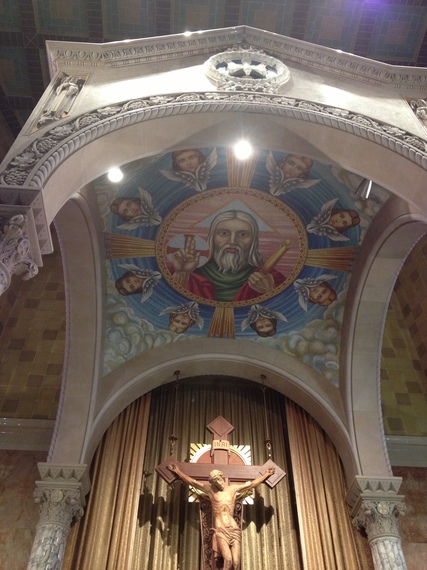 The Father who dwells in me is doing his works. -- John 14:10
My father was a talented professional artist and, at one time, his magnificent religious paintings hung in the reception room at Saint Martin of Tours Church in Philadelphia. There was a painting of Jesus preaching to a crowd displayed alongside his huge murals on every wall, along with hand-lettered passages of scripture. Religious ceremonies were often performed there, particularly christenings, which is why it was referred to as the Baptismal Room. There, the priest baptized babies and young children using water to symbolize purification and consecration of the child's life to God. According to the New Testament, humans come into the world with original sin, making Baptism the first and most important sacrament that cleanses the soul and begins the person's life as a Christian.
Although my father was not very religious, he lived the messages portrayed in his paintings. I'm not sure how aware he was of his dependence on God, if any of us ever is. But looking back, it's as if his basement studio in our home was the true-life baptism for all 17 of us, his children. There we sat, listening to our father's words of wisdom, as he painted and taught us to lead a good life, according to God's laws. It wasn't very different from the way Jesus taught the children in that painting in the Baptism Room, and the way everyone listened to Him. As I came to understand, it's by the Grace of God that we each find our own way to live His message-by hearing only the loving thoughts of God.
The paintings in the church reception room emanated messages of beauty and holiness, and they reminded me of Michelangelo's frescoes in the Sistine Chapel. There were so many important, significant messages in these wondrous works of art, and each was exemplified in the way our father raised us. But I didn't fully appreciate the deeper meaning of these images until much later in life, until I had come through my own time of great sorrow.
When my father painted, we all crowded around him, watching over his shoulders with amazement as the images came to life. I can still recall the scent of the oils and thinners that permeated the house. He used a makeshift light, since the basement had very little natural light. We also had to be very quiet if we wanted to stay and watch him paint, and we listened silently as he taught us life lessons as he dipped his brush in the oils, dabbing the brush so delicately to blend the perfect shades. There was no other sound but his breathing and the brushstrokes as he skillfully applied the colors to the large canvases that took up half the room. Soon the beautiful colors came to life in eyes that seemed to look back at or straight through us. Sometimes I even felt anxious, my heart beating faster, as the characters came to life on the canvas.
"Wow, Daddy, how did you do that?" we would ask in astonishment. But he would simply say, "I don't do anything myself. God does it for me. He uses my hands!" My father had never taken an art class, and he wasn't religious, but somehow he always gave glory to God for everything good in his life. His stories and the messages in his paintings taught us that there is a greater power in us than we are aware of, and his message that God was working through his hands and doing the work for him imparted a wisdom that stayed with me for my entire life.
But most of all, as I matured and found that some of life's greatest lessons are present in the most difficult times, I'd be reminded of my father's words of wisdom, often in some of the greatest spiritual books ever written. During the worst of times, I prayed with all my heart for God to guide me in the same way as He'd guided my father. It took some time before I would see and hear the truth, and this wasn't easy for me, but I kept at it. I wanted to believe, and I wanted to see the beauty and a holier vision of life than the one I'd created for myself.
Another lesson my father taught us was humility and the real spirit of charity. Because the church couldn't afford to pay him what he should have earned for those large, incredibly detailed paintings that took so much time to make, and because the church was so dependent on donations for survival, my father willingly accepted only the small payment they could afford. He considered the painting a donation to support the Catholic Church where his children attended school or received Catechism instruction. This taught us that we could find true wealth and riches in being happy and content with what we had, and that we could bring love and happiness to the world around us. He also told us that the true purpose of his artwork was to reflect the innate beauty in every perspective with what we believe is possible.
Our father also taught us through his way of looking at things, and in looking beyond the immediate circumstances to the true meaning and purpose of everything in our lives. Looking back, I now understand his sacred wisdom, and how richly blessed I was to be his earthly daughter. For truly, we are all children of a King, and when we listen with our hearts, we find that we were long ago given the kingdom, and we eventually understand that our predominant thoughts, words, and feelings have brought us exactly what we have imagined in our hearts.
The earliest churches had stained-glass windows created to inspire us, to lift us up and help us feel God's Presence, through the light that illuminated the beautiful images. Abbot Suger of the Abbey of St. Dennis explained it best, saying that the presence of beautiful objects would lift men's souls closer to God.
Transformation takes place in God's Presence and inspires us to great things, just as the stained-glass artist and my father expressed their love of God in their artwork, which in turn lifts my soul and inspires me to glorify Him even more.
Catherine grew up in Philadelphia with 16 brothers and sisters, reared by loving, old school Italian parents. Catherine's artist father's works graced locations from churches to public buildings; her mother was a full-time homemaker. A professional hairdresser, Catherine worked in various salons while studying the Bible and pursuing spiritual growth through courses, seminars, lectures and inspirational books, including A Course in Miracles and the works of Marianne Williamson among many others. The mother of two children and a grandmother, Catherine lives in Pennsylvania with her husband and son. She is the Author of Imprinted Wisdom.
www.imprintedwisdom.com