"Don't be afraid to fail, because some of your most rewarding blessings come from your hardest failures." -- Kristin Duquette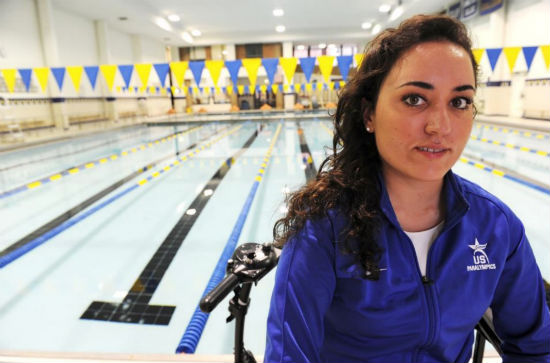 Those were Kristin's concluding thoughts as our interview was coming to an end. I couldn't help but to 100 percent agree with her. She isn't your average young college student. Not only is she a senior at Trinity College but she is a world class swimming athlete that has represented the United States at international meets in Bogota, Colombia and served as U.S. Captain in 2010 at the Greek Open. To take a step further she isn't your average swimmer either. Her uniqueness is the disability she has been bestowed, muscular dystrophy. She is a five-time American Paralympic record holder and three-time Junior National Record holder, and she has participated in a Half-Ironman open ocean swim.
She began swimming at the age of three for fun and began competing at age nine. However, that was the time her life began to take a serious turn. She was diagnosed with a form of muscular dystrophy (FSHD). Kristin describes it as a difficult time where she had to learn how to re-adapt and change her life without letting her disability hold her back of fulfilling her goals and dreams. At age 16 she began to get reacquainted with one of her first loves -- swimming. She retaught herself how to swim, which eventually lead her to become a part of her high school swim team. However, it wasn't as easy as it may sound. Her coach only allowed being on the team if she trained for the 2012 Paralympics. The rest was history.
As a Human Rights major at Trinity, Kristin has used her classroom lessons, personal experiences and assistance from her mentors to continue to promote change for the disability rights movement.
I first read about Kristin via her blog . As I was reading she wrote about her experience organizing a campus project, Trinity's College first-ever Disability Rights Week.
From that, she developed an event, A Day in a Wheelchair. As stated from the project's Facebook page it states, "In an effort to promote an understanding of disability rights as human rights, Kristin Duquette, Sean Snyder and Charley Wedeen have developed an annual event called A Day in A Wheelchair (ADW). ADW places able-bodied students in chairs for 12-48 hour periods with the goal of promoting an empathetic understanding of disabled experiences in a college setting. Combining the wheelchair experience with a structured discussion of disability rights, these students will learn to act as ambassadors for their friends, sports teams, Greek Life Organizations, etc. and help to promote a culture of understanding around disabilities from a critical human rights lens."
Even though she is set to graduate from college soon, she still has plans to make ADW and Disability Rights Week an annual event at her college. After college she has plans to intern on Capitol Hill in the nation's capital and then possibly complete a gap year program. Her career goals and dreams consist of attending graduate or law school and working for the United Nations or Amnesty International while contributing to the disability movement worldwide. Next month we will both travel to St. Louis, Missouri as we will be attending the 2013 Clinton Global Initiative University.
Kristin has gone against the odds and achieved more than the average able-bodied person has and probably ever will in their lifetime. Her story is too inspiring and empowering for me to keep to myself, which is why I want to share it with the world. People like Kristin truly come into our lives for a reason. Her reason is simply to inspire, empower and encourage. As John Mayer sings, "We keep on waiting on the world to change," Kristin isn't waiting for the world to change. Every day she does the most courageous work to make a positive change in the world. She is a great and positive example of a leader who goes above and beyond despite any obstacles or struggles. For that reason alone, she will forever be one of the courageous people that inspire me.