While Sheryl Sandberg is working hard to promote Lean In, her book about what's holding women back in the workforce, many hard-working women are having a hard time "leaning in" on Facebook.

That's because Facebook, which Ms. Sandberg helps run, is very helpful to big businesses with giant advertising budgets, but not to small businesses, which are what 90 percent of women business owners run.

That was the hard lesson Jennifer Flanders learned when the new Facebook page she created for her business -- Jennifer Flanders Design -- was hijacked several weeks ago by a Tunisian hackers.

On March 10, Flanders, an accomplished interior designer with a starring role in an upcoming HGTV show, The Real Designing Women, discovered her page had been hacked by someone calling themselves "darksoul12." Not only that, but the hacker removed her as the Page administrator and replaced her professional cover photo with the banner: "Tunisia-Hacker: We are the Best Hackers."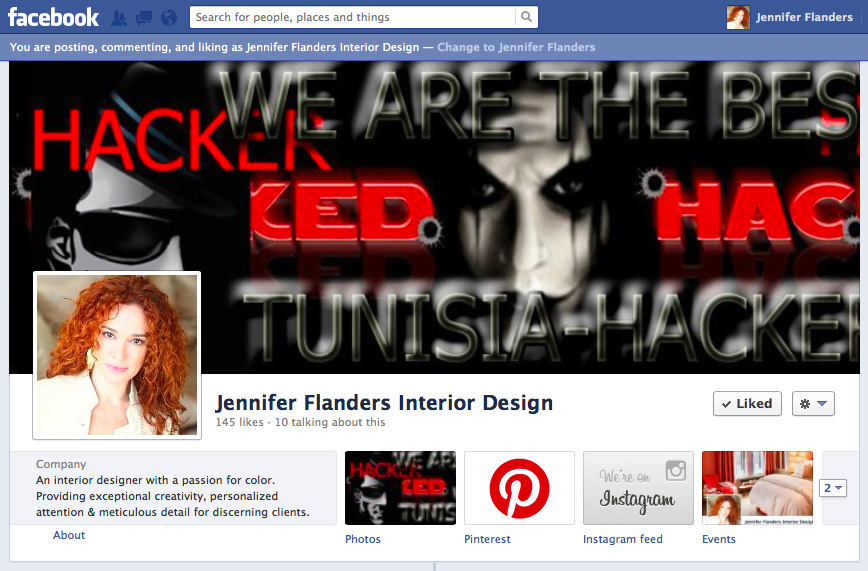 If your personal Facebook account has been hacked there are steps you can take. But, astoundingly, these steps do not exist for your business page.
There is no specific avenue for recovering a hacked Facebook page if you do not have a a large advertising account and therefore your own Facebook sales rep. In spite of filing over 10 "Report a problem with this page" forms (I flagged it and reached out to Facebook too), Flanders has not received any response from Facebook -- no matter how hard she's tried to "lean in" -- because Facebook is seemingly unresponsive to small business owners who are just starting to use Facebook for marketing.
Facebook Help's only advice for page owners who have been removed as administrators from their own Pages is to message the hackers and ask them to make you an administrator again!

The good news is that Flanders' Facebook Page was "returned" to her this weekend, two weeks after she lost access. The bad news is that there is no indication -- no notification, no email -- that Facebook was responsible -- and responsive -- for the return. More likely it was the hacker, who seemed more mischievous than malicious, who simply returned it to her and moved on (thanks, darksoul12!)

Women now own about 30 percent of America's businesses and the overwhelming majority of them run small businesses. If Sheryl Sandberg's own company -- Facebook -- only offers customer service to giant companies, then they are de facto providing women business owners with less customer service. And if Facebook does not provide customer service to smaller companies that are trying to use Facebook to market, they are de facto making it harder for women business owners to lean in.
Sheryl Sandberg's advice -- Lean In -- is a positive and valuable one. It's ironic, however, that the company she helps run makes it hard for women business owners to do just that.