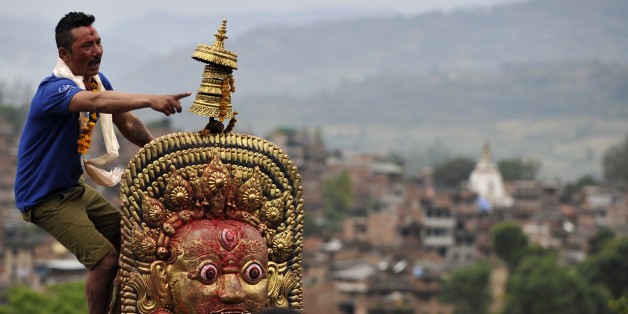 By Jennifer Hardy
When my Catholic Relief Services colleagues and I return from working in the field, distributing relief supplies all day, our skin, hair and clothes are caked with a layer of fine brown dirt. Our local partners jokingly refer to this as "Nepali powder" -- a natural treatment that they say will make our skin more beautiful.
We are getting a lot of these beauty treatments along rutted roads 50 miles west of Kathmandu, bringing relief supplies to the hillside villages of Gorkha district. But in a month's time, when monsoon rains begin and the dust becomes muck, there won't be any more jokes about as "Nepali powder."
This country, already so desperate even before the April 25 earthquake and now facing destruction from a second major temblor, will literally be stuck as its roads become slick clay mud.
Typically beginning in June and lasting through September, Nepal's daily rains will make some roads impassible and others very challenging to navigate for trucks loaded with heavy relief supplies and construction materials. So it's urgent that relief reaches as many people as possible before the monsoon begins.
"We realize that many families won't be able to rebuild their damaged or completely destroyed homes before the monsoon rains start in a few weeks," said Jennifer Poidatz, director of CRS' humanitarian response team. "We need to reach those families with training and materials to make monsoon-resilient shelters. Our CRS team is working with local partners to do that, and to ensure that vulnerable people who live alone, such as the elderly and disabled, have the help they need to be ready for the rains."
One additional challenge is that so many markets and shopping areas in this district's far-flung villages have been flattened by the quakes. If there are no markets, there's no way for people to buy the supplies they need -- food, construction materials and medicine. So, at CRS we are prioritizing helping these shopkeepers rebuild what is not only their shop but typically also their family home. This will give them a place to store and protect their wares so they can resume providing the vital connection between people living in the mountains and the supplies that come from Gorkha city.
"This will be a multi-stage emergency response and recovery effort," said John Service, overseeing operations and logistics for CRS in Nepal. "While already planning for long-term recovery, we are focused on the need to move materials now. We have a robust team of CRS procurement and logistics staff in India, Kathmandu and Gorkha District, managing air and cross border transport. We're working out of five separate warehouse spaces to ensure our multiple distribution teams have the tarps, blankets, sleeping mats and tools people need in coming weeks."
CRS has committed $10 million to a relief and recovery in Nepal. That will take at least three years, maybe longer if the earthquakes keep coming.
Beauty treatments will be free bonus.
Jennifer Hardy is Regional Information Director for Asia for Catholic Relief Services, the official overseas humanitarian organization of the Catholic community in the United States.