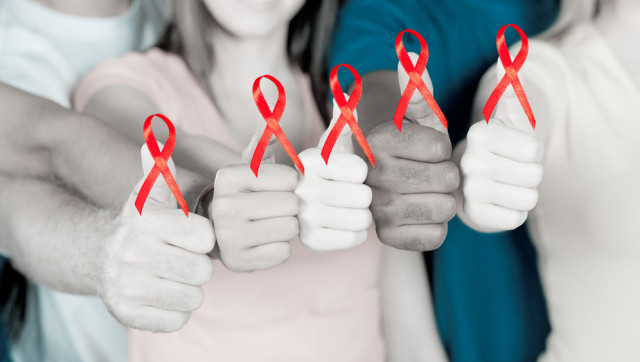 In today's world, bad news about poverty, disease and disaster abounds. In the spirit of Thanksgiving, Catholic Relief Services offers another perspective. Good News -- For a Change highlights major strides in the fight against global poverty that are making a real difference in people's lives.
Download the Good News -- For a Change report containing all five infographics and text, or view each one below.
You can also download the infographics in high-resolution for your use.
Preventing Transmission of HIV From Mother to Child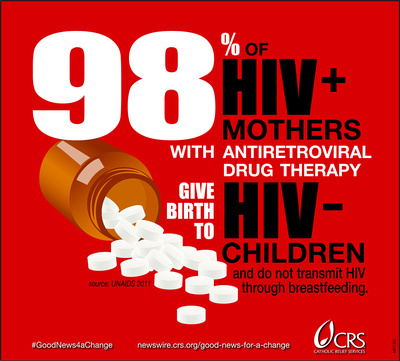 Mothers can transmit HIV to their children during pregnancy, labor, delivery or breastfeeding, a tragic beginning for a new life. Infants and children with HIV, many of whom are born into poverty, face a bleak future. The good news is that we know how to prevent this. There are effective ways, with the use of antiretroviral drug therapy and related medical care, to prevent the transmission of HIV from mother to child in as many as 98 percent of cases. The bad news is that without this treatment, only 55-85 percent of infants born to HIV-positive mothers are HIV-negative, according to an UNAIDS report.
The numbers show how much has been accomplished, but at the same time that there is much work ahead. In 2011, 57 percent of the estimated 1.5 million pregnant women living with HIV in low- and middle-income countries received effective antiretroviral drugs to avoid transmission to their child, an increase of nearly 10 percent in just one year. Around 330,000 children were newly infected with HIV in 2011, 24 percent lower than the number of children newly infected in 2009 (UNAIDS).
Guinea Worm Disease Nearly Eradicated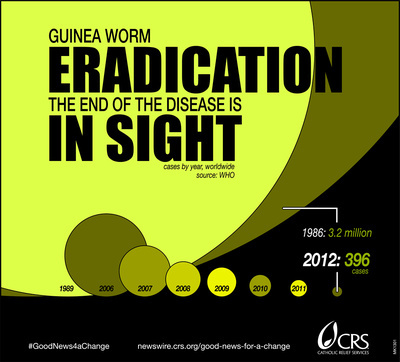 Guinea worm, an infectious parasitic disease caused by a worm that migrates through a victim's subcutaneous tissue, has plagued the world for thousands of years. But now, the World Health Organization reports that guinea worm disease (Dracunculiasis) is on the verge of eradication. The U.N. agency says in 2012 only 521 cases exist in just four African countries (about 99 percent of transmission is occurring in South Sudan). With continued eradication programs, it will soon become the second disease, after smallpox, to be wiped off the face of the earth. In 1986 there were an estimated 3.2 million cases of guinea worm, 892,055 cases in 1989 and 1,058 in 2011.
Child Survival Improving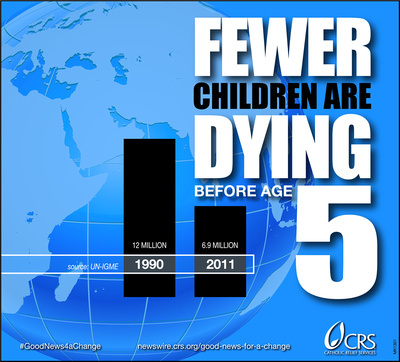 The mortality rate of children under five years old has long been a key indicator of a country's level of poverty. There are still way too many children dying of preventable diseases and malnutrition. But the good news is that the trend is headed in the right direction.
The World Health Organization summarizes the recent annual report by the UN Interagency Group for Child Mortality Estimation (UN-IGME):
In 2011, an estimated 6.9 million children died before their fifth birthday, compared to around 12 million in 1990. Rates of child mortality have fallen in all regions of the world in the last two decades -- down by at least 50 percent in eastern Asia, northern Africa, Latin America and the Caribbean, south-eastern Asia and western Asia.

And progress is accelerating: between 2000 and 2011, the annual rate of reduction in the global under-five mortality rate jumped to 3.2 percent, up from 1.8 percent in 1990-2000. Sub-Saharan Africa, the region with the greatest challenge in child survival, doubled its rate of reduction, from 1.5 percent per year in 1990-2010 to 3.1 percent in 2000-2011.
Girls Education on the Rise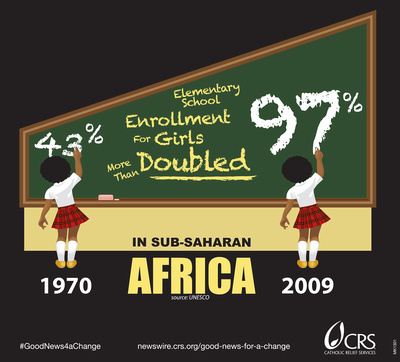 The courage of Malala, the 15-year-old education advocate who was recently shot on a school bus in Pakistan, highlighted how precious and precarious the opportunity for education is for so many girls around the world. But the data is clear that when girls are able to go to school, the quality of life for them and their future families rises considerably.
The Good News: More girls around the world are attending school and advancing further than ever before. According to the World Development Report 2012: Gender Equality and Development:
Low- and middle-income countries have seen unprecedented gains in outcomes for women, both in absolute terms and relative to men. More women are literate and educated than ever before, and the education gap with men has shrunk dramatically. For younger cohorts, the gender gap in primary education enrollments has practically disappeared, and the gains in secondary and higher education have been enormous.
More Access to Clean Water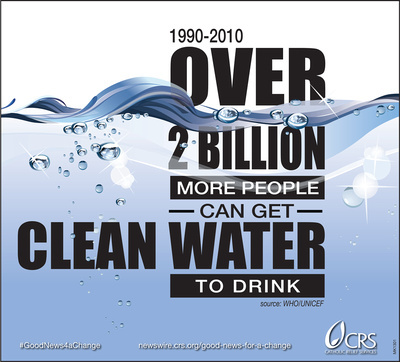 Water-borne diseases are endemic in the developing world and are a leading cause of death for children. Many people in poor, rural communities, mainly women and children, must walk miles to fetch water from sources that are often contaminated by fecal coliform bacteria. But focused development work has made a dent in addressing this problem.
A March 2012 report issued jointly by UNICEF and the World Health Organization (WHO) said that the world met "the Millennium Development Goal (MDG) target of cutting in half the proportion of people without sustainable access to safe drinking water, well in advance of the MDG 2015 deadline."
A WHO news release continues "Between 1990 and 2010, over two billion people gained access to improved drinking water sources, such as piped supplies and protected wells." This improves health and also cuts down on those long walks, allowing more children to attend school. But the report warns that victory cannot yet be declared. At least "11 percent of the world's population -- 783 million people -- are still without access to safe drinking water, and billions are without sanitation facilities."