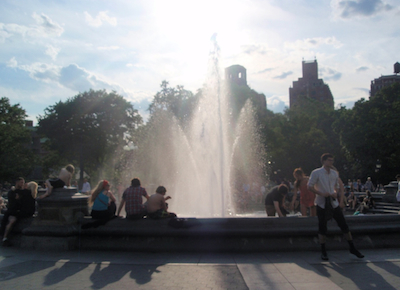 "The town square ... may well become valuable just because it is associated with custom and history within a given community. Keeping this resource in the hands of a community is a way to assure that no single actor takes advantage of the value the community has created." - Lawrence Lessig, The Future of Ideas: The Fate of the Commons in a Connected World
* * *
Washington Square Park is undoubtedly Greenwich Village's town square, the commons, a public space unlike any other in New York City. Its history, as a place of expression, art, music, protest, and nature, evokes a certain spirit - bohemian, freewheeling, open, individual. Edith Wharton, Henry James, Eleanor Roosevelt, Bob Dylan, Dave Chappelle have all connected to it.

While day-to-day control of other parks, including Bryant Park, Central Park, Prospect Park, Madison Square Park, and Union Square Park, has been ceded to private entities over the last twenty years, Washington Square Park's management continued under the aegis of the city-run Parks Department. On the whole, the arrangement worked; a designated and publicly accountable (in theory) administrator with staff has, until recently, overseen park maintenance, operations, and events.
But last month, quietly, and without any public notification, Washington Square Park too fell victim to the Bloomberg Administration's penchant for privatizing "the commons," and management and control of the famed "town square" was handed over to a newly created private Conservancy, whose director also just happens to take home a salary from ... take a guess... the New York City Department of Parks and Recreation.
Eight years ago, the Bloomberg Administration mandated a complete redesign of the historic park. Everyone agreed it needed repairs. However, the proposed overhaul was a point of much contention within the community and for park users. The City, acting in typically heavy-handed fashion, ignored most of the input it received from the public, choosing instead to bust up and rebuild a park loaded with historical import that functioned well as a free space for so many decades. Community requests and pleas for modification to the new design were mostly overruled by the city. The redesign went forward and the park is now in year five and Phase III of a construction that was scheduled to take three years, with large sections fenced and closed off to the public. The budget, approved at the onset by the NY City Council at $16 million, has now doubled. Costs to date exceed $30.6 million -- and that is not even a final number.
New York University-owned buildings circle and loom over the park. NYU, Inc. advertising often features Washington Square's iconic Arch, as though it -- and the park -- are NYU property. The school -- actually as much a leviathan of a real estate corporation as a school -- frequently refers to the Park as its "campus." The University has increasingly gobbled up space throughout the West and East Village and is looking to seize more. But the community -- in keeping with its radical history and the spirit of the Village -- is largely averse to infiltration by private interests.
When the city sold the "naming rights" to the park's famous Fountain to real estate moguls, The Tisch Family, no one was aware at first. This information was only made public through a response to a FOIL (freedom of information letter) request by park advocate Jonathan Greenberg and people were outraged. The Mayor's office had not disclosed this information to local Community Board 2, the Landmarks Preservation Commission or the City Council.
Aggression towards communities and deference to corporations and private interests is not without precedent in the Bloomberg Administration. For the N.Y. Yankees to procure a new stadium, the city eliminated 1½ parks -- the well-used Macombs Dam Park and part of John Mullaly Park -- in the green space-deprived Bronx, chopping down over 300 trees in the borough which already had the city's -- and the country's -- highest asthma rates. In their place, the city substituted eight piecemeal replacement "parks" located across highways and even atop parking garages. The City negotiated new "sweetheart" deals with the Yankees and Mets giving away public land and public funds so that the teams could build new stadiums (paid for by tax-free government bonds) with exorbitant seat prices snatched up by corporate patrons on city-owned land. In addition, New York Daily News columnist Juan Gonzalez revealed that through these deals, the city handed over $30 million dollars a year which had previously been going to the Parks Department, funds that had been generated from the parking garages and concession fees from the old stadiums.
* * *
Mayor Michael Bloomberg did not invent the concept of the "public-private partnership." But he has aggressively pushed "private money" within the New York City Parks system, particularly under former Parks Commissioner Adrian Benepe, who left last year. His successor, Veronica White, has indicated that she would "work" to "increase the resources available [to parks] -- public and private, particularly private."
"We've seen municipal government turn increasingly into private-public partnerships in which corporations and government collude together and basically run the city," says David Harvey, author and Distinguished Professor of Anthropology and Geography at the Graduate Center of the City University of New York (CUNY). These private entities have divergent motives than the public interest. While the city's Parks Department is at times troubling, it is an agency that we, the people, are at least in theory able to criticize, protest, and have mechanisms available to us to attempt to correct any problematic conduct (City Council, community boards, etc.). Conservancies and BIDs (business improvement districts) are not open to such public accountability.
The boards of these Conservancies and BIDs now controlling our public parks tend to be comprised of privately-selected CEOs of real estate, retail companies, law firms and banks. The conservancies basically run parks in wealthier neighborhoods, tearing open a huge and discriminatory disparity between the care, maintenance and attention given to parks in, mostly, the 'outer' boroughs and lower income neighborhoods. Instead of upping the Parks Department budget, the Mayor only seeks out more private money. The result is that public city parks are being handed off to the highest bidder, as commercial opportunities for private companies with virtually no public input, transparency or control.
In Part II, I look more closely at the role of conservancies in New York City and more on what is happening at Washington Square Park...