There are moments in our lives that move us. Moments that quietly present us with a gift so magical that they weave themselves onto a permanent patch of our heart.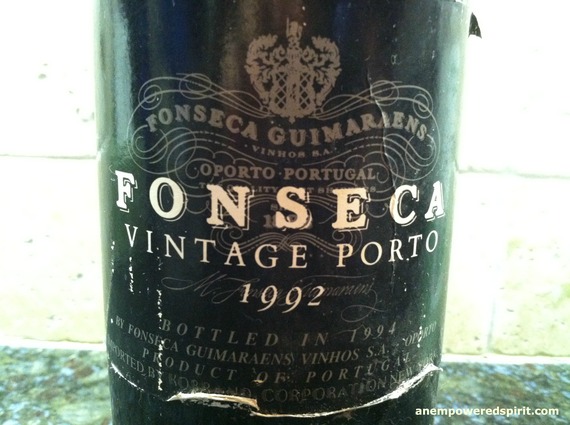 If we listen very carefully and quietly, we may notice that these unforgettable moments are shouting to us as if to say, "Hey, I'm about to do something grand, so live in the NOW because you won't want to miss this."
Last night, I had a few such moments. And as they busily attached themselves to my heart, I realized they would sum up best what my past year has been all about.
Blessings.
My son was born in 1992, and this month he turned 21. At the time of his birth my father, a wine aficionado, knew that the year 1992 was a great year for vintage port. He presented us, and our infant son, with a case of it, and affixed a handmade sign to the top of the crate that looked something like this: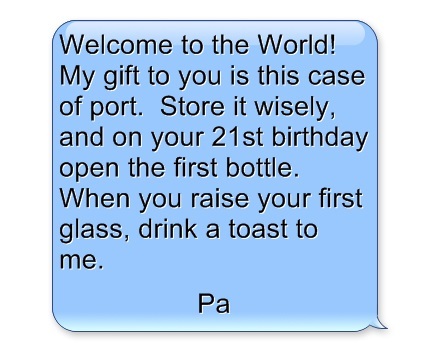 Through the years we've talked of how this vintage port will taste after 21 years, how luscious it's fruity flavors will feel on our tongues and how we'd marvel at its rich and velvety texture.
The anticipation was palpable.
The moment had finally arrived.
Last night, we ate Chinese food at my parent's apartment. It was an intimate and informal gathering of the five of us.
To me, the stars of the show were not the food or the conversation. It was not the pleasantries exchanged, the sports scores watched or the discussion about The Kennedy Center honorees.
As we slowly sipped our first tastes of this extraordinary port, I drank in the moments that were presenting themselves to me as a perfect year-end gift.
I lovingly watched these two men talk and sip, being ever-so-mindful to realize what was happening right in front of me.
While everyone is busy publishing their year-end reviews, "best of" series, top 10 lists, what they did and who they spoke to in 2013, my post is a very simple one.
It's about a boy and his grandfather, and the opening of a bottle of vintage port.
It's about two of the blessings I have in my life. And their gift to me of a new patch on my heart.
What are your blessings?