When my son was five months old we flew to Florida to introduce him to his great-grandmother. She was unable to fly north to attend his bris, so we were excited about the prospect of celebrating Passover with her and the rest of our Florida family.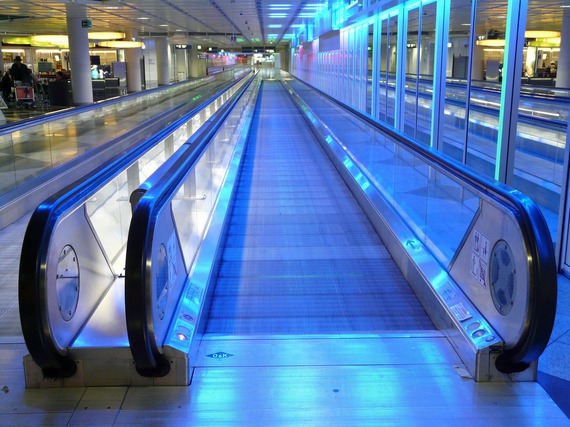 Flying with an infant takes some extra planning, such as packing enough extra clothing in case of soils, and remembering a myriad of "favorite lovies" to keep them happy and quiet during the flight.
The most important piece of equipment we brought was our Graco baby carriage. It allowed us to transport our son to and from the gate with greater ease. After we arrived in Florida, it was waiting for us right outside the airplane's door.
When you live with a disability, traveling also requires extra planning. Sometimes it also requires some good old ingenuity as well.
Think about it. How many steps does it take to get from the front door of the airport to the gate? How long do you stand in line while waiting to check in at the ticket counter? How much strength is required to lift one suitcase off the floor and into the overhead compartment? How difficult is it to maneuver a bathroom, especially if you use a wheelchair or scooter?
The answers to these questions are crucial to a disabled person. Making travel easier gives a person the ability to explore the world beyond his or her front door.
To help me compile a list of ideas, I consulted with some online friends who also live with Multiple Sclerosis. Their expertise and experience will no doubt benefit the disability community. We are confident our list will help others step out of their comfort zone and into the world that awaits them:
The day of travel, don't make too many plans and get a good night's sleep the night before you leave.
Request a wheelchair at the airport for arrival and departure. It makes it easier to get to the gate, baggage claim area and waiting in line while checking in.
Stand up once in awhile during the flight to stretch your legs to avoid leg cramps. If you can't walk up and down the aisle, stand in place and stretch your neck, arms and legs as best as you can.
Remember to pack hand sanitizers and hand-wipes. If you are using an airport wheelchair, disinfect the wheelchair (or have someone else do it for you) to avoid coming in contact with germs.
Have the agent at the gate take you, and those you are traveling with, to the front of the line. Ignore the stares from others. You are taking care of the most important person - yourself.
Airports can seem overwhelming, and since flights are not always on time try to get to the airport at least an hour and a half between connections.
Request a ride on the cart provided by the airport to get to and from the gate.
Use the moving walkway to save yourself from too much walking.
A cross-body bag allows you to keep your hands and arms free for better balance, and makes it easier to get in and out of your purse.
Be kind to yourself. B-r-e-a-t-h-e. Flying can be stressful, so try to keep in mind that what happens after the flight is your reward.
Remember this: When you travel, you are giving yourself the greatest gift of all. You are not allowing your disability to define you. Congratulations!