This blog is part of a series organized by The Huffington Post and the NGO alliance InterAction to call attention to the crisis in the Sahel, a region in sub-Saharan Africa where more than 18 million people face starvation and 1.1 million children under the age of 5 are at risk of dying from acute malnutrition. Click here to read more of HuffPost Impact's coverage of the Sahel and here to find out what InterAction members and others are doing in the Sahel.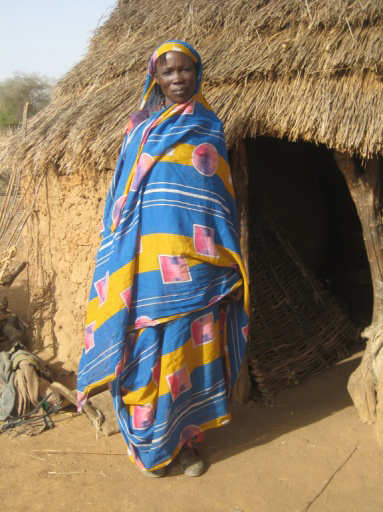 Khadidja Abakar Oumar is among 27,000 displaced Chadians who have recently returned to their home villages in hopes of resettling outside of IDP camps.
Khadidja Oumar Abakar is finally home.
At the height of the Darfur crisis, Khadidja and her family, including 8 children, were forced to flee their home in Eastern Chad. Their entire village near the border of Sudan was abandoned. They landed in Gassiré, a crowded camp for displaced families near Goz-Beïda.
Life in the camp was harsh. Although there was some assistance, the risks to their safety, health and survival were many. And so, they recently returned home to their village, but not without weighing the cost.
"We decided to come back to our village at the risk of dying here," said Khadidja. "When we were searching for a secure place, my three brothers were killed by armed groups. This incident affected me so much, it remains the worst memory of my entire life."
Before the crisis, families in her village struggled, but managed to sustain themselves by farming during the rainy season and storing food for the rest of the year. Some of the women traded food and supplies at markets in nearby villages to meet their families' needs.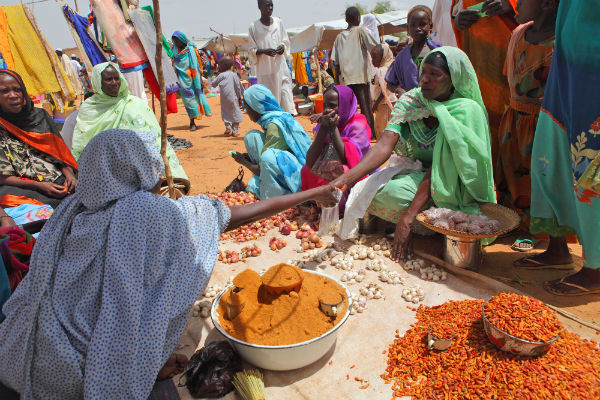 Women in Chad buy and sell vegetables and cash crops at the local market.
"Unfortunately, we lost all our assets during the crisis. Even worse, we lost our brothers, sisters, children, and husbands. This makes our lives more miserable, but since it is our village, we prefer to remain here and feed our children with the little arable soil available."
Her family is not alone. Starting in early 2008, relative security in Eastern Chad encouraged many displaced families to return to their home villages. By November, an estimated 27,000 IDPs around Goz Beïda had returned or relocated to other villages.
Having left everything when they fled, and being dependent on humanitarian aid in the camps, families are returning with no seed to plant, no farming tools and no savings.
Right now, Khadidja earns enough to feed her family by selling firewood, weaving rope, and collecting straw and rubble to sell at the market. Some men travel to Sudan in search of work, she said.
"We hardly eat twice a day and our meals are almost the same every day," she said. "It's really difficult for women and children."
Sporadic rains and pests have worsened fragile farmlands.
The one thing it seems people can count on here is unpredictable rain.
"Rain is regularly uncooperative in Eastern Chad," said Nick Archer, Senior Director of Disaster Response and Security for World Concern. "Drought just complicates an already difficult situation. Chad is a complex area because of its recent history of conflict. The weather exacerbates the challenges here."
With 80 percent of Chadians dependent on subsistence farming, it makes sense to focus efforts on improving farming techniques, and to shift humanitarian support to the areas where people are resettling.
Agriculture is the most sustainable form of income generation that can support large numbers of people. Putting early-maturing seeds in the hands of local farmers, teaching them techniques to irrigate and prevent evaporation from their fields, and providing tools, such as plows and animals, are essential to improving food security.
Introducing vegetable gardening for better nutrition and for cash crops also helps families survive, especially through dry seasons.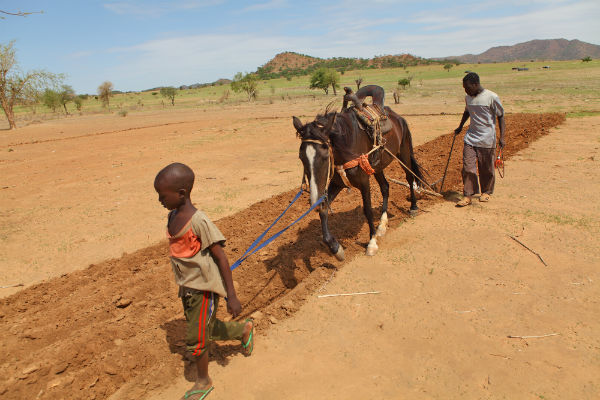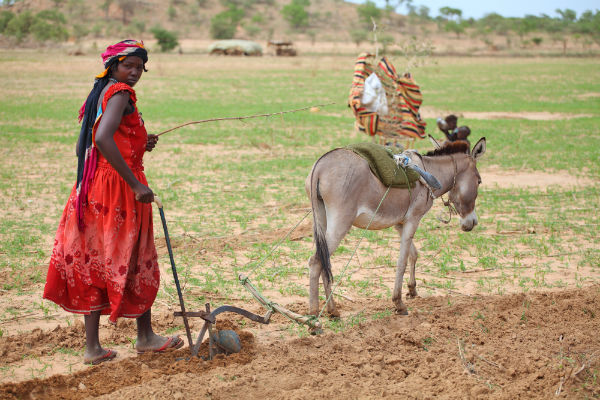 Providing farming tools, training and seeds to resettled families will help them grow drought-resistant crops for the next growing season.
"We're focused on enabling people displaced by conflict to resettle in their home areas with the improved skills and inputs to equip them for a better chance of success in a fragile environment," explained Archer. "People returning to marginal areas need carefully selected inputs and resources to help them succeed. Not doing this is a set up for disaster."
Increasing attention on the crisis in the Sahel is critical because crises of this nature have a cumulative effect, such as was the case in the Horn of Africa crisis. The famine in Somalia resulted from successive years of poor rainfall, combined with insecurity, lack of humanitarian access and high food prices.
Archer believes the world needs to pay attention to the Sahel because of the complexity of the situation and the potential for ongoing drought.
"We are beating the drum to raise awareness that this too could become such a crisis," he said.
For more information on World Concern's response in the Sahel, visit www.worldconcern.org/sahelcrisis.
All photos courtesy of World Concern.