In true Southern parlance (and according to the urban dictionary) the term "steel magnolia" is defined as "a southern woman who is strong and independent yet very feminine." (It was also invented by Louisiana playwright Robert Harling when he wrote the play of the same name about his dying sister). The dictionary might as well say "see Gayle Batt."
Gayle Batt is the vivacious and larger-than-life mother of actor Bryan Batt and the subject of his memoir (also coined his "momoir") which deals with his upbringing in New Orleans, his road to showbiz (perhaps you know him as Mad Men's Salvatore Romano or from his various Broadway and film roles) and his mother's strong and supportive presence.
I recently spoke with Bryan and being a southerner myself, I inquired about the incredible bond between strong southern women and their sons, a bond unlike any other. "There must be something in the Mississippi drinking water, perhaps a mix of Shalimar and humidity," he quips, but feels it is perhaps universal, as "every mom and their son(s) have a wonderful relationship." Frankly, I think Steel Magnolias have a lock on this one.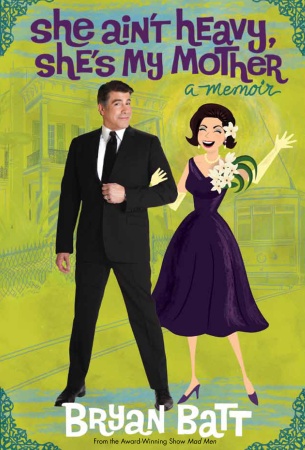 The book (which just made New York Times critic Janet Maslin's summer reading list) is a loving tribute to a woman who helped shaped the actor to what he is today. "I thought I had a normal childhood and decided to share some of my stories," he explains (all of us growing up in the South think our lives were normal until we compare notes with those on the other side of the Mason-Dixon line). Filled with hilarious tales and anecdotes, Batt penned the book after a friend warned, "if you don't write these stories down, I will." Joking that the "threat of identity theft made me do a memoir," Batt regales the reader with stories of his mother's first visit to the Mad Men set on the day he filmed the infamous encounter with the bell boy scene ("Pumpkin, I can't wait" she exclaims) to the adversities of her husband's infidelity and her valiant and ongoing battle with cancer.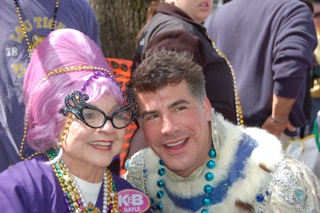 And speaking of Mad Men, we last left Batt's character Sal calling his wife from a phone booth in the park, dejected after his firing from Sterling Cooper with his fate hanging in the balance. Here's hoping the producers bring him back as he gave some of the most compelling performances of the season. Emmy voters, please take note.
Whether you are southern, a fan of the show, love your mother, etc. or not, it is both a highly entertaining and poignant read. Perhaps fellow actor Alan Cumming said it best, "Batt's childhood is like a mash-up of a Tennessee Williams play and a Mickey Rooney/Judy Garland movie."
When he is not acting or writing, Batt can be found at his New Orleans home accessories store Hazelnut which he co-founded with his longtime partner Tom Cianfichi. He also has a one man play coming up called Batt on a Hot Tin Roof and my fingers are crossed he will join the new Don Draper and Company (or whatever they plan on calling it).