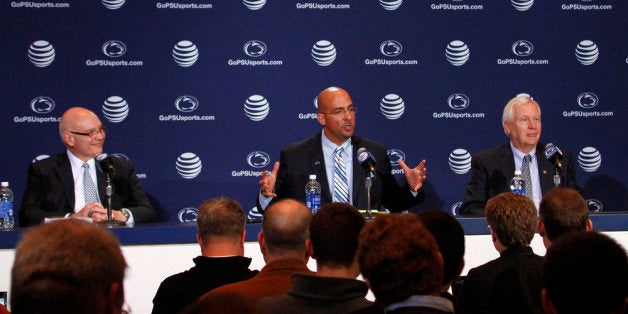 You know the old joke about the three biggest lies -- I gave at the office, the check is in the mail, and the third one I can't repeat. It now appears we have new contenders for the list.
Since we are two weeks into the college football post season with a coaching carousel in in full swing, I thought it would be a good time to take a look at some of the oldie but goodie falsehoods that coaches recycle on their way to greener pastures.
A coach finishes up a winning season, his stock rises and the rumors begin to swirl. Declarations of loyalty and denials about leaving follow, while competing schools make inquiries and Athletic Directors frantically work at keeping their prize coach. Assistants jockey for position, fans hold their breath and players are left in the dark as a deafening silence ensues and the coach leaves in the night. It's business as usual and the lies begin.
It usually starts with the press conference where "This is my dream job" and "This is a destination, not a stepping stone" are perennial standards. "This is where I want to be" and "We will build a legacy" are in the top ten as well. It's as if you could recite the script. Just once I'd like to hear the phrase " I am committed to this program as long as we win or as soon as the NFL or a better college job comes along." Now that would be a press conference worth attending.
Naturally a coach wants to move up the ladder as fame and money knock on the door when you are at the helm of a winning program and I don't begrudge them for that. Coaches come and go and it's the natural order of sports. What I don't understand is why a coach cannot leave in an honorable fashion. No other profession seems to be as ruthless, unethical or hypocritical in their exit strategy. Does anyone leave Apple for Microsoft and take their staff with them? Is an executive at Coca-Cola allowed to raid the cupboards and take off for Pepsi? I think not.
For a few cases in point, I need only look in my own backyard of the South. "They'll have to carry me out of here in a pine box" was former Ole Miss coach Tommy Tuberville's infamous refrain before he bolted days later to Auburn (a comment that still to this day makes the Rebel faithful bristle). Nick Saban's "I'm not going to be the Alabama coach" while at the Miami Dolphins earned him the title "Benedict Saban" as he left shortly after. Lane Kiffin departed for his "dream job" at USC (after first issuing denials) with a parting gift of NCAA woes for his former employer at the University of Tennessee. And a "Life with Bobby" reality show could be filmed just on the antics from Louisville to Arkansas and back to Louisville (with several stops in between) on the newly minted Cards coach Bobby Petrino.
The next to join the pantheon of Pinocchios is ex-Vanderbilt head coach James Franklin who left this past week for Penn State after hearing his name mentioned for everything from the Texans job to Hillary's running mate (ok, the latter was a stretch). Promises in 2010 at Vanderbilt of "This is a destination not a stepping stone for us" were replaced with "This is my dream job. This is where I want to be" at Saturday's press conference in Happy Valley. Franklin's parting gift was to decimate his former school's recruiting class to such an unprecedented level that even the most seasoned sports fan took pause. Hypocritically commenting two years ago that players who de-commit are "not men of honor" and "not men of integrity," he clearly knows of what he speaks. Leaving behind burned bridges and scorched earth, he went from savior to Satan in just one short week. (Ironically the latter was a term he once used for his former SEC foe Nick Saban.)
I am so tired of hearing "this is the landscape of college football," "it's the nature of the beast," "don't hate the game, hate the player," and "it's just business" as if that somehow makes it okay. Explain this to the recruit who believes a coach will be there until they graduate. The player who is expected to be loyal and devoted while the coach couldn't find the words in a dictionary. Sadly, ethics and integrity are replaced with big time contracts and a win at all costs mentality as players and programs are scattered across the highway like road kill.
While I understand there is no good way to leave a job, just tell the truth. Exits are never easy but taking a wrecking ball to your reputation will get you in the long run. Come up with a new script, grow a set and remember, words can come back to haunt you.
And one thing that is not a lie, karma is a bitch.