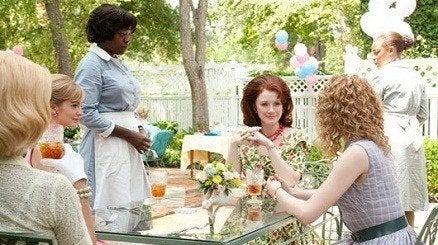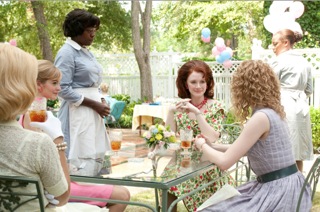 There is a great scene from the eighties television sitcom Designing Women where Julia Sugarbaker (played masterfully by the late Dixie Carter) goes off on one of her trademark tirades. The target and subsequent rant in question was a New York Times front page story entitled "Southerner Eats Dirt." The Atlanta grand dame felt southerners were repeatedly portrayed as stupid, classless, and in possession of an outhouse, and promptly took the editor to task.
Therefore, it was with some trepidation and skepticism that I attended a screening of The Help last night and fearful as to how the south would be portrayed. Let's face it, Hollywood's depiction of the south is often unkind -- actors with exaggerated accents, women with beehive hairdos, overuse of the phrase "bless your heart" and cousins marrying cousins... ok, I guess some of it is correct. Author Margaret Mitchell was upset over the portrayal of her book turned film Gone With the Wind as she feared audiences would think of southerners as people who idly spent their days sipping mint juleps on the veranda. Even the over-the-top designs of Tara and Twelve Oaks were offensive to her.
While I read Kathryn Stockett's best-selling novel of a young writer who tells the stories of the relationships of maids and affluent families in sixties Mississippi, I was not prepared for the emotions that ensued. Concerned the topic might be taken too lightly or told with more of a comedic tone, my fears were unfounded. The film paints a powerful, all too painful and more importantly, accurate picture of a snapshot in time. It's all there -- the racism and mean-spiritedness and compassion and love. No matter what region you are from, it is a story that transcends.
The Oscar worthy performances are first-rate (look for Viola Davis and Octavia Spencer on the red carpet) and Bryce Dallas Howard as Hilly Holbrook plays one of the meanest villains since Cruella de Ville. I only wish there had been more scene-stealing moments with Sissy Spacek who plays Howard's mother, Missus Walters. Emma Stone as the young writer Skeeter and Alison Janney as her mother turn in excellent performances as well.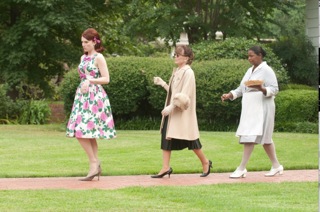 The historical events leading up to the Civil Rights movement are beautifully woven into the storyline along with several scenes of comic relief and you may never eat a chocolate pie again. The era is depicted in period perfect detail right down to the women clad in sixties era shifts and bouffant hairdos eating chicken salad on the folding tables at the weekly bridge games (thanks to the incredible work of production designer Mark Ricker and costume designer Sharen Davis).
I was a child growing up in the sixties south and memories of maids in uniform walking to bus stops are familiar. As depicted in the movie, many of "the help" were treated as members of the family and in most cases, closer to the children than their actual mothers. And for every story of mistreatment, there are dozens of untold stories of compassion and empathy.
And while I agree with Julia Sugarbaker at times yet cringe at some of the embarrassing things that come out of the south (did we really invent the fried Twinkie?) thankfully... and hopefully, those days of the sixties are behind us.
The Help opens in theaters on Wednesday and heed my warning, take a box of Kleenex.
Photo Credits: Dale Robinette/DreamWorks II Distribution Co., LLC. All Rights Reserved.