Make your meal a memorable--and stylish--one by checking out these clever ideas for how to set your table for Thanksgiving.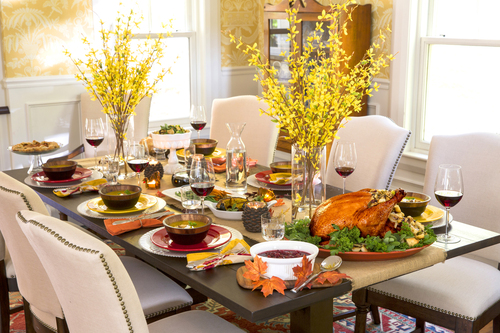 1. Bring the outdoors in. Take a stroll around your yard, gathering items from nature that will set an autumnal scene: Branch clippings, fall leaves, pine cones, and acorns are some charming finds.
2. Play with elevation. A flat tablescape can look one-note, so rely on footed serving dishes and dessert stands to add some height and clear a little space below them for shorter items.
3. When in doubt, go with white. Let your scrumptious food be the star by selecting white platters, plates, and bowls. Bonus: You probably already have a bunch of these staples in your cabinets.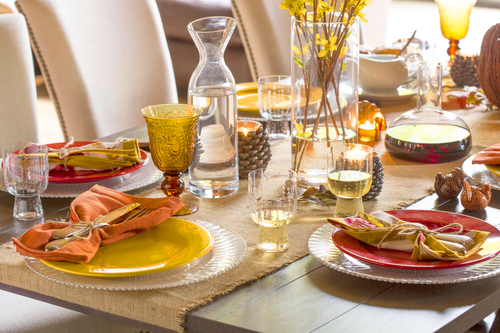 4. Score inexpensive table linens. At $2 or $3 a yard, burlap is one of the cheapest fabrics available and plays nicely with a rustic-chic vibe. Get great bang for your buck by trying it as a table runner.
5. Keep candles small. Every host knows candles are a go-to when you want to create a cozy ambiance. Long tapers and substantial pillars are elegant, but compete with taller floral arrangements and can give off a surprising amount of heat. Stick with more petite votives in cute holders for a simpler effect.
6. Layer your plates. Chargers may seem like an unnecessarily luxury, but they go a long way toward setting a table for special occasions. Pick up a versatile set in silver and gold, and use them for an infinite number of events to come.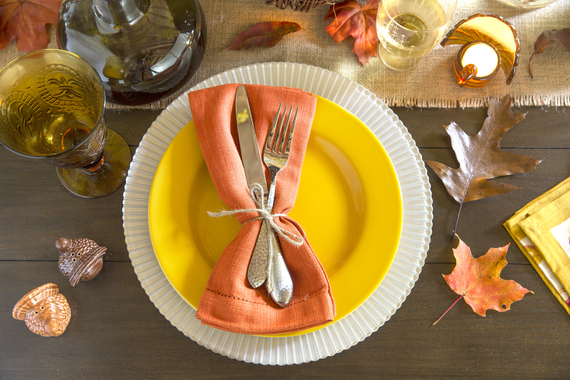 7. Mix (don't match) colors. Instead of sticking to one hue, it's much more dynamic to layer in an entire palette of yellows, reds, oranges, and browns.
8. Pre-bundle your silverware. Here's a task you can do days in advance: Wrap your flatware with napkins and secure with a piece of twine. Place each set on a plate or keep it casual by gathering them in a basket.
9. Let guests help themselves to drinks. Keep a couple carafes of water and wine on the table for easy refills.
10. Double-up on serveware. Passing a piping hot dish is less precarious when it's set upon another platter or board. This also helps keep serving utensils married to their intended dishes.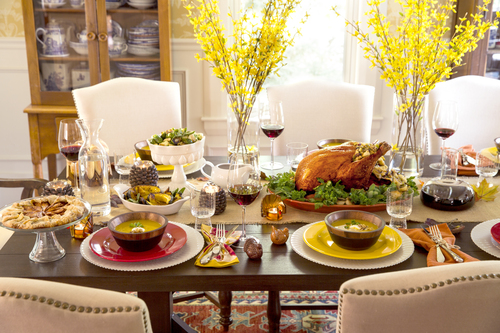 For more holiday decorating ideas and inspiration, head over to Wayfair.com's Holiday Shopping section.