Go out or stay in (maybe even stay in bed) -- you can go either way when it comes to Mother's Day. If fighting the crowds or making a reservation sounds like too much work, dining at home is the way to go. Whether you go simple or sumptuous, below are ideas for making Mother's Day morning one she'll love.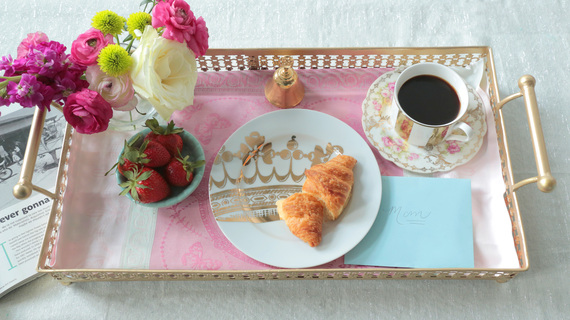 If you poll moms on what they'd love most for Mother's Day, many of them will respond with the two P's: pampering, and peace and quiet. Breakfast in bed (in her pajamas, of course) hits both those marks. The key is making it no work for Mom. Some pre-breakfast sleeping in will feel extra luxurious, so if you must ask where the waffle iron is, think to do it beforehand. Every mom deserves to be spoiled; here are 10 tips to help make Mother's Day morning extra-special:
1. Combine breakfast in bed with gift time. A French press coffee maker or beautiful tea pot (already filled with some piping hot brew) are gifts she can enjoy right away.
2. Line the breakfast tray with a placemat or a piece of paper that's been cut to size and decorated by the kids. Make it a tradition by laminating the paper and reusing it year after year or by making a new one every year as the kids grow.
3. Add a few of Mom's favorite flowers and a handmade card to the tray.
4. Use even the simple things as an opportunity to be sweet, such as writing a love note on a paper napkin.
5. Decorate the breakfast tray with Mom's favorite things. Some ideas are a seashell to remind her of a day at the beach or a snapshot of when the kids were babies.
6. Add a bell to the breakfast tray (a cheeky touch, but that will make Mom feel like a queen.) Let her know she can ring to summon a coffee or tea refill.
7. Raid your kitchen for creative containers to serve breakfast in. A pretty teacup can be a fruit bowl. An empty mason jar becomes a juice glass. Cupcake liners can hold teabags and sugar cubes.
8. Get the kids involved with no-cook finger food. Make mini fruit kabobs using toothpicks, and then provide ramekins of yogurt or honey for dipping.
9. Slice toast into bite-sized triangles and arrange them on a small plate. Top each triangle with a dab of butter or jam for the perfect crumb-free portion.
10. Give Mom her favorite magazine, the morning paper, a new book, or the TV remote for her to enjoy after breakfast while you clean the kitchen.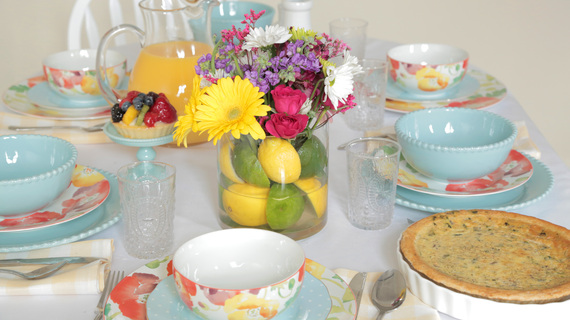 If you're part of a big family, Mother's Day includes celebrating all the moms in your life -- including sisters and in-laws. If you live nearby, you may want to drop by to wish them each a special day (and deliver a gift or flowers), but wouldn't it be easier if they all just came to you? Take the guesswork out of the day's timeline by inviting them all over for a Mother's Day brunch. Keep it easy with family recipes (especially those that can be made ahead), pastries from your favorite bakery, and fresh fruit. Keep reading for more tips that will make it a smash.
1. Start with real table linens. Nothing says "special occasion" quite like a cheery fabric tablecloth and cloth napkins. If you're bored with your table linens, a thin throw blanket or fun sheet is an easy alternative.
2. Bring out your prettiest plates and serveware -- anything with florals, metallic trim, or intricate details.
3. Roll up napkins to keep them wrinkle-free and easy-to-grab.
4. Use tiered servers and footed bowls to display pastries or fruit. Different elevations are key for a beautifully styled tablescape.
5. For an organized tabletop, try using divided serveware to hold related foods (think charcuterie) always beat a hodgepodge of mismatched bowls.
6. Serving a crowd? Consider a buffet. Be prepared with these essentials: hot trays and trivets, warming dishes or slow cookers, and a cleared-off countertop or table independent from the dining table.
7. Be sure to pair dishes with serving utensils so guests can help themselves.
8. If the weather's nice, take the party outside. Be prepared with these essentials: an ice bucket, serving trays, and lawn games.
9. Don't waste time pouring drinks to order. A beverage dispenser lets you make one big batch and guests can help themselves.
10. Finish your Mother's Day brunch table with low arrangements of fresh flowers. Stay away from flowers that are heavily scented and could compete with the aroma of your delicious food.