Co-authored by George Lewis
They are the avian equivalent of the giant tortoises -- emblematic of the Galápagos -- the blue-footed boobies that populate the islands and entertain human visitors as they dive headlong into the ocean for food. But now, according to a new study, their population has been seriously dwindling by more than two-thirds in the last half century.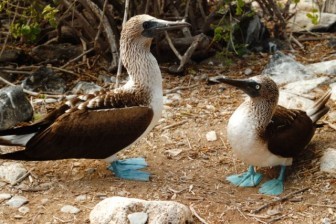 Galapagos Digital Photo
The number of birds as of 2012 was down to 6,423, compared to an estimated 20,000 in the 1960s. Researchers say one reason for the decline may be a scarcity of sardines in the waters surrounding the Galápagos Islands. Sardines are the boobies' main food source.
Looking at the ocean waters off the coast of Peru, hundreds of miles southeast of Galápagos, the study said, "The sardine population there has declined almost to zero." Scientists hypothesize that the reduced sardine supply causes the birds to stop reproducing.
"Until 1997, there were literally thousands of boobies at these breeding sites, and hundreds of nests full of hatching chicks," principal investigator Dave Anderson, a biology professor at Wake Forest University said in a press release.
"Then, suddenly, the boobies just weren't there," Anderson said, adding that, in a few cases, the birds had attempted to breed, but most did not produce offspring.
And there may be fewer still in the years to come. Anderson and the other researchers noted that the population of boobies is aging and that they're not reproducing at a normal rate.
"Few pairs bred in 2011-2013," the study said, "and almost no birds were found in juvenile plumage."
And, as Galápagos Digital reported April 10, the impending threat of a huge El Niño in the Pacific this coming winter could further disrupt the food supply.
2014 has not shaped up as a good year for the blue-footed booby in Galápagos.
We've linked a YouTube video of Dave Anderson discussing the research.https://www.youtube.com/watch?v=_hB7GQMWKHY