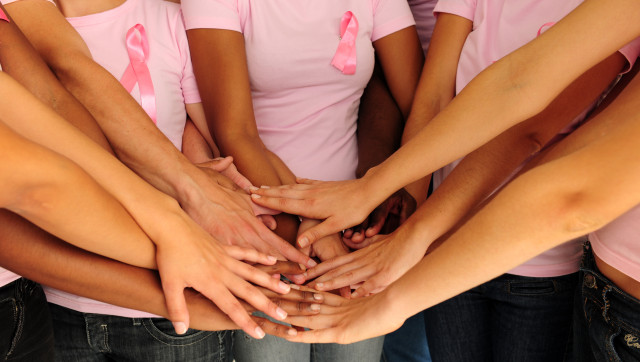 All around the world this October, you will notice the color pink. In Washington, D.C., the White House has been lit with soft-colored lights, New York's Empire State building is set to turn fuchsia this week and over the course of the month, landmarks will be aglow in Paris, Mexico City, London and Mumbai. These lights are to symbolize the importance of the early detection of breast cancer, an illness that remains the most common cancer to affect women in both the developed and the developing world.
But there is an answer to this trend: The WHO states that, "Early detection in order to improve breast cancer outcome and survival remains the cornerstone of breast cancer control." The main impediments to early detection, according to the WHO, are a lack of awareness about the disease and inadequate access to healthcare. Late diagnosis makes survival less likely, and of the half a million women who die of breast cancer each year, 70 percent are in the world's poorer nations.
That's why events such as Breast Cancer Awareness Month are so crucial, disseminating information and alerting people to the benefits of being familiar with the signs of the illness. The U.S. website for the event acknowledges the role income disparity plays in slow diagnosis, and links directly to low-cost clinics where women can obtain inexpensive local screenings. Other countries are responding similarly. In China, where the WHO predicts a growing incidence of cancer cases and related mortality over the next twenty to thirty years, the government has set up free cancer screenings to benefit women who live in underserved rural areas. The program is part of an ambitious overhaul of Chinese healthcare.
In African nations, too, leaders have begun to act. This month, the famous Nelson Mandela bridge was lit up in a beautiful pink. Nonceba Molwele, a Member of the Mayoral Committee for Health and Social Development in Johannesburg, said that poverty and mortality rates arising from breast cancer are linked. She cited a "realisation that there is a direct correlation between poor health and poverty," and added, "We are annually building and extending our clinics so there can be easy access to quality healthcare."
It is no secret that developed and developing nations face many broad challenges in addition to public health; but that does not mean that breast cancer, which impacts women so disproportionately in comparison with men, should be overlooked. I am pleased to see leaders in China, Africa and nations across the world taking practical measures to counteract the illness.
There are also things that we can do on an individual level. Excessive alcohol intake, obesity and physical inactivity all affect our risks of developing this illness (there are many other factors and a more complete list can be found here). We all have the power to equip ourselves with knowledge of the causes and symptoms of breast cancer, and October's Breast Cancer Awareness campaign does an excellent job of reminding us of just that.