If you live in a city like New York, then you have probably at one time contemplated the notion of space, or the lack thereof. Outdoor space seems to be the hardest to come by and the most coveted of all, especially when it comes to entertaining.
This is exactly what MINI, the eternally cool automotive brand, was thinking when they transformed one of the most exclusive outdoor spaces in the city into the MINI Rooftop NYC for New York Fashion Week. Based on their international campaign that seeks to find the best "Creative Use of Space," they created a ten-day cultural event series that is designed to give artists and performers - both established and emerging - a space to collaborate with others and a platform to promote their talent.
According to Jim McDowell, MINI Chief USA, "the right use of space can enrich our lives. It's amazing what you can discover about the world when you view it from a rooftop."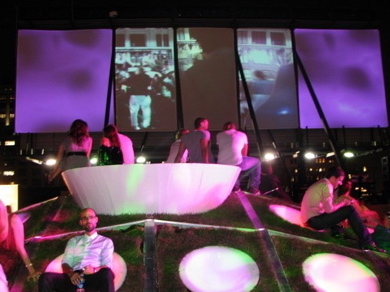 To bring their artistic utopia to life, MINI commissioned Marc Kushner and Matthias Hollwich of HWKN, an architecture and concept design firm, to design a green rooftop that would play host to a range of free events, talks, workshops and parties. Their answer was to build a man-made, grassy hill spotted with illuminated plexiglass "dimples" (which are seats) on top of the building that would act as a public place to people to sit, share, hang-out, meet each other and be creative.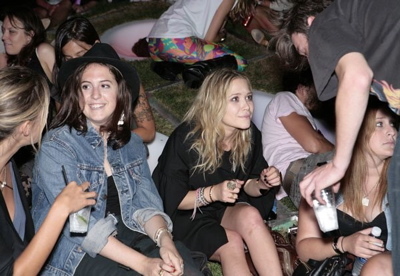 On Thursday, September 4th, MINI Rooftop NYC launched their event series with an invite-only party hosted by international style publication Dazed and Confused that featured everyone's-favorite-band-right-now, MGMT. No doubt the party had an electric feel from the cool LED lighting by Bentley Meeker to the energy of the crowd itself comprised of fashion hipsters and celebrity fans of the band including model Jessica Stam, Gossip Girls Jessica Szohr and Nicole Fiscella, singer Solange Knowles and fashion's favorite twin Mary Kate Olsen who sat perched on the Hill the entire night surrounded by friends.
On Friday night, Assouline hosted a cocktail party to celebrate the launch of Veruschka, a book that pays homage to one of the most iconic supermodels of all time. The event brought out model-of-the-moment Agyness Deyn and fashion icon and CFDA President Diane von Furstenberg.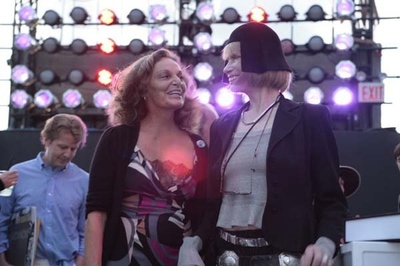 The series, which was curated by Lyman Carter of Radar Entertainment, runs from September 4th to 13th and is full of exclusive daytime and nighttime events featuring icons of art, music, fashion, design and wellness. During the day, the rooftop is open to the public for yoga classes by Clay and various artist workshops. Open Space is their creative cafe with free WiFi, food and drinks by Pure Food and Wine. At night, VIP parties hosted by Good Magazine (with DJ James Murphy of LCD Sound System), Edun and V Magazine have been scheduled.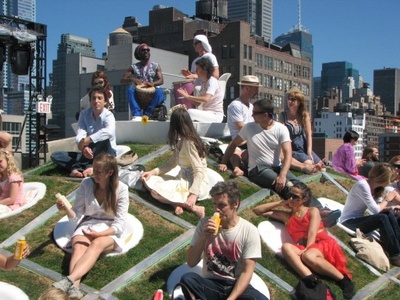 "We really wanted to have rich texture of offerings that were available to make you want to come back and have multiple experiences in the space," explained McDowell.
But, hurry up and go...this urban oasis will be gone in a New York minute.
MINI Rooftop NYC is located at 465 10th Avenue (corner of 36th Street). Check the web site www.minispace.com to register for events and view the full event calendar, party photos, video coverage and information on the program.
PHOTO CREDIT: Courtesy of MINI