The stress of the economy has certainly put a damper on holiday revelry but it doesn't mean that we should forgo the season's festivities all together. While parties may seem frivolous as the country tightens its purse strings, the reasons why we entertain family, friends and colleagues this time of year are not.
I predict that only good things will result from the reevaluation of our spending and priorities. As we become more conscientious with our money, we will inadvertently become more thoughtful about the planet and each other. What we purchase, how we consume and what we serve our guests will speak volumes about our values.
Here are some entertaining ideas and tips from my favorite vendors to help you have a more meaningful, cost-effective and green holiday gathering.
Stay Away from Disposables
Using plastic dinnerware at your party is not only extremely wasteful but it sends a negative message to your guests about how you care for the environment. A typical cocktail party goes through hundreds of disposables that are only used once and then go straight to a landfill. If you want a better return on your investment, try Preserve Everyday by Recycline. The collection features brightly colored 100% recycled plastic cups, plates and cutlery that are reusable, dishwasher safe and recyclable (when you are finally finished with them).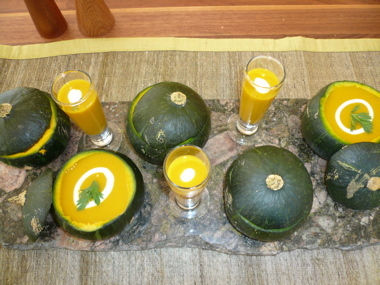 Use Fruits and Vegetables as Tableware and Décor
Winter vegetables come in rich colors and make great decorations. Relish Caterers, a sustainable catering and events company based in New York, creates elegant and original table settings by using hollowed out acorn squashes as soup bowls or containers for sauces and dips. Melons, cranberries and sticks of cinnamon are used to decorate platters of hors d'oeuvres. Not only are they readily available at the local farmers' market but they are inexpensive and compostable.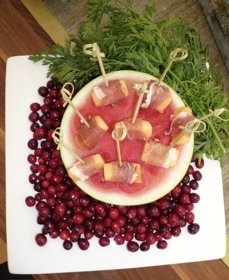 Reuse What You Already Have
Dress your buffet or dinner table with items you already have but, use them in a fresh, new way. At a recent event, Relish Caterers designed a fun crudité platter using a variety of glassware found in their kitchen including a martini glass, a bud vase and a water glass to hold an assortment of different sized vegetables.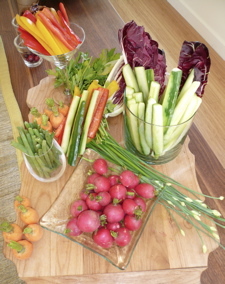 Set a Sustainable Table
When you do need to purchase a tabletop item, spend you dollars wisely by choosing products that are made in a sustainable way. Branch Home, an eco-friendly online retailer, has a large collection of beautiful yet affordable serving trays and bowls that are made from bamboo (a renewal resource) and finished with non-toxic glazes and glues. For candles, look for all natural soy or beeswax options like those from Big Dipper Wax Works (sold at 3R Living) that do not emit the toxic fumes of petroleum based candles.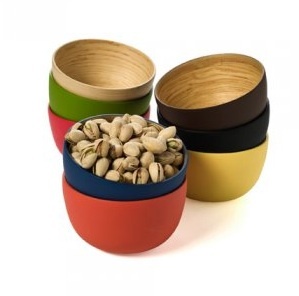 Stay Local
Support your local economy by buying produce, meat and dairy from the hardworking farmer. Not only will you understand where your food is from, but it will be fresher and produced in an ethical manner. Flowers can also be sourced locally from florists such as Gardenia Organic that are dedicated to using in season, pesticide-free and fair trade flowers.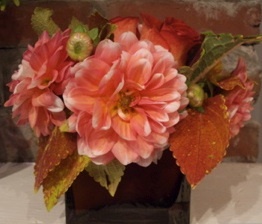 Are you an Eco-Chic entertainer? Leave us a comment below with your green party planning tips.
A seasoned event planner, Celia Chen is the Founder and Editor-in-Chief of Notes on a Party, an online magazine about entertaining that celebrates Events from the Inside Out™. Chen is the producer of an event series called, A Night of Eco-Chic Entertaining, which educates event planners on the latest products and services in the green marketplace.
For a behind-the-scenes look at other VIP events and tips on party planning, visit http://www.notesonaparty.com.