Honorable President Hu, Vice-President Xi, Chairman Wang and Delegates of the 18th National Congress:
I am writing not as my own representative, but as an ambassador for Jesus Christ, who was sent by God to bring good news of salvation into an eternal kingdom that will never perish. I am not writing you as a political dissident or anti-Party revolutionary -- rather, I am humbly writing you as a daughter of God, whose heart grieves over the suffering of his people. Last week, we received news from Shandong Province, Zibo City, that a mother named Ms. Song was forced to undergo an abortion when she was six-months pregnant. Additionally, we are aware of many other cases of injustice against victims of the One-Child Policy, including the following: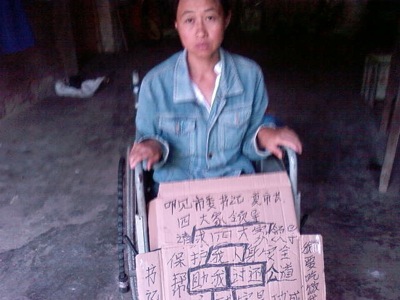 Zhang Wenfang, above, suffered debilitating health problems after her forced abortion. This month, she remains in custody in Hubei Province after petitioning the government.
Mao Hengfeng was fired from her job because she refused a forced abortion; she was recently sentenced to 18 months of forced labor for seeking justice from the government.
I am writing to encourage you to take actions at the national level to respond to this violence against women and to have compassion on these victims of the One-Child Policy. While God is merciful, his mercy should not be taken lightly, as he will also hold every human to account for their deeds done in darkness. As the Bible says, "Nothing in all creation is hidden from God's sight. Everything is uncovered and laid before the eyes of him to whom we must give account." (Hebrews 4:13)
I applaud you for taking steps to end forced abortion in China by ordering family planning officials to "absolutely stop late-term abortions" and to "guide people to do family planning voluntarily." It is encouraging to see that 23 provinces have since published bans on late-term abortions on their official websites.
Yet this is not enough. A ban is only effective if it is enforced, and the seven Family Planning officials who forcibly aborted Ms. Song's baby have committed a serious crime. If you value the rule of law, those officials who flouted the law should be punished and stripped of their authority. The family of Qiao Ping'an and Ms. Song should be honored through a public apology.
Moreover, justice should be given to the many other women who have suffered because of the One-Child Policy. Just as China has rightfully demanded an apology from Japan for the atrocities committed during World War II, so also are these wronged women deserving of an apology and appropriate compensation for what they suffered under the One-Child Policy.
You may say it is impossible to regulate local officials who violate the rule against late term forced abortions. This is true -- it might be impossible to prevent horrible stories like Feng Jianmei's or Ms. Song's as long as the One-Child Policy continues. For this reason, I call upon you to finish what you began by ending the One-Child Policy completely. All Girls Allowed has publicized the unbelievably high fines that are imposed on ordinary Chinese citizens for breaking the One-Child Policy. I believe that corrupt officials will continue to harm women as long as these fines -- incentives to corruption -- remain in place.
Not only is this policy a stain on China's reputation and honor, but also it is a thorn in the side of China's economic and social development. A growing chorus of Chinese citizens and the international community are calling for an end to this outdated and oppressive policy. Instead of threatening mothers, Family Planning officials should be enlisted to improve maternity health, to provide sex education, and to teach about the value of girls in a society decimated by gendercide.
Do not be afraid of what might happen to Chinese society if you reverse the One-Child Policy. It was God who commanded us to "Be fruitful and increase in number, fill the earth and subdue it." (Genesis 1:28a) He will ensure that there is enough food, shelter and resources for every person in China. After all, 80 other countries are more densely populated -- and these countries do not impose a policy that leads to abandonment of female infants and brutal treatment of pregnant women.
I have seen reports that Mr. Xi and others in senior leadership are interested in pursuing a pathway of reform for the Communist Party, and that the theme of the 18th National Congress is: "Reform or Dead-End Road." I commend you for this posture of reform and humbly ask that your first act of reform would be to listen to your people and ensure the freedom of every mother in China to determine the future of her family. You will also release yourself from the curse of shedding innocent blood: "O city that brings on herself doom by shedding blood in her midst...you have become guilty because of the blood you have shed." (Ezekiel 22:3-4) For every child is lovingly created by God, even from the womb before birth: "For you have created my inmost being; you knit me together in my mother's womb." (Psalm 139:13) Therefore, turn away from shedding innocent blood through the One-Child Policy, and God will bless your leadership, your families, and your nation.
Finally, we also ask on behalf of our brothers and sisters that you would grant freedom of worship to all, that the Chinese people may choose life and follow God, and so bring his abundant blessing upon China. As the Bible says: "Commit your way to the LORD; trust in him and he will do this:He will make your righteous reward shine like the dawn, your vindication like the noonday sun." (Psalm 37:5-7)
Humbly yours,
Chai Ling