The bread of life bakery is quite a popular place in Benaras. Opening its doors to its patrons by 7 a.m., this quaint restaurant will indulge a weary traveller in delicious pancakes and French toasts. But if you are lucky, you will also get to meet Ramesh Singh. For a young, modest man with an easy demeanor, Ramesh is quite vocal about who people should vote for in the general elections. Calmly shuffling from the kitchen to my table to his front desk, he spins his political theories in a charming yarn. "Kejriwal ek sachha aadmi hai" (Kejriwal is a man of truth), he states passionately. "How often has Murli Manohar Joshi (the current MP from Benaras) visited us? he got elected and never turned around to deal with the city's problems," he laments slowly as his manager, a staunch BJP supporter, walks past.
Ramesh has a clear bone to pick with the incumbent parties at the centre and the state. You wouldn't mistake him for a simple restaurateur as much as someone with a left wing bias; he speaks merely from the conviction of his experiences. Ramesh was one amongst many citizens of the holy city who are captivated by the ongoing Indian elections. Benaras became the battleground when Narendra Modi decided to contest elections from there, stepping on a few toes in his own party to do so. His announcement was followed by the challenge from the underdog, Arvind Kejriwal of the Aam Aadmi Party, a political outfit that took birth from the anti corruption movement that sprung up in 2010.
In this politically charged atmosphere, I experienced sparks of madness and maturity that were exhibited by the people in Benaras. On the first day of a two-day visit, I made my way to the Benaras Hindu University. Nestled in the vast campus, I made an appointment with a bunch of students at the Birla hostel who were gracious to let me into their rooms and entertain my questions. What was initially scheduled for an hour's chat turned into a three-hour conversation that left me with an uplifting sense of hope! I was expecting a polarized debate where people quickly took political sides in order to belong, the way I saw it on television every day, but what I got instead was a very nuanced and meaningful chat.
As young people between 18-21, they refused to take any party's side on face value and critically examined the various promises made by leaders across the political spectrum. One of the important observations from the Indian elections are some of the key words that have captured the nation's imagination. Development, Hindutva and Corruption have been the three major talking points that have received endless airtime but hardly any sincere discussion. All parties made blanket statements to bring inclusive development, eliminate corruption and temper Hindutva but the youth are not entirely convinced.
Here's a brief audio excerpt from that discussion (in Hindi)
Hindutva or Hindu nationalism was one of the issues that I went to Benaras with. A city that is in more ways than one, representative of the nation as a whole. With over 70 percent Hindus, the coming into power of political parties that build their campaign on religious lines is something of concern. All political outfits, it is understood, do it to a certain degree but once again, the ones that do it with political shrewdness and discreetness take the spoils.
As I made my way to the election road show of Arvind Kejriwal, I met a group of energetic youth from Delhi University who were supporting him by performing street theatre and encouraging people to vote for an honest and secular government. I asked them if the rise of Hindu fundamentalism is a real threat or if it is just an election conundrum that will fade soon. For young voters it appears, the issue of religious divides exist but politics should steer away from those lines and work for the common good. An ideology that anybody worth their salt should agree with but how feasible is it in India?
Below is a short audio excerpt from my chat with a few students on Hindutva in Hindi
Finally, the subject of corruption and the steep rise of crony capitalism has been on everybody's mind. The government over the last 10 years has clearly shown the deep nexus that exists between politics and big corporate money, with scams and scandals that leave very little to the imagination. The new government needs to break that status quo; and below is an audio excerpt from Arvind Kejriwal speaking on his road show about crony capitalism and democracy (in Hindi).
As the grand Indian elections comes to a close with the final results expected on the 16th, I am reminded of the words of the BHU students and their idea of participatory democracy. It is not enough to vote and pile up our hopes and aspirations on one individual or a single party but imbibe a strong tradition of questioning power and speaking to authority. Development, corruption and nationalism on religious lines are complex issues that deserve much more nuanced discussion which the young people of India can shape and drive forward.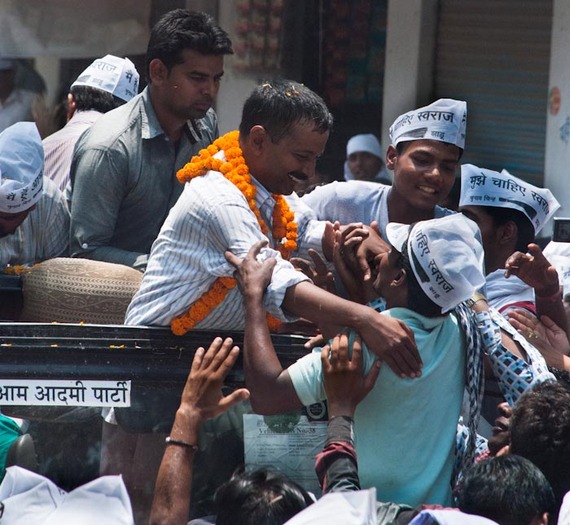 Picture of Arvind Kejriwal at a local rally near Benaras.