The US Institute for Energy Economics and Financial Analysis (IEEFA), an independent analyses and research institute on energy and environment has come out with a bleak future outlook for India's coal imports, primarily from Australia. The new report undermines the economic and financial assumption that India can afford imported coal and presents clear evidence of the inherent flaws in this assumption.
The report is rather distasteful for the energy sector in India that has tens if not hundreds of thermal power plants in the pipeline expected to run on imported coal. 2013 saw a 21 percent jump in coal imports from the year before to reach 152 million tonnes and is expected to reach 170 MT through 2014. With China showing signs of decelerating her coal dependence, India is being pitted to lead the race for imports but the wary economics have another story to tell.
The report looks at three major aspects to arrive at their conclusions. The first is the acknowledgement that Australian coal production is in a structural decline. Majority of the new coal production is expected to come from the vast reserves at the Galilee Basin where 9 mines have been proposed to start coal production. India's coal biggies Adani and GVK bought the rights to mine the basin for a whopping $ 1.8 billion under the Carmichael and Alpha coal projects respectively. Both projects are running 3-4 years behind schedule. The rail, power, water and port facilities required to enable these mines to operate are non-existent. The cost of building the required infrastructure means the combined capital and operating costs of the coal mines will be un-commercial. The coal is lower than Australian benchmark quality in terms of calorific value and relatively high in ash. All of this coupled with a steadily growing peoples movement across Australia against fossil fuels is putting brakes on reckless coal mining in the country.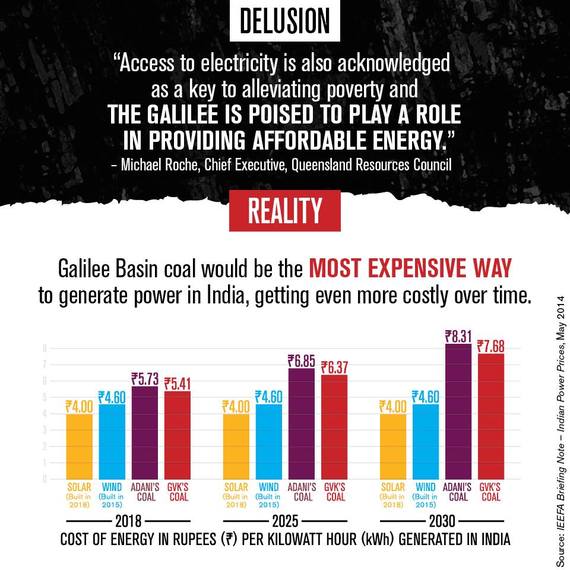 The second aspect is the consequence of these high costs of production on consumer electricity prices, an extremely sensitive issue in India. The report shows how Galilee coal fired power is twice as expensive as wholesale electricity prices in India at this moment. This would make power a hard sell and the TATA Mundra project in India is a case in point where rising import prices of coal have forced India's beloved company to ask for higher consumer tariffs, a request that hasn't gone down well with many states buying power from the plant.
A majority of the new ultra mega power plants (4000 MW units) proposed in India will be run on imported coal. The rights to build and operate are won by companies through a bidding process that forces them to supply power contractually at a tendered price over 25 years. Considering the volatile nature of coal prices, it is only a matter of time before these plants come up a cropper and seek consumer bail outs. This highly obvious deduction brings me to the third aspect of the report that speaks of renewable energy as a suitable alternative. Renewables are deflationary, while fossil fuels are inflationary. Solar prices have decreased 20% PA over a 5 year period and these double-digit declines are forecast to continue. Wind, solar and hydro facilities can be built faster and/or at lower tendered prices and with zero fuel costs, there is an inbuilt deflationary driver.
The solution therefore for energy poverty in India does not lie in further expansion of expensive coal but greater investments in decentralised renewable energy. The economics for this argument has never been this clear and straightforward before. As India elects a new Government in the next 10 days, it needs to make the smarter choice of investing in a cleaner and safer future for her citizens.
The report in its full can be downloaded here.