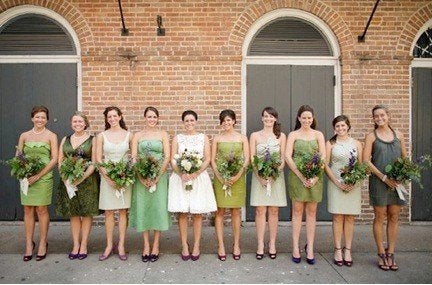 I don't mean like a baseball uniform or a military uniform, I mean the exact same uniform look for each bridesmaid. Are they told to wear the same dress, the same accessories, the same hairstyle? Or do you give them a little leeway in the individuality department? Remember ladies, your bridesmaids are your best friends (or are supposed to be). Don't make them look bad, be uncomfortable, or take away any chance they have of feeling a bit like themselves at your wedding. Here are some ways to keep things individual but cohesive, and make everyone happy!
1. Same Dress Color, Different Styles
Choose a shade you love and let each bridesmaid choose her own style. Want to be sure they pick the shade you want? Give them a swatch of the exact color. Just because you want them to choose their own dresses doesn't mean you can't be specific with the color.
If you do want them to all wear the same gown, how about choosing different styles or shades? Or if you want them exactly the same, why not let them to wear whatever shoes they like (If you are afraid this will get out of hand, specify any nude shoe, or any black shoe, or any closed toe shoe in the blue color family, etc). Or let them wear their hair however they want and their own jewelry and accessories.
2. Same Dress Style, Different Shades
Or, if you find a bridesmaid dress you absolutely love, why not see if it can be made in varying shades. You could do different shades of one color, or you could do a rainbow of different colors. The style of the dress will anchor the look together.
But my favorite bridesmaid look is to be completely mismatched! Let your girls wear a dress of their choice in the same color family, or in your palette of colors. As long as the dress isn't completely inappropriate (and you do get to decide what is and isn't appropriate for your own wedding), it will look great, your bridesmaid will appreciate being able to choose (or possibly wear something she already has or will actually wear again), and it makes for a really cool look! Plus, everyone is really looking at you, right? You could do this by having your bridesmaids choose their own dress in any shade of a specific color, like any shade of green.
3. Bridesmaid choice of dress in different shades
Choose a color theme, and let your bridesmaids select a gown that suits them.
4. Bridesmaid choice of dress in different colors
Or, you can let your girls choose any dress style they like, in any color that you specify (like any neutral color).
Personally, I chose a bridesmaid dress by Lela Rose with my bridesmaids that came in three different styles (halter, one shoulder, and two straps) and told them to choose whichever style they thought looked best on them. Ironically, they all chose the same one! But they did wear whatever shoe, jewelry, and hairstyle they wanted. And they looked fab!
So, I'd love to hear your thoughts. Do you like your bridesmaids to be uniform or are you going for a mismatched look?
PHOTO GALLERY
Bridesmaid Dress Options