I can't lie, I'm not usually into culinary origami. Don't get me wrong; I deeply admire all of those amazing bento lunches I've seen other parents carefully pack and photograph. But with three small kids under the age of 5 at my house, I just don't have the time, or the knife skills, to pull it off.
That doesn't mean we can't have a little fun of our own, though. These five Easter ideas are each so simple that even I managed to make them with all three rascals under foot, on the counter and running around the kitchen shouting things like "I want to help!", "I'm thirsty!" and "Will you read this book?" As always, I love cooking for these kids, but it's got to be simple, fast and fun. That's why these recipes make the cut. They're so adorable without being so difficult that I start hating the whole holiday in the process. Happy Easter!
1. Easy Brownie Birds' Nests
Got a brownie mix, some candy eggs and a biscuit cutter? You're in!
Get the details here: Easy Brownie Birds' Nests for Easter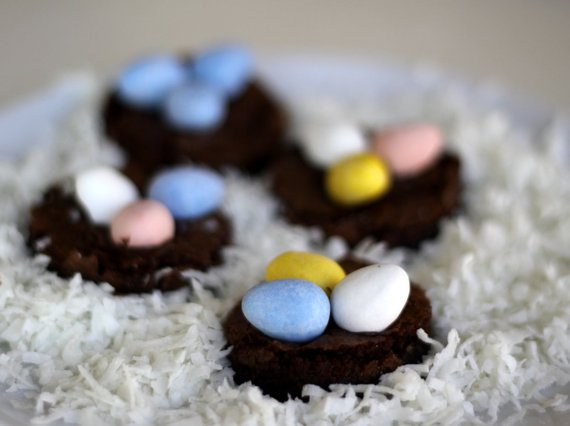 2. Baby Carrots in Pots
Baby carrots plus parsley and hummus make this the healthiest, and cutest, little snack of all.
How-to instructions: Baby Carrots "Growing" in Spring Pots
3. Giant Sugar Cookie Easter Egg
Whether you make a "healthy" sugar cookie dough, or just buy one from the store, this humongous Easter egg makes a major impression on the knee-high set.
More details: Giant Sugar Cookie Easter Egg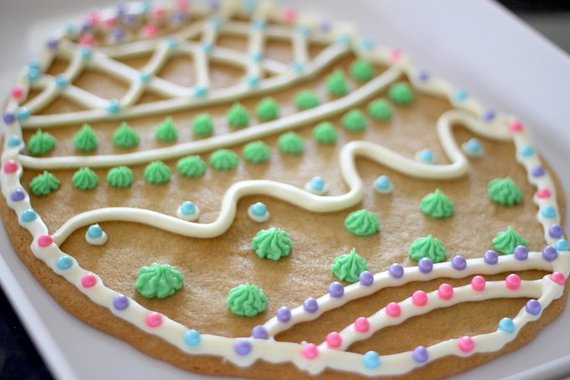 4. Hard-Boiled Eggs Become Easter Hens
This one is the most involved but I swear, it's still a cinch. The longest part is boiling the eggs.
Get the how-to instructions here: Hard-Boiled Eggs Become Easter Hens
5. Rice Krispies Easter Eggs
Take a batch of 3-ingredient Rice Krispies and up those fill plastic eggs. Ta-da!
More details: Rice Krispies Easter Eggs
Charity Curley Mathews is the founder of Foodlets.com: Mini Foodies in the Making...Maybe. She's a contributor to The Food Network, eHow and more. Follow her on Facebook or Pinterest for new ideas every week.