As a former astronaut, I've had the privilege of viewing our planet from the vantage point of space where its serenity and absence of borders belies the truth of what sometimes happens on the ground. And, as a southern-born African American, I have been fortunate to witness tremendous racial progress in my lifetime. Last year marked 150 years since the signing of the Emancipation Proclamation and 50 years since the historic March on Washington. This year commemorates 50 years since the passage of the Civil Rights Act of 1964.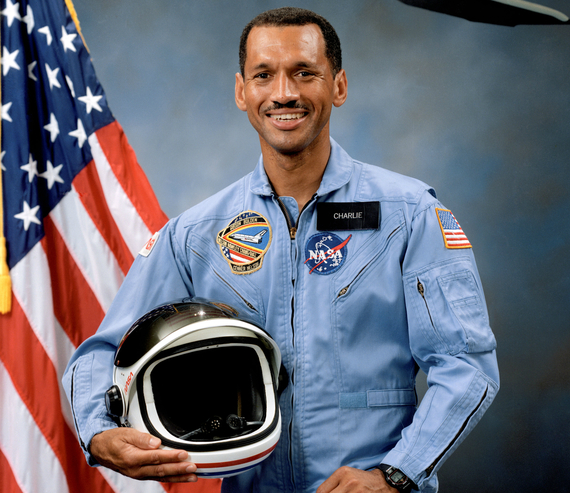 Official portrait of Astronaut Charles F. Bolden, Jr.
But, glaring disparities still exist between African Americans and whites in education, health, income, employment and other barometers of well-being, making it clear, our work is not yet done. In addition, there are still too many Americans who either don't know or don't care about the indispensable contributions African Americans have made to the progress of our nation -- in business, art, public service, science, education and space exploration.
Black History is also very much a part of NASA history. I am proud to be among the pioneering cadre of Black astronauts who broke both gravitational and color barriers when we first blasted off into space. Guion "Guy" Bluford led the way 31 years ago with his first Shuttle mission in 1983. Mae Jamison followed in 1992 as the first African American woman to fly into space. I took the first of my four space shuttle flights in 1986.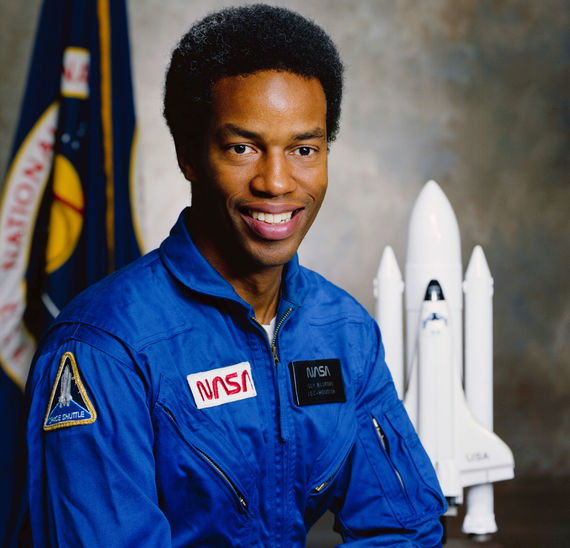 Astronaut Guion S. Bluford, mission specialist
There have been many other Black astronauts, but several largely unsung pioneers either fell through the cracks of history or faced insurmountable roadblocks at the crossroads of freedom and equality.
It is a little known fact that in 1961, President John F. Kennedy tapped Ed Dwight, an accomplished Air Force fighter pilot and aeronautical engineer, to become America's first Black astronaut. Dwight never made it into space. But Ed Dwight never stopped soaring. He has become one of the most acclaimed sculptors in America. His masterworks include bronze statues of Medgar Evers, Hank Aaron, Martin Luther King, Ella Fitzgerald and Duke Ellington.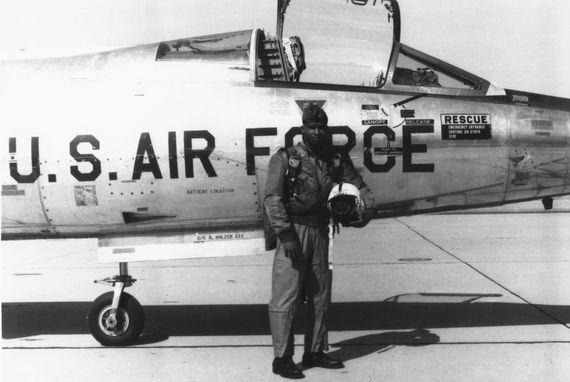 Major Robert H. Lawrence, Jr. standing in front of an Air Force jet
It was not until June, 1967 that another Air Force pilot, Major Robert Henry Lawrence, became the first African American to fully qualify as a NASA astronaut. Unfortunately, Major Lawrence also never flew into space. Shortly after being selected as a U.S. astronaut, he lost his life during a 1967 training flight. In 1978, his name was added to the Kennedy Space Center Space Mirror Memorial for astronauts who died in the line of duty.
In the mid-80's, Livingston Holder, yet another African American Air Force veteran trained and qualified as a manned spaceflight engineer and Shuttle payload specialist. He was slated for a Shuttle mission, but never got the chance. His mission was scrubbed after the 1986 Challenger accident.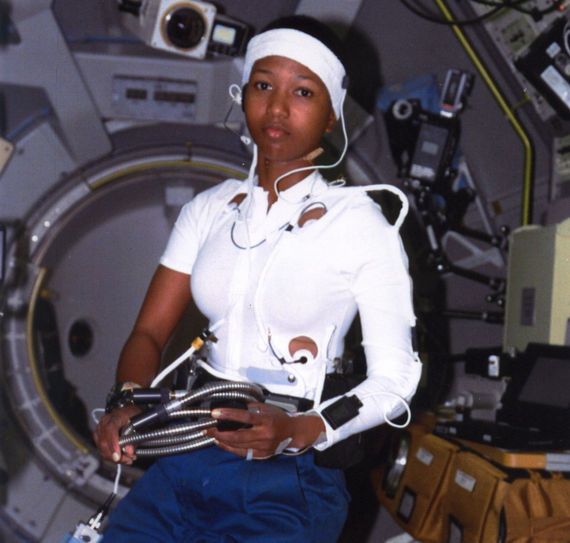 Astronaut Mae C. Jemison, mission specialist, pictured in the Spacelab-J Science Module, wearing the headband and other monitoring gear for physiological evaluation
As a child of the segregated south of the 1950s and 60s, I drew inspiration from these African American astronaut pioneers as well as the visionary leadership of people like Dr. Martin Luther King. While Dr. King was leading non-violent protests, I was overcoming racial barriers to get into the Naval Academy. I wanted to serve my country as my father and my uncles had done in World War II when Blacks had to fight for the right to serve in our Armed Forces. As head of NASA, I have been able to continue breaking barriers by engaging people from all walks of life and all parts of the world in reaching deeper into the cosmos and improving life here on Earth.
Dr. King understood that connection too. In his 1964 Nobel Peace Prize lecture, he spoke about the role of science in the evolution of human consciousness. He said,
"Modern man has brought this whole world to an awe-inspiring threshold of the future. He has reached new and astonishing peaks of scientific success. He has produced machines that think and instruments that peer into the unfathomable ranges of interstellar space. He has built gigantic bridges to span the seas and gargantuan buildings to kiss the skies. His airplanes and spaceships have dwarfed distance, placed time in chains and carved highways through the stratosphere ... Yet in spite of these spectacular strides in science and technology and still unlimited ones to come, something basic is missing ... We have learned to fly the air like birds and swim the sea like fish, but we have not learned the simple art of living together as brothers."
I hope we will continue to afford more people from many more nations the opportunity to venture into space in the years ahead. This can only increase understanding of this incredible planet Earth we call home and bring about a realization of how much we are all in this together.
Until that day happens, those of us earthbound have the examples of leaders like Harriet Tubman, Rosa Parks, Frederick Douglass, Dr. King, Barbara Jordan, Medgar Evers, Ed Dwight, Guy Bluford, Mae Jamison and Nelson Mandela to look to as guideposts along the way.