It's more of a reward than an award, but still, it's one of the most fun, private parties in Hollywood. It's the BMI Pop Music Awards, held in May at the Beverly Wilshire Hotel; a venue that has served as the award's home for some time now.
Each year, over the course of a few weeks, songwriters take over the ballroom as BMI honors the best and most successful from the year previous; the people behind the music, the songwriters and publishers, the creators of the music prior to it ever reaching a chart.BMI gives out awards in Pop, Rap, Country, Film and TV to writers and publishers that are signators with BMI.
BMI (Broadcast Music, Inc) is one of the two major performance rights companies in the United States; ASCAP (American Society of Composers and Publishers) being the other. It is these companies that negotiate and protect the rights of songwriters and publishers across all mediums, with digital quickly gaining as one of the biggest money makers as music moves from CD to iTunes or Spotify or streaming and films go from theaters to Netflix, Hulu, Crackle and beyond.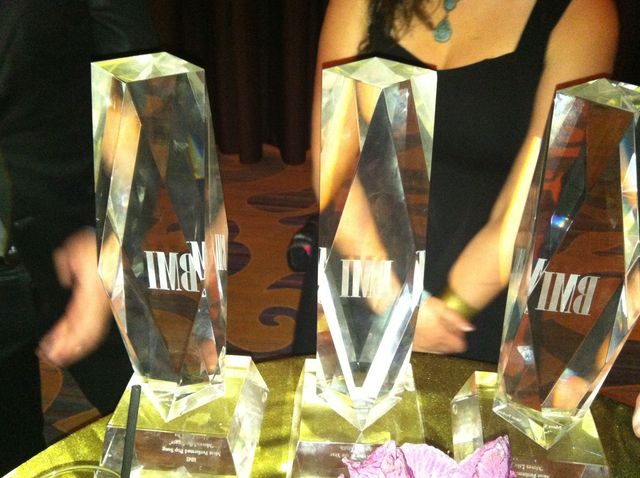 A Bevy of Awards Photo: Steve Cabral
The awards are a way to acknowledge the people that create the music, write the songs, and get them released and published. I've been attending for over a decade and the night can be described as pure joy; the love of music, of being able to enjoy the success of your work with your peers. It's faces, some famous, some not, all dressed up and ready to be acknowledge for writing a song that made it in the commercial realm the year previous. Life is too short to not enjoy success, and success is too fleeting not to recognize it, so the night serves many purposes. Hitmakers like Brenda Russell, who has been writing hit songs for decades, or the legendary Carole King mill about with newbies like Pitbull or Red One. It's the old, and the new, all in one place brought together by the love of song and business of music.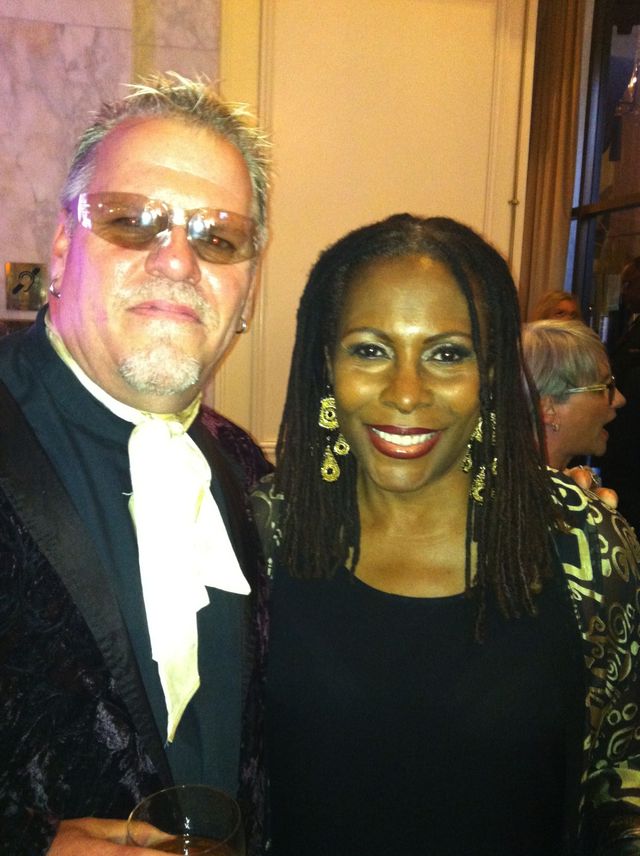 Karel and Brenda Russell Photo Steve Cabral
The night always starts with a stop at the checkin table where wonderful BMI staffers sort though celebrity, press, publishers...lists upon lists. Then, there's a great indoor red carpet for the songwriters and celebs. BMI Vice President and General Manager Barbara Cane greets the writers, a face many of them know as she is one of the fiercest advocates for BMI writers and their music.
"This woman means so much to me, and my family," star of the night Adam Levine told me over cocktails during the 6:30 to 7:30 cocktail hour that kicks off the Pop Awards. My associate, Steve Cabral, and I arrived around 7pm and immediately got a Jameson's and parked at a table with a lovely couple and their son and daughter. We struck up a conversation, and the gentleman introduced himself as Frank Levine. It wasn't until Adam came up and started hugging everyone at our table that we realized that Frank was Adam's dad. We spent time chatting with the entire family, and I have to say, they are all kind, and gorgeous. Mom, dad, sister, two brothers...each of them gorgeous and fun, generous people. It's no wonder Frank was almost a bigger recipient of "Hello's!" than Adam.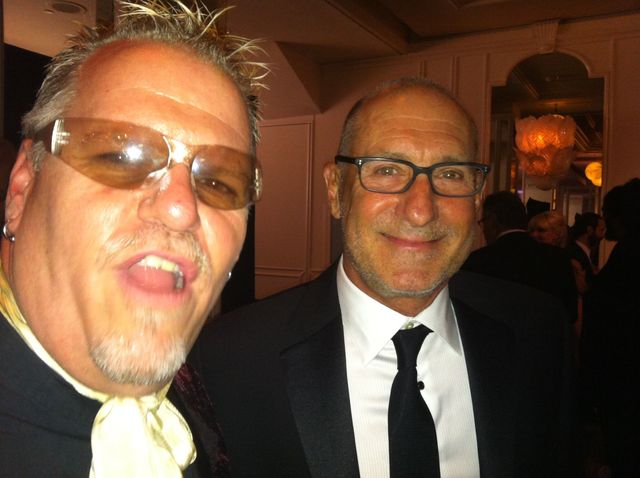 Karel and Frank Levine, Adam Levine's father Photo Steve Cabral
"My dad's the real star of the family," Adam joked as we made our way out of the tuxedoed crowd to get him backstage for his tribute. "I'm really glad they could be here tonight. I remember Barbara (Cane) turning to my mom so many years ago and telling her, don't worry, your son is going to make it, stay strong, he's going to do this. It meant a lot to my family, especially my mom, back then, that kind of support. BMI has been here every step of the way to help me so tonight means a lot," he told me as he darted through yet another kitchen. Celebrities, politicians, those of import will tell you, the way to the stage is often through the kitchen. Diana Ross was once quoted as saying for once she'd like to go through the front door of a venue instead of the kitchen.
The cocktail hour is truly like a yearly family gathering, a Thanksgiving or Christmas. "We always wonder what you're going to wear to this event," a couple came up and said to me as I worked my velvet jacket and cravat. "Each year you look incredible." Over the years faces do become familiar, and, outfits I guess. It's family. BMI reps from all over the world are in attendance, and songwriters established and new fill the room. It is their Thanksgiving and for that night, we all are family, held together by music and song.
And there's family members old and new. I ran in to Chord Overstreet from Glee. Yes, his lips ARE that fabulous in person and he looks great with a beard. Why was he there?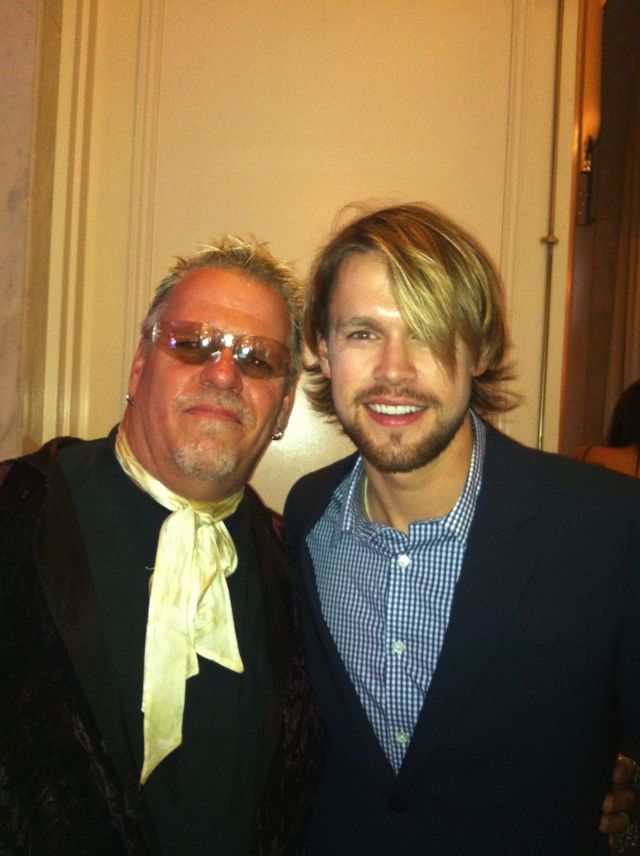 Karel and Chord Overstreet Photo Steve Cabral
"My parents are songwriters in Nashville," he told me. "So, of course, they are BMI Writers so I became one as well," he added.
Meanwhile Daughtry makes his way in to the room, looking thinner than I recall.
"Ya, I'm working out a lot these days," he told me when I asked how he got so ripped. "It really is about what you eat and then how you work out. You have to make time. Even when I'm on the road, I make time to work out. I need to be in my best shape to make sure I can keep making music," he added.
In shape? And then some.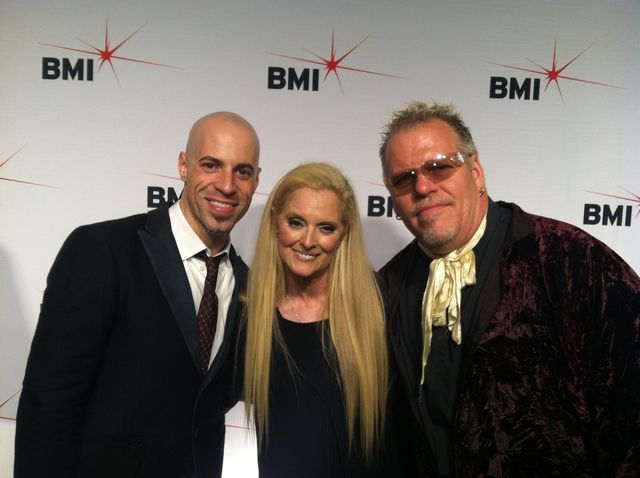 Daughtry, Barbara Cane and Karel on Red Carpet
Dinner is served at 8pm. The Beverly Wilshire always knows how to throw down a spread and this year was no different. Tender beef fillet, cheesy scalloped potatoes, grilled asparagus and a cream puff creation was not for the feint of calories. The BMI staff has this down and every attention to detail is paid. While we dine there's a multi-media show on the monitors of this year's arrivals as well as past shows. Marlene Meraz, Director of Media Relations and Silvia Davi, head of Strategic Communications and Marketing along with their young and talented staff have really raised the image of BMI and the important work they do the rest of the year, not just at the awards. Remember BMI reps over 7.5 million works of song with over 600,000 writers, composers and music publishers in all genres. It's a big job doing important work for the artist; especially in the ever-changing media landscape.
After dinner the awards begin and a host of people take the stage to get their certificates for their work on most successful works of the year previous. A Complete list of winners is available from BMI but outside of Levine it includes: Songwriter of the Year Claude Kelly for Brokenhearted, Domino, International Love and Price Tag ; Benjamin "Benny" Blanco for Ass Back Home, Movies Like Jagger, Payphone and Stereo Hearts; and Ammar Malik for Ass Back Home, Moves Like Jagger, Payphone and Stereo Hearts. Universal Music was publisher of the year with hits like Boyfriend, Crawling Back to You, It Girl, Lighters, Love You Like a Love Song, Moves Like Jagger, Mr. Know It All, Nothing, Payphone, Price Tag, Rumor Has It, Set Fire to Rain, Someone Like You, Starships, Stereo Hearts, Stronger, Turn Me on, Where Have You Been and Wild Ones.
The tribute to Levin was spearheaded by Rozzi Crane, the first artist signed to Levine's 222 Label. "Thanks for making me feel shitty by singing that song better than I can," Levine said after Crane's stunning performance. And, well, she did sing it incredibly. I'd buy it if she released it. Allen Stone had a tough act to follow but this soulful crooner did just that, Stone is a modern-day hippie, whose original music is socially relevant, soulful and beyond his years and he had no problem with the Maroon 5 catalogue.
Levine accepted the award in his affable style. This man is going to be around for some time. Think mogul. He can sing, is sexy beyond belief, is gracious, funny, can act and wants to share music by finding new artists and getting their music out as well. Having met his family I can see it's real, he is who the public sees. He's honest, musically, personally and professionally. And he's involved. The list of charities that he champions, including marriage equality, shames almost anyone in to action.
Not many artists are great business people. It's why there's agents, managers, lawyers...the people that do the business of music or art. BMI represents the business interest of the songwriter, composer and music publisher world wide, making sure artists get paid for when their work is used or exploited. The work they, and ASCAP, do, adds billions to the U.S. economy, creates jobs and makes sure artists are able to survive past the shelf life of their hits. BMI writers will get checks in perpetuity, so long as their work is exploited. And trust me, songwriters rely on those checks in the later years.
Memorial Day may kick off summer and summer vacations, but the BMI Awards, (Pop, Rap, Film, TV, Country) kick the industry in to high gear and the season of summer hits, summer concerts and then Fall award shows begins and the songwriters out there that are writing the music being heard in the upcoming year may find themselves next year at the Beverly Wilshire getting an award for their success. Outside of the photos below, there's lots more here.
To hear The Karel Show live daily go to the website, or get the App for iOS or Android. Karel's books are available at Amazon and his upcoming comedy album will be available in iTunes.