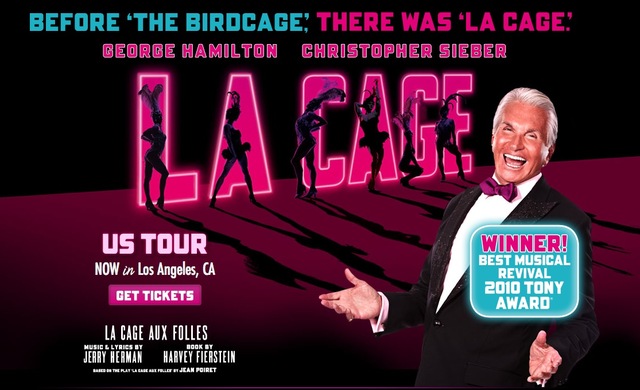 Everything old can be new again. You just have to live long enough to see it and realize.
When I first visited La Cage Aux Folles (later to become The Birdcage) I was young and involved in a drag show. Yes, a drag show. I was the Divine Miss Mess, specialized in Bette Midler (mermaid fin, wedding dress, palm tree wheel chair and clamshell in tow) and basically lived the backstage antics portrayed in the play. I wasn't pretty, but I was fun. And I met the most wonderful group of people that remain my family today.
Yes, family. The theme of La Cage Aux Folles; the very heart of the matter. What is a family? What is "normal."
Revival theatre can either hit or miss: La Cage at the Pantages in Hollywood (July 10-22) hits on all the right notes.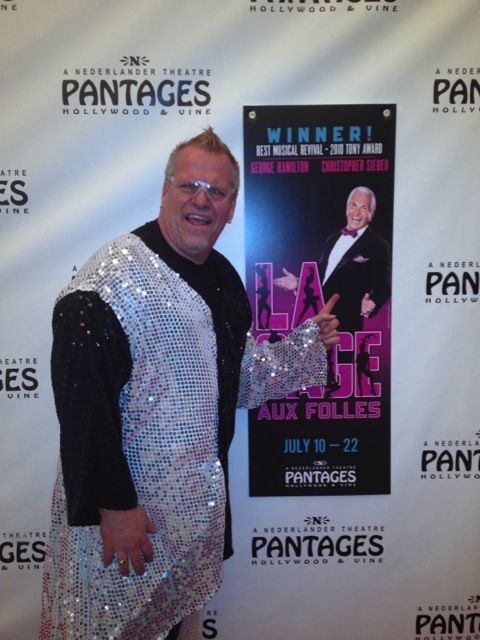 Photo: Daniel Charleston
When going to opening night of La Cage wear sequins if you got 'em. I did, and the sensation I was causing attracted one of the show's producers (who had to have a photo). It was a fortunate meeting, as he told me how this had been reinvented.
"They were doing the play in a venue that was less than 100 seats, and had to make it so much more intimate, more like the actual club in the piece," he told me. That reinvention was an inspiration.
With the music by Jerry Herman and book by Harvey Fierstein this updated version for the new millennium brings much needed messages of individuality, of family in all shapes and sizes and of universal, never-ending love to the stage in songs that remain classic.
The play opens with an emcee, the hysterical Lili Whiteass who actually interacts with the audience and unleashes a very drag club set on the unsuspecting audience. This is not your typical night of theatre; but then again, La Cage never was typical.
Then the star appears, George Hamilton looking his signature Saint Tropez Brown (John Boehner could take note, it's tan not orange). He is Georges, and welcomes us to "La Cage" and prepares us to meet the "girls" and the greatest star of all, "Zsa Zsa!" It is Hamilton's reserved Georges to Christopher Sieber's pitch perfect (and highly strung) Albin that are the gears that drive the play and Sieber has energy to spare. His "Zsa Zsa" is everything she should be; human, caring, grand, petty, precious, Diva, mother and wife). It is Sieber's heartbreak we feel in the anthem "I Am What I Am" (which, Lady Gaga, we were singing thirty years prior to "Born This Way") and his joy we feel with the errant son realizes the err of his ways and they embrace as yes, mother and son.
The plot remains the same and could play today, as it did then, as it was in Auntie Mame and countless others: son wants to marry girl, girl's father is mega conservative, son's family not "normal"; son asks father to sanitize his life for a night, including the very person he loves and that raised the son. They manage to make a comedy out serious issues of family, of life, of acceptance, judgement, homophobia, bigotry and heartbreak. It must be the sequins. As Sieber sings, whenever things get tough, put on more mascara.
The Pantages Theatre was illuminated with stars yet again, each turning out to see this triple-Tony winning revival. Shirley Jones, Loni Anderson, stars from Glee and countless other TV shows and films worked the red carpet prior to curtain.
Lili's monologue asked the audience about anniversaries and birthdays. Here in this temple of theatre were gathered 17-year-old girls, 24-year-old homosexual males (by their own declarations!) couples that had been married 42 to 56 years, people like artist Representative Roz Ryan who stood up to celebrate her birthday and shake her groove thing for the packed house. Each was here to have a fun time, to be themselves, to be entertained, and this night of theatre didn't disappoint.
The after-party at Sadie LA on Las Palmas was equally as festive, as the cast arrived in full drag, George Hamilton in a suave suit and a group of Hollywood regulars and cast members all enjoying another successful night.
Einstein has been quoted recently on Ashton Kutcher's Twitter feed, with the quote that creativity is intelligence having fun. The behind-the-scenes reworking of this classic and then perfect personification of the roles in a more scaled-down version introduce this to an entirely new audience with themes as relevant in today's fight for marriage equality, for acceptance, for an end to division and bigotry of all types. The audience had a blast and one can learn through laughter. That's a lot of intelligence having fun in one production, behind and in front of the curtain.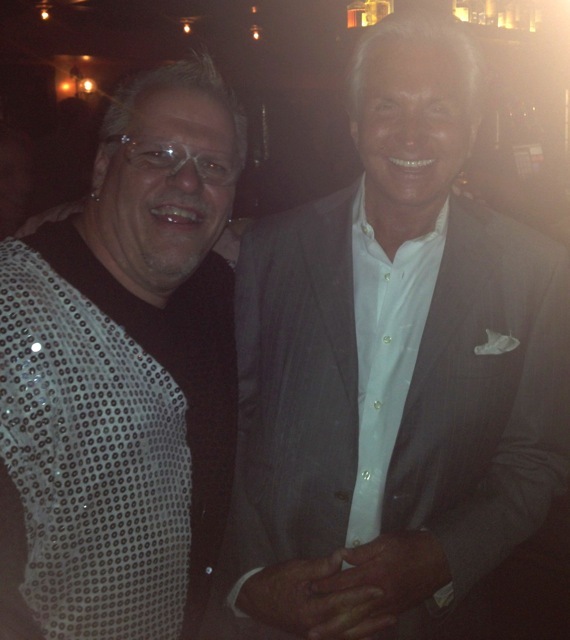 Photo: Daniel Charleston
George Hamilton was in great spirits as he held court at Sadie LA, as each of the cast literally let their hair down. They are having a blast in this production, and it shows even after the curtain falls.
And remember, you are who you are and.."I am who I am, I am my own special creation..." Go be yours. Let your freak flag fly. Throw on a boa and a pair of heels, or whatever your drag of choice is, from tattoos and motorcycles to three-piece suits and impeccable ties... love who you want, as much as you can, and when you find that someone special never let them go and do whatever you can to make it work. All while being fabulous and remembering life is filled with families we create.
What more could one want from a night of theatre?
The show moves on to Costa Mesa, CA, Las Vegas and many other stops. To find out the schedule go to http://www.lacage.com, and for tickets to the Pantages go to http://www.broadwayla.org.