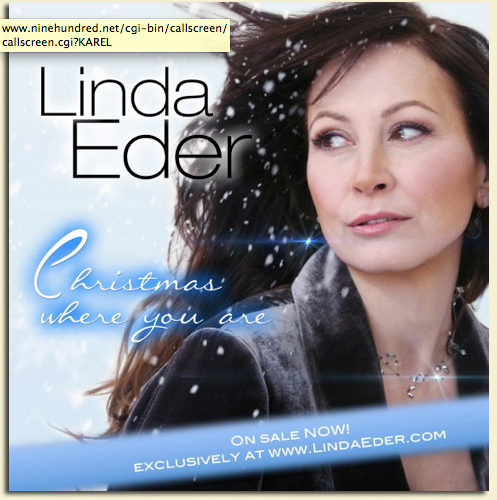 In 2000 she recorded an album that would become a Christmas staple. Now, 13 years later, she's release another group of Holiday-themed songs proving the first was no fluke. Linda Eder has the goods year round, and can really deliver at the holidays.
Now, any member of the GLBT community worth their salt knows Linda Eder: you see, we still establish the Divas. Many books have been written about the cultural reasonings for this but let's just take it as fact: the GLBT community still is able to make stars, sustain stars, launch stars and remains a fiercely loyal audience. Others outside the community probably discovered her when she originated the role of Lucy in "Jekyll & Hyde" on Broadway. And now, she's become a member of the Christmas Club.
Eder is an admitted homebody loving her house, her horses, and her son. She doesn't tour extensively staying on the road month after month, she enjoys being a mom, but does maintain a busy performance and teaching schedule. Yes, teaching.
"I've started giving both in-person and Skype vocal lessons," she stated, her excitement showing. "Live performance, live singing, Broadway singing, it's not taught in schools as it should be, the Arts in general, and people young and old need to know proper technique, song selection and so much more. Sharing what I've learned both in school where I truly believed I wanted to be an opera singer, and on Broadway and touring is so exciting for me. I love my students."
"Jekyll & Hyde" created by her former husband Frank Wildehorne is enjoying a resurgence with another diva, Deborah Cox. It was Eder who originated the role of Lucy on Broadway and in a national tour for years. When that ended, Eder leapt in to a recording career that has encompassed over a dozen full length albums.
"I've heard good things about the show, including on your show and in your column at the HuffingtonPost," she laughed. "And I'm happy for Frank, Constantine, Deborah, it just proves that what we worked on, forged out of love and a lot of blood, sweat and tears was something worthwhile, something that can adapt and grow and entertain people in years to come."
Along the career path Eder released "Christmas Stays the Same" in 2000 and it has become an annual hit, with cuts filling the airwaves from November through December. In Los Angeles she is a staple of KOST 103.5's nonstop Christmas music and as stations see the profit in programming continual Christmas music over the Holidays she is heard year after year in a multitude of markets. That album sold very well and put her in a new club.
"The Christmas Club is an interesting one to be in," she commented. "To have songs that become engrained in such an emotional and meaningful holiday, songs that people truly love, it is such an honor. And a two edged sword. You want to sing songs you love, but people are so tied to the arrangements. It's hard to be creative and stay true, but I think we managed to do it once, and now, lightening may have struck twice," she concluded.
That lightening is "Christmas Where You Are" and again highlights Eder's incredible vocal prowess while updating some timeless classics. Eder teams again with Billy Stein to craft an album that will, in fact, join the Christmas Club. From "The Christmas Waltz" to "It's the Most Wonderful Time of Year" or my favorite "O Come, All Ye Faithful" Eder delivers an album of joy, of compassion filled with tunes to make even the Grinch happy. And she did it herself.
"In today's age, labels can actually get in the way," she stated. "The idea came up to do this album, and I said let's just do it. When it came time to put it out, we decided to go through the website and just bring it to the people. The response has been amazing and I can see it every day, actually watch the album grow day by day. It's organic, and it's scary, and it's wonderful," she concluded.
Eder is touring to support this and her other Christmas album and then will continue in the new year with her show of her standards, and others.
"I love live shows, but the audience has to let me breath sometime," she said. "I can't sing everyone's favorite every night. I have to mix it up. So, in some shows, I may do Broadway songs, in others, Pop songs. There are a few songs I have to do, but don't expect me to sing 'Vienna' every night or something like that. When I have fun with the music, so does the audience. I have many tastes, I'm not some stoic Diva sitting listening to show tunes all day. My iPod has everything from Pink to Carrie Underwood, Opera to Rap. I love music."
That track, "Vienna" was remixed and became a large hit for Eder in the clubs, particularly the GLBT clubs. Would she do a Dance album in the era of Avicii and Guetta?
"Why not?" she exclaimed. "Who knows what next year will hold, right now, I'm focused on the Christmas album and getting through the Holidays. But I certainly wouldn't rule it out."
Often compared to Streisand or Dion, Eder is a unique artist with her own style, and her own message. To get the album or find out more go to Eder's Website.
Subscribe to the Karel podcast at iTunes, get the app, follow him on Facebook and watch him live on Ustream, follow him at Twitter, Instagram and more all at TheKDW.com Network.