Photos Courtesy LiveNation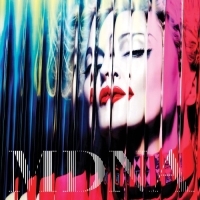 The problem with being Madonna is that you are, in fact, Madonna. You really were that hit powerhouse of the 1980s and 1990s, Pop Royalty, the Queen. And while Pop has always had its strong, independent, outspoken artists you did, in fact, invent the bad girl of Pop mold with videos being banned (remember "Erotica?") and a book, music and videos showing us all kinds of sexual stereotypes being toyed with and smashed. You're the "Material Girl" the "Like a Virgin" boytoy, you are, in fact, Madonna.
And the weight of being Madonna is never greater on you than when you record an album. After all, you inspired a generation, including the GaGa, brought William Orbit to world wide mainstream attention, you brought us Junior Vasquez and Shep Pettibone and countless others, you have everyone known and unknown in music at your disposal and the money to make any vision a reality.
The 2012 vision is "MDNA" 16 original tracks produced by a variety of the latest and greatest including "Ray of Light's" William Orbit, Martin Solveig, Benny and Alle Benassi and guest vocalists Nicki Minaj and M.I.A. The title stands for Madonna but also sounds very much like a drug, and the the same could be said of the album and why Madonna recorded it.
Track 3, "I'm Addicted" says it best, "Fame is a drug and it fits like a glove, I'm addicted to your love..." There can be no doubt that this album is Madonna in her element, electro-Dance-Pop, because whether anyone wants to acknowledge it or not Madonna is the most famous Dance music artist (add in GaGa now) in the world. She is the reigning Queen of the genre and while many artists do remixes of their Pop songs, everything from ballads made in to house hits to country songs with tribal vibes, Madonna usually starts with a solid Dance track and then Popifies it.
That is exemplified on "Turn Up The Radio" whose bass groove and infectious lyrical hook is destined for Summer dance floor and Pop radio success; an anthem to those days of Venice Beach in Summer, the top down, headphones in, skates on... it's feel good Pop at it's best.
And there's the problem. "MDNA" is a good album, four out of five stars. But it's not great, it's not ground breaking, it's fun. And when you're Madonna, in a battle with GaGa whether real or perceived, you have to hit hard and fast, and keep hitting. Yes, she looks great for 53 or any other age. Yes, she's in better shape than ever, and better than most Pop stars half her age but that only goes so far.
"Give Me All Your Luvin'," while hugely infectious and a great intro to the album for the Superbowl, felt exactly like that: a promotional tool for the album for the Superbowl. The video, featuring football players and Madonna as the cheerleader-next-door, was a little artsy, a bit festive, but really had the look and feel of the NFL and the halftime show.
The first real video from the album, and single, "Girl Gone Wild" fall short again. Not because they're not well done; on the contrary, the single has a very catchy beat, and I'm sure this will do well on the dance charts and very decently on the Billboard Hot 100 "Give Me All Your Luvin'" was Madonna's 41st #1 Dance/Club Chart hit and "GIrl Gone Wild" was the greatest gainer on the that chart coming in at #20 for the week of March 23rd according to Billboard's Chart Beat Column dated March 19, 2012.
But in the video, we have a glamorous black-and-white Madonna (how much of her life has she spent in BW and on the floor?) with handsome male dancers in high heels (think "Vogue") one in a crown of thorns (think "Like a Prayer) and Christian cross imagery; all of it already done, and done well, by her. Topping herself is hard, and this video doesn't do it. In fact one might argue that "MDNA" is Madonna having a crisis of faith; the opening of the song and album being an act of contrition about how she wants so badly to be good. Other songs also reflect Christian imagery or phrases and while this has been done by Madonna before once might wonder if as she ages she's starting to question the beyond. But she's here now, and when it comes to music videos she has been the Queen, that's why "Girl Gone Wild" was choc full of unrealized potential. Think of it, Madonna, going Wild. What is Wild for her these days? What does SHe see as Wild? It would have been nice to let us see in to her imagination and life in the video as to what Wild might be for her.
I remember the time I was interviewing 80's Popstar Shena Easton. Michael Jackson's "Smooth Criminal" video was to debut at 6pm that day on MTV (remember those times?) and we rushed out to her publicist's lobby to watch it. Afterwards, she turned to me and said in an adorable Scottish accent, "Holy sh'ite, how the bloody hell am I supposed to compete with that? Between him and Madonna, I don't know why we all bother making videos!" she exclaimed, frustrated. She was promoting her "Lover In Me" album and didn't have the budgets those superstars did at her disposal.
And that's just it. When Madonna releases a video or album, we now want, expect, need to see and hear a product that only SHE can make, given her creativity and resources. We want the best, the boundaries pushed, we want "Bedtime Stories" or the canals of Venice for "Like A Virgin;" the dystopia of "Express Yourself" or unforgettable Marilyn recreation of "Material GIrl." We want the outer limits of her creativity, the spectacle that only a star of her caliber can create. And being a human, being a spectacle every time is a tall order, even for Madonna.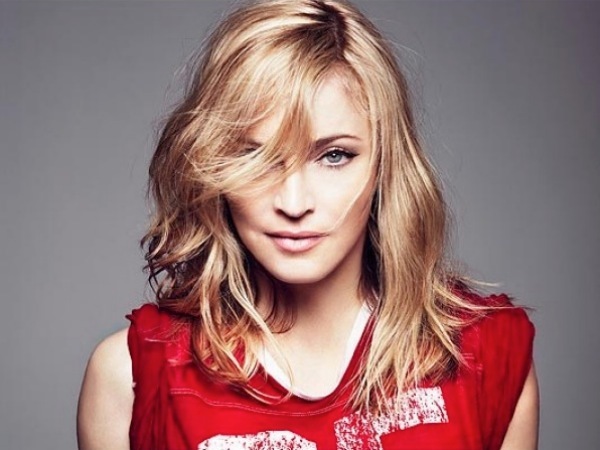 Photo courtesy LiveNation
"MDNA" is a solid record with a point of view all Madonna's. While GaGa is Mother Theresa to the Monsters, Madonna is Uma Thurman in the Kill BIll movies to her fans, kicking Pop ass and taking and naming names. In "I Don't GIve A" Nicki Minaj can be heard announcing how there's only one Queen and it's Madonna, calling out GaGa by name and stating "I'm not a business woman, I'm a BUSINESS, woman!"
And there's the weight of it all described in song so perfectly. Madonna is a multi-million dollar corporation, an industry unto herself, whose sole product is herself; her art, her very being. Everything judged under the microscope that kind of fame brings; and the inner desire many have to tear down what was once made so big. We like our stars to rise, fall, then be redeemed in some comeback. Except Madonna, like Cher, refuses to leave.
And good for them. She shines often as the Pop star she is, on "Superstar" a heartfelt ode to her daughter Lourdes. We hear of Madonna the mom, may see photos of Madonna the mom, but we never really hear or see her being the mom, really being the proud mom. In that song, she is. "Masterpiece" and "Fallin' Free" slow it down and let her voice move the forefront. And while it's not the powerhouse Adele possesses, it's served Madonna and Pop Music well for 30 years. And as we hear her sing "'Cause after all, nothing's indestructible" perhaps we get a glimpse of the vulnerable Madonna, the one that has taken all the world has thrown at her for decades and thrown it back, but realizes she is, after all, human and some of it hurts.
"I F*cked Up" is actually a shame because it's a great song that won't make it to radio in this country without editing. But anyone that's every really been in love, and really been in an argument, can completely relate. When asked why? oh why? time after time, how many times have we all exclaimed the same thing..."because I F*cked up!" And then realize that you really did; that what you've said and done can't be repaired sometimes.
"MDNA" is a good album; solid, listenable, entertaining, fun to listen to while driving on the motorcycle or doing housework, perfect to get a party dancing and controversial enough to still be Madonna. Self indulgent and self promoting (hey, she's a BUSINESS, woman!) yet experimental enough to make Pop open its doors to sounds and beats not currently trendy on our charts it fills the envelope nicely, without really pushing it too far. It's polished and perfect dance Pop by an enduring icon, no matter what your feelings about her. She has endured, innovated along the way and all the while entertained. Her bad girl antics pale by today's comparisons, but her music can still appeal to an audience the age of her children while satisfying the Baby Boomers that age with her.
And don't feel bad Baby Boomers. Buy the record. Put it on. Dance around to Madonna at 55 or 60 or 65. Remember the days you partied to her first hits and revel in the fact that you both have endured. She's at it again, and it's not half bad. So sing along "L U V Madonna, Y O U you wanna!" or get your hard groove party on with the thumping chant "M D N A MDNA M D N A MDNA" of "I'm Addicted." It's not going to change the world, but it will change your mood, and that's all we can ask isn't it?
Be sure to get the Karel App at the Android and App Store, listen to him daily online at http://www.thekarelshow.com and buy his book "Shouting at Windmills: BS From Bush to Obama" at Amazon, Kindle store, Createspace and at http://www.radiokrl.com/radiokrl/shouting.html