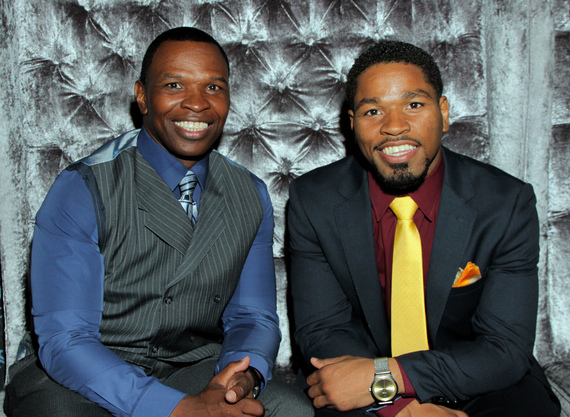 Ken Porter, Left and "Showtime" Shawn Porter. Photo Arnold Turner used by permission.
"As long as there's ghettos in America, as long as there's inner cities in Philadelphia, every year, every month, every Olympian, every Golden Glove, there's always a possibility of a guy that came from the projects, a guy that came from here or there, because the last time I checked, in any era, rich kids don't fight, not in the ring," famed boxer Bernard Hopkins recently told reporters. I hadn't really thought about it much, because I hadn't really thought about boxing. 
You see, I'm not really a fan of blood sports. As humans we've always had them, but they never appealed to me. In fairness, outside of MotoGP, most sports don't (OK, the Rugby players are hot so one must watch a little). So I was hesitant when the PR team for the Premier Boxing Champions -- friend Hanna Bolte of Bolte Media and Lisa Millner of Swanson Communications -- invited me to cover a story on a boxer they help represent, "Showtime" Shawn Porter. 
But Hanna knows I like stories of underdogs, of family, of unity and strength, of overcoming odds and doing it in a new, or unique way; and there could be no story that fits that bill more than that of Shawn Porter. Like so many, he comes from a less-than-typical home and has achieved great heights including the IBF Welterweight Championship. 
"You always hear about boxers and single moms," a reporter said to me while waiting for the press conference announcing the June 20th fight between Porter and Adrien "The Problem" Broner. They are fighting as part of Premiere Boxing Champion's return to NBC with a Saturday night June 20 fight. "But never single dads, how unusual," she said to me.
"So, I'm told you're an anomaly in this business," I said to Shawn's father, Ken Porter as we began our interview. "A single dad, raising two kids, African American, exposing them to art, literature, sports, education of all kinds, coming from the inner city, I hear you don't occur in nature that much," we laughed.
And make no mistake, there can be or would be no Shawn Porter without his father. He trained him, he lives with him, manages him, tours with him, is in the corner with him, at interviews with him, THIS is a strong father/son relationship; one to be admired as Father's day approaches.
"Yes, it's true, this is not a normal setup," Ken Porter tells me, both he and his son looking sharp in three-piece suits. "I knew early on my life would be dedicated to my kids. I wanted them to get the best education, and that includes art, athletics, all of it. And then, I wanted to let them decide what to be. For Shawn, it was boxing all the way, and I simply wanted to support him in that."
"It's been incredible doing this with my father," Shawn Porter added. "Even my name comes from a boxer nicknamed 'Showtime' that my father liked when he was younger. And to be here today, at this conference, doing this interview, isn't this the best part of it? How honored I am to be at this point in my career, with my father by my side."
And while Porter has experienced great success, dad is always thinking. "I started Shawn's exit strategy a few years ago," he continued. "I mean, he's not going to be 50 and fighting and he's not going to end up another tragic story of winning and then losing it all. Not on my watch. So he's been studying communications and really putting his mind to work for what comes after," Ken Porter stated.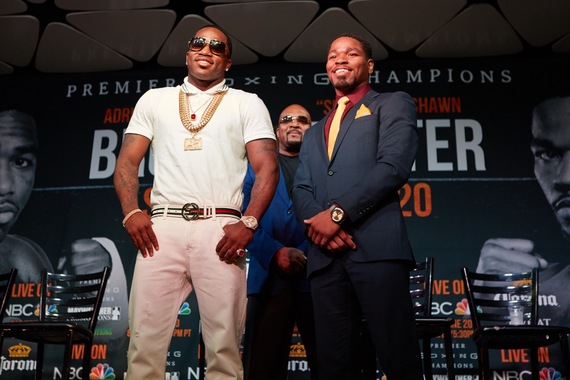 Adrien "The Problem" Broner (l) and "Showtime" Shawn Porter (r) Photo Bolte Media used by permission
It's hard for Shawn to think about after.
"This is going to be an incredible fight. Adrien is a very accomplished boxer and while I'm in it to win, this is going to be quite a match and a challenge for me. I know he's going to bring out the best in me and I'm going to do things in the ring to prove that not only do I deserve to be there, but that I can win it, and will," he commented.
And, after Adrien Broner telling the media he kept us waiting so he could send his assistant to get a Gucci shirt for him to wear I, for one, want Porter to put him on the mat. And I don't even like boxing. But I hate arrogance more, and Broner was full of it. A boxing Kayne West, it was hard to breath in the room as he spoke at the podium, with him sucking all the usable air out of it.
Meanwhile Porter, both Porters, were pictures of class and gratitude, thrilled to be involved and even more excited to be fighting. 
"This has been an incredible ride already for us both," Shawn told me. "It's made so much possible for me and my family. And now, to be an inspiration to kids, you always hear it's like a dream, but it really, truly is. A dream with a lot of hard work, a lot of times when you feel like quitting. Some times, if I didn't have my dad around to look up to at those times, I'm not sure I would have made it through."
Boxing is about many things but one this is for sure in the Porter camp it's about family. A stronger father/son unit I've never seen, in fact, seeing the dedication this father has for his son made me want to be adopted by the Porters! He is fierce in his commitment, as fierce as his son is in the ring.
Whatever happens on June 20th on NBC with Premiere Boxing Champions between Broner and Porter will matter more to pundits and sportswriters in the end. Because Porter is well grounded and has a refreshing perspective on the entire sport. 
And besides, with dad in his corner he's finding it hard to lose.
To hear this or other interviews get the FREE Karel Cast App, subscribe in Spreaker to the Podcast or simply go to the most incredible website on all the planet, save this one, karel.media.