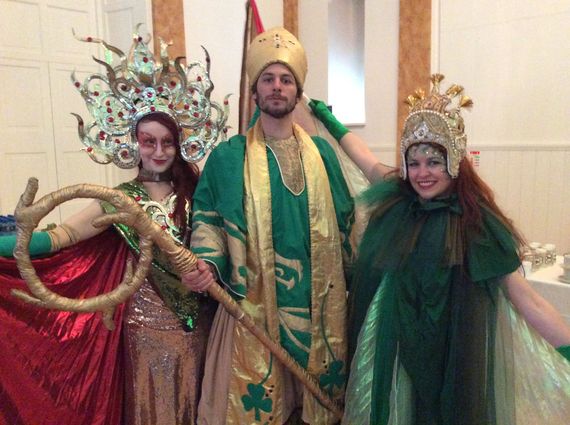 St. Patrick Greets Guest in Dublin prior to the Parade (Photo Dennis Cope)
The chronicle of this sojourn to Ireland for St. Patrick's Day 2014 beings at the end: with the parade and Dublin City. Having gotten in the country the week before St. Patrick's Day to ride motorcycles with Celtic Riders to the West so much happened before it's going to take more than one column to cover it all.
But today, March 17th, 2014 in Dublin all bets are off, the city is exploding with joy and pride, happiness and the most welcoming spirit possible.
As I sit in the five-star boutique hotel, The Dylan, surrounded by unique appointments and finery, the ridiculousness of Boston and New York's dramas over their parades weighs heavy on my mind. You see, I am gay. Everyone here knows it, everyone everywhere that knows of me or me know it. And yet, for five years now, I have been the third thing seen by millions around the world in the St. Patrick's Day Parade, part of a international media gathering brought together by Tourism Ireland. Each year, a double-decker bus leads the parade with the media on it, and there I am, waving. This year I had a green mohawk... subtle, I know.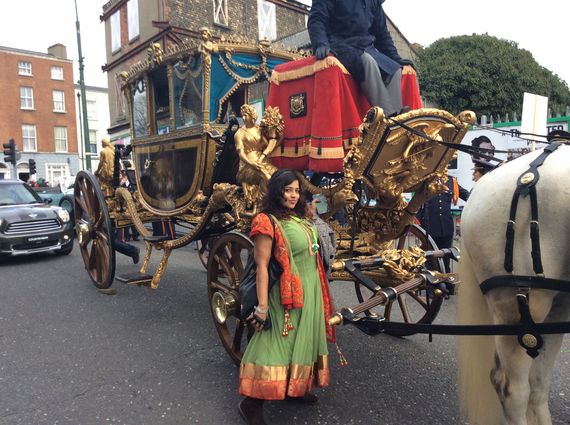 India's Malishka, radio and TV star, posing next to the Lord Mayor's Carriage (Dennis Cope)
My friend and photographer Dennis Cope, also gay, was by my side, and a lesbian couple right behind me standing and waving to everyone from the lord mayor to the president and everyone in between. We weren't holding banners about our sexuality, we were simply celebrating St. Patrick and Irish Pride, open, out and proud ourselves, each of us a fierce advocate for LGBT rights and all of us thinking what was all the fuss in the State's about anyway? Because, well, to say it bluntly, we're here, we're queer, and they're used to it. In fact, they could care less.
Because Ireland and this day and festivity are all so much more than personal politics. Dublin is a city that is going through great renovation and change. Not a few kilometers from Dublin Castle or the ancient book of Kells is Twitter, Facebook, Google, Apple and all the rest.
"We are the Silicon Valley of the EU," Lord Mayor of Dublin Oisin Quinn told me as we stood waving to those wanting a glimpse of him the day prior. He had just returned from Dublin's sister city, San Jose, CA. "The tech industry is a big part of the Irish economy and it has helped Ireland become the only member of the EU to actually make money under the bailout. It is part of the chaining dynamic of the city, of Ireland's future," he concluded.
But with it comes the same problems as San Francisco, the gentrification of areas because the salaries of many of the tech workers are larger than most and the companies are self contained.
John Kennedy, senior editor of Silicone Republic, noted, "Many of these companies offer their employees great perks, but they are building specific. The great food, the great everything is on site, so a lot of that money doesn't make it to the local economy. So, there has to be a balance struck," he stated as we sat in the Connoisseur Bar of the most popular tourist attraction in Ireland, The Guinness Storehouse at St. James Gate.
So like so many other places, Ireland is struggling with a future where everyone can still make their dreams come true and the haves, and those that have less, can co-exist and benefit from each other's presence.
As a tourist destination, it's unbeatable. Great values are everywhere all over the country. Even at peak, last night, Saturday, March 16th rooms were $240 or so for the night based on my inquiries. In off season and outside of Dublin, that can drop down to $100 or much less, an many include breakfast.
Restaurant's like the Citron at the Fitzwilliam offer fine dining and posh atmospheres but there are also fabulous craft brew districts, outside organic food markets, even incredible street food and take away. And now, there's even a Chinatown (new over the last five years) for those that want oriental flavor with Irish heart.
As stories of excess sugar and food-borne illness fill the news, in Ireland, the push is to continue to eat and source all food locally. Restaurants tell you where the meats, fruits and vegetables come from and I have yet to find one restaurant that serves anything previously frozen. It means in any restaurant in Dublin you can still taste the freshness, the land, the pride.
And then there's the Parade. The theme of this year's parade was "Let's Make History" and focused not only on the future but on the island's rich historic past. This is the land of Kings, of great poets, scholars, writers, singers, musicians, artisans of all kinds and the parade celebrated that history while showing efforts to make history in the future.
Participants come from almost every county in Ireland for this massive event that drew over 500,000 people this year to the streets and millions to the city. Dublin is home to 1.5 million citizens out of the four-plus million that live in Ireland. Yet, 70 million people come through each year, and over two million over this time. And parades go on all over Ireland, not just Dublin; but this is the ground zero for the main festivities.
Dublin is the San Francisco or New York of Ireland, and a trip to the island must include other destinations. This trip we saw Westport and County Mayo and those adventures will follow.
But today, it's all about the fun, the spirit of growth and hope, the showing off of a nation and a people. Everyone should experience it at least once in a lifetime, but a warning, once you come to Ireland, you'll come back time and time again for the people, for the culture and to discover that we are all so much the same.
Today, a gay man didn't lead the parade on the media bus, but a man that has come to love a country and a people for all their heart and soul. They are not perfect, the city, the country, has all the problems one would expect with such a diverse flow of people. Yet, I've never felt more welcomed any place in my life.
Come and experience that and you'll forget about politics. Find a pub, grab a pint and talk to this very talkative people. You'll learn more about yourself than them. I always do.
They'll be coverage of the West, interviews with the Lord Mayor, media celebrity George Hook and much more to follow.
Slideshow of the Parade
To hear Karel get the Karel Cast App, subscribe in iTunes to the Podcast or simply go to the most incredible website on all the planet, save this one, TheKDW.com.