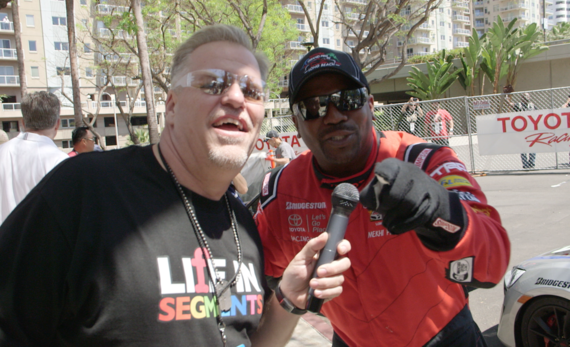 Karel and Mekhi Pfifer after the race. Photo: Daniel Charleston
"It's fun and all, but what does this weekend really DO for me, as a resident," Brandon Crispo asked me as we made our way inside the 41st Toyota Grand Prix of Long Beach. "And why do we even have it at all?"
Crispo, a millennial at the ripe old age of 28, was minus 13 when the Grand Prix first came to the seventh largest city in California and 36th largest in the United States; one of the few cities with its downtown on the water. But Grand Prix history goes back much further.
The first Grand Prix was in Le Mans in 1906, a sport born in Paris. In 1908 Grand Prix came to the United States and we were the only country outside of France to host an automobile race using the term Grand Prix (Grand Prize). It was run at Savannah, GA.
Christopher Pook is credited as the promoter and founder of the Long Beach Grand Prix. Pook worked at a travel agency. in down town Long Beach and had the passion and vision to make the race happen. The race quickly grew and while the particulars of the cars changed over the years the event has grown to be the largest in the city. The weekend hosts many class of races and this year even hosted a Formula E, or electric or ePrix. Between 180k and 200k people attend.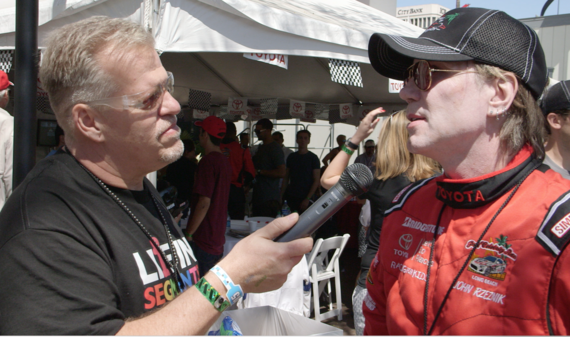 Karel and John Rzeznik from Goo Goo Dolls
Economically according to the Conference and Visitor's Bureau, 60 conference and event planners attended this year's event, and that could bring over $77 million in additional business outside of the Grand Prix itself, according to Steve Goodling President of the Long Beach Convention and Visitors Bureau.. Hotels are full, restaurants, revenues of over $40 million flow in to the city by some accounts. Hotel taxes, sales taxes, other tourism revenues and benefits make Grand Prix weekend almost a Black Friday event for some local businesses.
Even non-profits benefit from concessions inside the event. Beer and alcohol sellers, food trucks, many set aside profits for local charities. But not everyone wins. The Long Beach Aquarium of the Pacific has to close for the weekend due to construction and course and each year loses almost $400k.
The celebrity portion of the Grand Prix is a long-running side race for stars and media personalities to raise money for the Miller's Children Hospital through Racing for Kids, $5000 for each participant or $90,000. The winner for the Pro Celebrity race, this year Alfonso Ribeiro from Fresh Prince had an additional $5000 donated to Fresh Start Surgical Gifts that provides surgeries to fixed deformities of underprivileged kids.
The Celebrity race provided some great drama this year, as celebrities are known to do. Josh Morrow led the pack for most of the race, leading the celebrities for nine of the 10 1.9 mile laps. On lap #10 on the hairpin millionaire insurance mogul turned movie producer Dave Pasant hit Morrow in what appeared to be a classic LAPD PIT maneuver used to spin out cars in high speed chases. Pasant won his spot in the race in a celebrity auction and at the post press conference said the win was "bittersweet" and that it was an unfortunate accident. Morrow told me in the pit "It's not the way I would race," obviously feeling it was not an accident at the time.
Yet, the focus quickly returned to the charity, the kids, and the great fun.
Sugar Ray's Mark McGrath, who finished 5th overall, was beside himself.
"I finished near the bottom for the pole position," he told me. " So being in the top five is great. Look, it's all for great fun. The trip to the Miller's Hospital really puts it in perspective for me, for all of us. Our lives are such pieces of cake compared to these kids and their parents," he added.
Mekhi Phifer provided thrills by wrecking not once, but twice.
"Look, that's how I roll, do it and do it big!" he told me as he jettisoned from his car upon the race's end. "I've got to make Willie Gault do 50 push ups, he owes me for a bet. Within moments, NFL Superbowl star Gault was on the ground in front of the fans doing 50. It made me feel very, very out of shape.
Top Gear USA Host Rutledge Wood, an Celeb Grand Prix veteran, couldn't agree more. "This is really like celebrity crowdfunding for kids, and it couldn't be more fun," this repeat racer commented. "Yes, it's a race and we are all very competitive, but under it all, it's all for charity and fun."
Alfonso Ribeiro is a two-time Toyota Pro/Celebrity winner in 1994 and 1995, and then took many years off. This year starting :30 seconds behind the pack he quickly took control and came out in front of all of the celebrities, both pro and regular. The overall winner he couldn't be happier.
"It's a gorgeous day in a gorgeous city and I just won this race, I mean, how good does it get!" he exclaimed after taking the win. The Toyota Celebrity Grand Prix airs May 10th on CBS.
New Zealand's Scott Dixon led in 44 of this year's 80 lap Sunday "big" race (INDYCAR Series), his 36th INDYCAR win but his first at Long Beach. Hello Castroneves, superstar on and off the track, took second and Juan Pablo Montoya finished third.
Long Beach native Vince Neil of Motley Crue was the main stage entertainment again, drifting events, motorcycle events, a lifestyle expo, the Grand Prix has grown in to a full blown festival celebrating not just racing, but a reason to take friends and family and spend a weekend in a gorgeous beach front community.
What started as a stop on a world wide racing circuit, the dream of one man that grew in to multimillion dollar festival of cars, music and thrills is now one of the major attractions on the West Coast. Between the TV viewing audience, the hundreds of thousands that attend and the future business, it's become an integral part of the economy of Long Beach and the state.
And, it's a whole lot of fun, whether you know the names of all the races and celebrities, the types of cars they drive, or to just spend some time out in the sun with friends, fans and family.
Video of the entire event will be on Karel Life In Segments on Free Speech TV in May and on the website Karel Media.
To hear the daily Karel Cast get the Karel Cast , subscribe in iTunes to the Podcast or simply go to the most incredible website on all the planet, save this one, karel.media