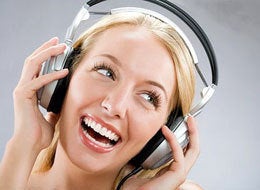 This coming January my wonderful, perfect wife, Julia, and I will celebrate our ninth anniversary and her birthday -- I'm lucky we got married on her birthday because I have only one date to remember. Julia is not a perfect person, thank goodness, but she is the perfect wife for me.
She is seventeen years younger than I am, much smarter, adorable, and has a traffic-stopping figure which she tires to hide by dressing modestly. Her hobby is reading, not shopping, and she's a reading teacher who helps young people learn to read and be successful in school. Is it any wonder I wooed her so vigorously nine years ago and asked her to marry me on our sixth date?
What was the winning secret? It wasn't money (I didn't have much at the time). It wasn't looks (I was too old). No, it was music. I got a Sony disc player and put together a Hit List of 35 of the most romantic songs I knew of. In 2001 I transferred the songs to my new iPod into a Playlist I called Romance-1, and have since added Romance-2, -3, and -4.
After nine years our love has deepened, and much of the credit has to go to our lover's list of songs, which I play often. It's worked for us, so I thought I'd share the top songs on our list.
Even though Julia grew up in the late 60's, our songs are classics from the Great American Song Book (as Jonathan Schwartz would say) -- songs written in the 20s, 30s, and 40s for the most part. Beyoncé may be modern and gorgeous, but her slick packaging is all hat and no cows when compared to the plain majesty and brilliance of Ella Fitzgerald. Or would you like to compare Dr. Dre or Jay-Z to Frank Sinatra or Johnny Hartman?
Today's lyrics, if you can make them out over the incessant beat, don't hold a candle to the romantic, sophisticated, often bittersweet lyrics of Lorenz Hart or Ira Gershwin. Hart and Gershwin were born a year apart in the 1890s and were the sons of Jewish immigrants who lived in Harlem and Brooklyn respectively. They weren't victims of their environment; they knew how to get out of it by writing happy, romantic songs you wanted to sing and make love to, not to fight or kill cops to.
1. Johnny Hartman (with John Coltrane): "My One and Only Love" by Guy Wood and Robert Mellin. The sexiest song and sexiest rendition ever. The perfect lover's song -- guaranteed success. Hartman has no peer other than Sinatra as a singer of romantic ballads and Coltrane's extended introduction is a jazz classic that's foreplay for Hartman's vocal love making.
2. Ben Webster and Art Tatum: "My One and Only Love." The greatest jazz sax player and pianist ever team up on a flawless instrumentation of the Wood-Mellin classic.
3. Stephane Grappelli: "A Nightingale Sang in Berkeley Square" by Manning Sherwin and Eric Maschwit. The peerless jazz violinist's soaring bridge sends chills all the way up your legs.
4. Tony Bennett: "They Can't Take That Away From Me" by George and Ira Gershwin. The quintessential sad love song. It's a close call between Bennett's version and those of Ella, Sinatra, and Bobby Short. Any of them will do the trick. Gershwin received his sole Oscar nomination for the Best Original Song at the 1937 Oscars for "They Can't Take That Away from Me" written for the film Shall We Dance. The nomination was posthumous, as he died two months after the film's release.
5. Bobby Short: "I Can't Get Started" by Vernon Duke and Ira Gershwin. Gershwin's clever, then-topical lyrics in which a defeated lover pokes fun at himself. Bunny Berrigan's 1937 recording is the classic version, but Short's wit makes his more fun. "I Can't Get Started" was introduced by Bob Hope, who sang it to Eve Arden in Ziegfeld Follies of 1936.
6. Frank Sinatra: "I've Got You Under My Skin" by Cole Porter. This 1936 Porter song is considered by many the ultimate collaborative effort between Sinatra and Nelson Riddle with its swinging, driving sax section and monstrous trombone solo. It became Frank's signature song after the album Songs For Swinging Lovers was released in 1956.
7. Ella Fitzgerald: "Isn't It Romantic" by Rogers and Hart. Few artists sing Hart's cynical third and fourth chorus of this 1932 romantic gem -- certainly Ella doesn't. Every time I hear it, I see Audrey Hepburn in Sabrina asking William Holden if he didn't want to have the orchestra play it. Ella singing Hart's lyrics; it doesn't get any better.
8. Sarah Vaughn: "My Romance" by Rogers and Hart. From Sarah for Lovers which is a must album on any lover's iPod with songs such as "I've Got A Crush On You," "Embraceable You," "My One And Only Love," "All The Things You Are," and "I'm In The Mood For Love." Sarah wasn't quite as great as Ella, but she was as close as any female singer got and this song and this album are her finest.
9. Frank Sinatra: "Wait Till You See Her" by Rogers and Hart. This 1942 song from By Jupiter is very personal to me because it expresses precisely what I tried to tell my friends after I first met Julia. Tony Bennett and Ella do great versions, but if you can only have one, choose Frank's.
10. Frank Sinatra: "I Could Write a Book" by Rogers and Hart. From Pal Joey, the duo's best musical in which Gene Kelly made his debut on Broadway. Sinatra's painfully slow rendition is so good it hurts.
11. Lee Wiley: "I've Got a Crush on You" by George and Ira Gershwin. This 1928 tune was used in two Gershwin shows, and although Sinatra's version is as good, in any collection you've got to have at least one Lee Wiley song. Bobby Hackett plays a sweet, lyrical, unobtrusive back-up trumpet that makes it memorable -- a song for lovers. The vulnerable cabaret singer, Wiley, had a long affair with composer Victor Young, who never married her, so the song has a special poignancy.
12. Ella Fitzgerald: "Embraceable You" by George and Ira Gershwin. Should probably be number two on the list, but her Nelson-Riddle-arranged 1959 Gershwin Songbook album, from which this rendition comes, is the number one album for lovers for many reasons, not the least of which is because it contains another essential song on the list -- "How Long Has This Been Going On?"
13. Johnny Hartman: "Stairway to the Stars" by Matt Malneck and Frank Signorelli. Hartman is as smooth and mellow as ever but it's Illinois Jacquet's back-up sax riffs that makes you drop your pants.
14. "Our Love Is Here To Stay" by George and Ira Gershwin. There are dozens of good versions of this romantic favorite, but I like Michael Feinstein's because it best evokes one of the most romantic dance sequences on film -- Gene Kelly singing to and dancing with Leslie Caron in American In Paris.
This list should keep lovers satisfied for at least 45 minutes, but if you mix in the following. You'll never leave home.
1. Billie Holliday: "Body and Soul."
2. Jack Teagarden: "A Hundred Years From Today." a tie with the great trombonist's "Stars Fell On Alabama."
3. The Temptations: For Lovers Only, the entire album.
4. Carlos Santana: "Samba Pa Ti."
5. Barry White: "Can't Get Enough Of Your Love, Babe." If this song doesn't do it, nothing will.
This is my list. What's yours?