Every December, World AIDS Day provides an important moment to pause and reflect on the progress we've made during yet another year fighting the AIDS pandemic. This one ends with great optimism about our ability to achieve an AIDS-free generation, and a reminder of what we still need to do to get there.
This week, Secretary of State Hillary Clinton introduced a Blueprint of actions for the President's Emergency Plan for AIDS Relief and for our global partners -- with a clear focus on ensuring that no child is born with HIV, and that mothers with HIV remain alive and healthy.
Standing with Secretary Clinton was our Foundation Ambassador Florence Ngobeni-Allen -- living proof of how far we've come toward this goal. While she lost her husband and daughter to AIDS in South Africa 16 years ago, today she is an AIDS advocate and mother of two healthy, HIV-negative children.
Last week, UNAIDS reported that new HIV infections among children have fallen by 24 percent over the past two years alone -- and by as much 40 percent in six high-prevalence countries at the heart of the epidemic, including South Africa.
But as many countries get closer to the goal of elimination of pediatric AIDS, in some ways our job gets harder as we focus our efforts in those countries still facing the most daunting obstacles.
I'm spending this World AIDS Day in the Democratic Republic of Congo, where I'm reminded of some stark realities on the road to an AIDS-free generation.
DRC is a huge country -- roughly the size of Western Europe -- and one of the world's most populated. But after a decade of conflict, it's also one of the poorest in terms of development, infrastructure, and access to healthcare. Life expectancy is just 48 years, maternal mortality is unacceptably high, and 20 percent of children die by the age of five.
Across the country, women and families are also struggling to keep their babies HIV-free and healthy. Access to services to prevent mother-to-child transmission (PMTCT) of HIV is in the single digits, one of the lowest in the world. Only 15 percent of people living with HIV who need antiretroviral treatment receive it, and very few of those are children or pregnant women.
Still, after a week on the ground, I see reasons to be optimistic. DRC's government is confronting its AIDS epidemic, and has committed itself to the elimination of pediatric AIDS as a key goal.
I visited the National Multisectoral AIDS Control Program in the capital of Kinshasa to meet leaders from across DRC, and discuss how we can better partner in our shared efforts to support families affected by HIV. I've been energized by the work I've seen from policymakers, colleagues, and partners - including a thriving network of local, private health care providers. Faith-based partners in particular are an integral part of health service delivery in DRC.
The Elizabeth Glaser Pediatric AIDS Foundation has been a partner to DRC since 2001, when we helped the government introduce PMTCT services to the country. Since then, we've tested nearly 700,000 pregnant women for HIV, and provided about the same number of women with services to keep their children HIV-free.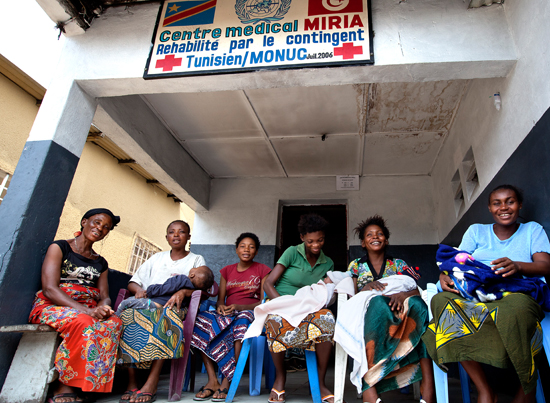 This has also been the first year of the Foundation's new initiative in DRC, partnering with PEPFAR, the CDC, and the Ministry of Health to expand PMTCT and pediatric treatment. Over five years, our goal is to also improve HIV/AIDS services, strengthen DRC's health system, and promote local ownership and sustainable approaches.
We call this initiative Project Malamu, from an expression in a local language that is a common response here to the greeting,"How are you?"
It means that the person and his or her family are all doing well, and are in good health.
We'll know that we're truly reaching an AIDS-free generation when "Malamu" is the response you hear from children, mothers, fathers, and families throughout DRC.