Frustrated that the only opportunity you have to travel is during your daily commute to work? Bored of your monotonous 9-to-5? There's a new wave of female entrepreneurs proving that it is possible to combine a successful career with full time travel.
I caught up with six of these savvy women to find out how they made their dream of location independent living a reality.
The App Developer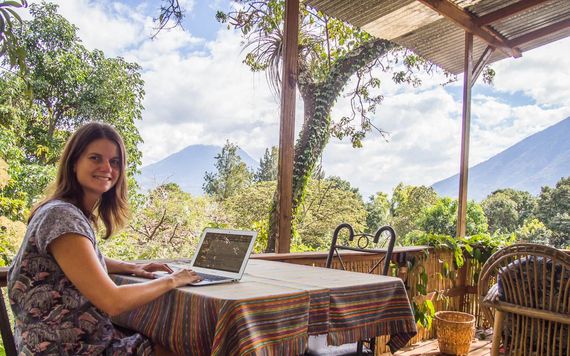 After 12 months of world travel, Erin McNeaney and her partner Simon Fairbairn struggled to adjust to the working life they'd left behind. Suffocated by the restrictions of their office jobs, they longed for the variation that travel had brought to each day of their RTW trip.
"We realized life was too short to be unhappy so we decided to make a big change." Erin explains. "About six months after our return I came across a number of digital nomads earning a living online, and I thought if they can do it why can't we?"
After coming to the conclusion that travel was something the duo could sustain through freelancing online, they booked a one-way ticket to Rio de Janeiro and set about condensing their possessions into only those items they could fit in their carry-on allowance.
Initially financing their travels through the now successful travel blog Never Ending Voyage, Erin and Simon moved away from traditional monetization streams such as advertising and freelance work, to create their own products.
Their first travel app Trail Wallet was featured by Lonely Planet as one of the best apps to plan, record and share travel experiences. Erin credits the reach and influence of the online platform the pair had built in Never Ending Voyage, as a contributing factor to the app's success.
Of the impact their nomadic existence had on their business, Erin says, "We would never have started a blog or created apps if we hadn't been nomadic. Our business is inspired by our travels."
And how has being her own boss impacted her quality of life?
"I earn less than I did in the UK but my quality of life is so much better,. It isn't easy running your own business but the freedom it gives me is absolutely worth it."
Connect with Erin @NevEndingVoyage to learn more about Voyage Travel Apps.
The Lifestyle Mentor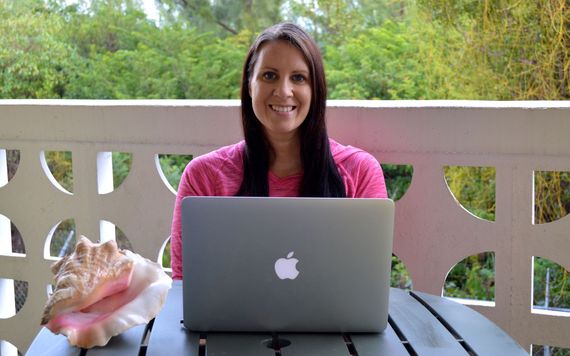 While grieving the death of her mother, Nicole Connolly took a step back from the life she was living and realized no longer was she content with the limitations she had placed on herself.
A 9-to-5 girl all her life, travel was always there, an undercurrent moving her from one Australian city to the next. However in 2012 she stepped away from her successful salon business and set out in search of a new beginning.
"For the first year of my travels I did not work," explains Nicole. "I had saved enough money that I didn't need to. However, I soon became addicted to the new lifestyle I was living, so much so that I didn't want it to end when my savings ran out."
Over the course of the following six months Connolly developed a business plan that would allow her to work from anywhere in the world, giving her the freedom she had craved during throughout her career. "I have been an entrepreneur for 15 years but it has always been a brick and mortar affair," she says.
Starting luxury travel blog Suitcase Stories in early 2012, and more recently Freedom Junkies, an inspiring online resource for those in search of a freedom life, her migration to the world of online business is already a raging success.
Impacting her health and wellness, Connolly's experience of travel is more than just the enviable collection of 50+ countries she has explored. "I have finally taken responsibility for my own well-being, I eat right and exercise because I have the time to give to myself."
Regardless of her motivations it is clear that the freedom life she has created for herself and her partner Michael has rewarded her with not only success in the business world, but also the quality of life she has long desired.
Connect with Nicole @FreedomJunkies to learn more about living a life of freedom.
The Financial Planner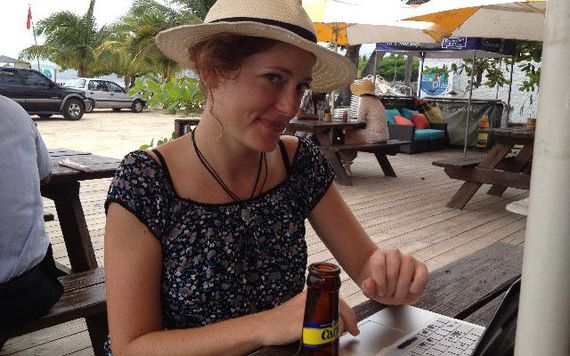 While running her financial planning business in Toronto, Canada, Nora Dunn became increasingly aware that her lifelong dream to intensively travel the world was slipping away.
"I wasn't satisfied with standard vacations to exotic places, and I couldn't fathom waiting until retirement to live out my dreams." Dunn explains.
Taking the plunge and selling up in 2006 she has been travelling in a financially sustainable manner ever since. And after fast realising that travel was a vital component of her happiness, Dunn set about building an income stream that would support her life of travel.
"It dawned on me that my lifelong penchant for the written word could translate into an income earned around the world with little more than an internet connection and a laptop," Dunn recalls.
Utilising the stream of income from the sale of her former business to fund the first two years of her travels, Dunn used her free time to forge a freelance writing career.
One of the first to enter the field of blogging; "it wasn't even a field; it was more like a grassy knoll that nobody knew about," Dunn muses, monetization was almost unheard of and so she reached out to publications pitching the travel finance tips and tricks she'd learnt on the road.
Taking advantage of her early start in blogging as The Professional Hobo, Dunn was able to craft a viable business by marrying her experience of full time travel and her previous career in finance.
"One of the benefits of my nomadic existence in developing my writing career was that I consistently found that the cost to travel full-time has been less than the cost to live in one place. Thus in the years when I wasn't earning much from writing, I could still live - quite happily - on very little."
Connect with Nora @HoboNora to learn more about financially sustainable travel.
The Business Coach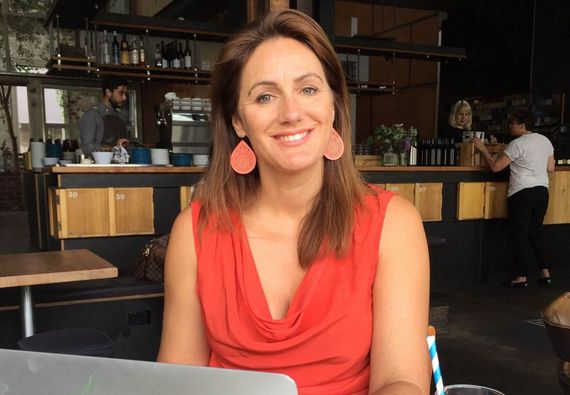 Despite a successful corporate career, and having just received a promotion and a pay rise, in 2006 Natalie Sisson quit her life in the city. "It was 9:00 to 5:00, bureaucratic, and stressful, even though on paper it was a dream job. It absolutely pushed me over the edge," Sisson recalls.
A chance meeting at a business networking event in Vancouver shortly after her departure from working life in London, lead to a new beginning for Sisson. Joining forces with software development expert Daryl Hatton, the pair co-founded a successful tech start-up and launched the now widely used charitable crowdfunding platform and app FundRazr.
Fascinated by the tech industry, and perplexed by the lack of women spearheading start-ups, Sisson started a blog that she would later re-branded as The Suitcase Entrepreneur. Documenting her entrepreneurial experience she began to share her journey in the hope that it would benefit other women interested in business.
Two years after its inception Sisson left her start-up to focus on her increasingly popular blog, and in September of 2010 she went from broke to breaking $15,000 in revenue from a series of on location workshops. Translating this format into an online program a short time later, it generated $1,000 within just a few days of launch.
"It is my belief that life is meant to be lived doing what you love on your own terms, not working for someone else, doing work that isn't meaningful just to get paid to live your daily existence and no more," says Sisson of her escape from a 9-to-5.
Focused on helping both men and women find the freedom they desire in both their business and personal life, as The Suitcase Entrepreneur Sisson offers her flagship program The Freedom Plan once a year, and a suite of digital products designed to help her community achieve the level of freedom and location independence they desire.
"It's been built with a whole lot of determination and hustle," Sisson explains.
And what of her transition from office life to digital freedom?
"I have to pinch myself that this is my 5th year in business, doing what I love, but I've never looked back."

Connect with Natalie @nataliesisson to learn more about creating a location independent life.
The New Media Manager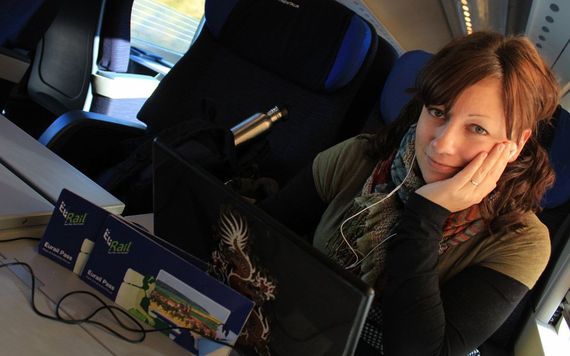 Despite a six-figure salary and an enviable lifestyle in the suburbs, Dalene Heck felt she'd lost her way in 2007 when a series of personal tragedies altered her perception of the goals she had set out to achieve.
"I reeled from the stress of it all," Heck recalls. "I found I had lost all drive and ambition for my chosen career. By the end of that year, Pete and I made the decision to sell all of our belongings and hit the open road."
A cut-throat decision perhaps, but one that would lead the couple on a journey neither could have foreseen. A journey which would lead to their being nominated as National Geographic Travelers of the Year.
During their first few years on the road the pair relied largely on savings to sustain their adventures. However as their finances dwindled, they soon realized that the notion of returning to the life they'd once known was not one they wanted to entertain.
When the couple realised they could monetize their knowledge of the destinations they'd explored, they started a travel blog which would serve as a springboard for their new media company Hecktic Media Inc.

"It draws on our expertise as travel bloggers (we started our blog HeckticTravels.com over four years ago) and marries well with the business skills we had developed in our former corporate lives," explains Dalene.
Recruiting new media influencers and managing social media marketing campaigns for various brands and destinations, the Hecks have built a brand from their experiences of travel.
And what is life like now that the Dalene is once again dipping her toes in the corporate world?
"Even though we still work quite hard, we have the freedom to do so from wherever we want in the world. I have complete control over the design of my life which I would not trade for anything!"
Connect with Dalene @hecktictravels to learn more about Hecktic Media Inc.
The Travel Blogger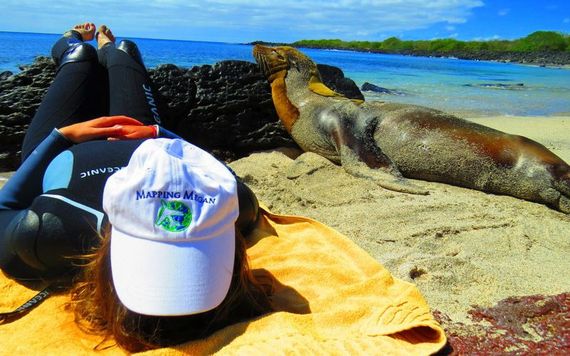 For para-legal Megan Jerrad, a desire to escape from the monotony of life in the city saw her leave her legal career in Australia and shun the 9-to-5 life in favor of travel and adventure.
"9-to-5 wasn't a horrible life - I had financial security, structure and stability," recalls Jerrad.
However on realizing that she was pouring all her energy into her advancing career, and spending very little time living life, she set about creating an online presence that could offer the support she needed to pursue her dream of long term travel.
"Over the last two years I've turned my travel blog Mapping Megan into a brand and business - that business now finances myself and my husband (contributing photographer Mike) as we travel."
Leaving Australia in 2012 with enough savings to see the pair through a few months of world travel, Jerrad split her time between exploring new locations and translating her experiences into engaging content to share with her growing readership.
"It has definitely kept me motivated," Jerrad says of her nomadic existence. "Knowing that this lifestyle is dependent upon my success online gives me the motivation and determination to keep going."
With an enviable list of bucket list experiences under her belt, including snorkeling with sea lions in the Galapagos Islands, the para-legal turned wanderluster is planning a return to Australia to explore the vast continent she calls home.
But after two years of travel and blogging around the world what does she think of the freedom life she has created?
"I studied for five years to earn a degree and become a successful lawyer because I craved that corner office which society told me was the mark of success. Today my "office" could be anywhere in the world. I can only practice law within Australia, though I can blog from anywhere in the world."
Connect with Megan @MappingMegan to learn more about her life as a travel blogger.