September is the month for theater on the cheap. August and September are the theater doldrums. This has nothing to do with the quality of the shows, and everything to do with demand (there is a similar dip for movies). As a result, you find heavy discounting and often free or nearly free shows. For great deals for D.C. theater, check Goldstar.com, or Ticketplace. If you haven't seen Oklahoma! at Arena Stage's majestic new home, there's still time, and discounted tickets are widely available.
What I've seen (now playing). Adam Gwon's new musical The Boy Detective Fails just opened at Signature in Arlington. I saw the reading of it two years ago and was intrigued. Stephen Gregory Smith (he played "Super Claudio" in my 2010 Best Musical D.C. Fringe) turns in a sincere and empathetic performance as the title character, Billy Agro, 30 year old former boy detective and newly arrived resident at a halfway house for mentally disturbed adults. Gwon's Ordinary Days ran at Roundabout off-Broadway and he is widely regarded as one of theaters' star composers. The cast is wonderful. Though still a work-in-progress, there is a big Broadway show in there. If you're willing to wait an hour before the show, you should be able to buy "rush" tickets at the box office for $30. Boy Detective is playing in repertory with Matt Conner's (Nevermore) new musical The Hollow. This is all made possible by a generous grant form the Shen Family Foundation that enables Signature to professionally develop several new musicals by noted authors like Adam and Matt, while giving its audience a unique view of each stage of the process. In a town with way too much theater chasing way too little audience, Signature has found a way to stand out.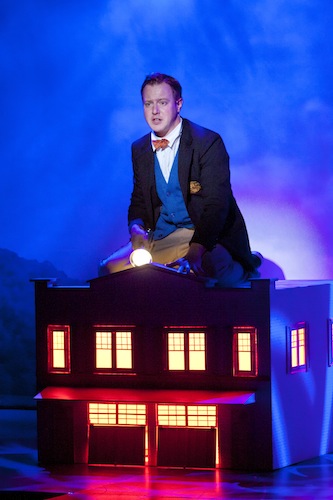 Stephen Gregory Smith (as Billy Argo, The Boy Detective) searches for another revealing clue in The Boy Detective Fails. At Virginia's Signature Theatre through October 16, 2011. www.signature-theatre.org. Photo: Scott Suchman.
Last night I saw Metrostage's wonderful new production of John Patrick Shanley's Savage in Limbo, featuring the astonishing Natasica Diaz, Veronica del Cerro, and Michael Kevin Darnall, who was featured in my first theater production, The Sand Storm, in 2005. Notably, The Sand Storm stupidly opened in August and ran through mid-September.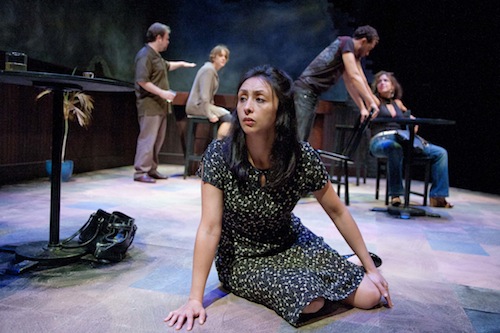 Sasha Olinick, Jenna Sokolowski, Natascia Diaz, Michael Kevin Darnall, and Veronica del Cerro in Savage in Limbo by John Patrick Shanley, in production at MetroStage through Oct. 16. Photo: Colin Hovde.
Next up: No Rules' Stop Kiss and Chasing Madoff at Theater J. You really could go to the theater every night in this town and not catch everything worth seeing.
Please join 8000 of my close personal friends and sign up to receive my soon-to-be-world famous quote of the week via good old fashioned (and spam free!) email.