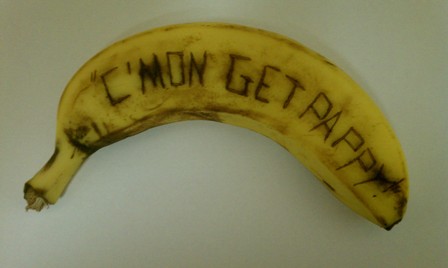 A wonderful thing happened to me a couple of weeks ago. My friend Brett invited me to a cabaret show that he was doing with his 83-year-old father, Pappy. The show was lovingly called "C'Mon, Get Pappy." Always looking for fun events to invite the clients that I work with in my matchmaking business, I even posted it to my events page on my website, and invited several people to join me.
On a beautiful Sunday in February I made my way to the Duplex to see who was joining me. Since my husband could not join me, I was looking forward to hanging out with some clients and enjoying the show. To my chagrin, I realized it was 4:25 and not a single person had showed up. Not wanting to delay the 4:30 curtain, I made a decision right on the spot and said to myself "Self, get in there and enjoy your friend's show by yourself and don't worry if anyone is going to show up late." So I walked right up to the hostess and said "My party stood me up, so it will just be me." Her reply was "That's just fine. I have the perfect seat for you."
To my delight, she walked me to a table right in the front row. Sitting at the table was a sweet couple from New Jersey that smiled and said "Excuse me, but aren't you CharlieTheMatchmaker?" Not only was I flattered that a straight couple from New Jersey knew who I was, but during our brief conversation I discovered that they were the happiest couple I had ever met. When I commented on their happy dispositions they told me their secret. The secret to their happiness was simple. If a negative thought enters their mind, they do not dwell on it for more than 16 seconds. WOW! This is something that even happy-go-lucky me has to learn! And certainly something I want to try to teach my clients.
Just as the show was starting my phone starting buzzing, and since Brett and Pappy were walking on stage, I quickly shut it off. Knowing that I was getting last-minute calls apologizing for being late or not showing up, I decided to turn my attention to the show and enjoy myself.
Pappy is a retired psychiatrist who learned decades ago that happiness is the most important thing in his life, and worked to achieve happiness for himself and those around him. Even his own mother told him, "Before you did all this work, you were responsible and appropriate, with both your feet on the ground. Now of course, you're just as responsible and appropriate, but you have both feet firmly planted in the AIR." I love this, since my own mother has always told me that I walk around with my head in the clouds. The songs they chose and the stories they told of their journey through life as father and son started sending shivers up and down my spine. And when they got to the song "Part Man, Part Monkey and handed me a banana with "C'Mon Get Pappy" carved into it, I laughed hysterically with the audience.
The most memorable part of the show for me was the song "Yes." When Pappy started singing, "Don't say WHY, say WHY NOT? Say YES," Brett replies, "Wait a minute Pappy, it can't always be a good idea to say yes," to which Pappy replies" "It's true. Some of your woes may have come about because you said yes, but no WOW ever came about because you said NO." I was floored. My two friends had created a show and written the very lines that I live by and try to tell all of my clients! I have always said that my success and happiness comes from learning not to say no.
By the time they got to the songs and stories of Brett's recent battle with cancer, silent tears were welling up in my eyes. And by the time they got to Pappy's words of wisdom teaching us that "Happiness is not about getting what you want, it's about wanting what you get," I was a basket case. I was grabbing cocktail napkins from the surrounding tables to dab at my eyes and trying to silently blow my nose. I pray that people have stopped talking about that Matchmaker guy bawling in the front row.
If you have read any of my blogs that I have written for the last year or so, you know that I believe in positive energy. My belief is that if you put out positive energy out into the universe, you are going to get nothing but positive energy in return. I realized that if I had seen the show with a group of people, I may not have had the opportunity to sit right there in front literally feeling the positive energy flowing off of that stage. Something in the universe caused me to be there be myself to enjoy a show that would move me so deeply. I am glad that I chose to walk in by myself and say "yes!"
To my surprise, two friends that had been stuck in traffic were sitting at the bar outside of the cabaret room waiting for me when the show was over. I had a drink with them telling them how they missed the best little cabaret show I had EVER seen, and even got to introduce them to Brett and Pappy. I got in a cab home that night with a happiness that I wish everyone could experience.
So the moral of this blog is simple. If you are one of the many single people out there that feel like they are on the outside looking in, simply say "yes" to life! No WOW ever came about because you said "no."
Your Friendly Neighborhood Matchmaker,
Charlie
For more by Charlie Maffei, click here.
For more on happiness, click here.