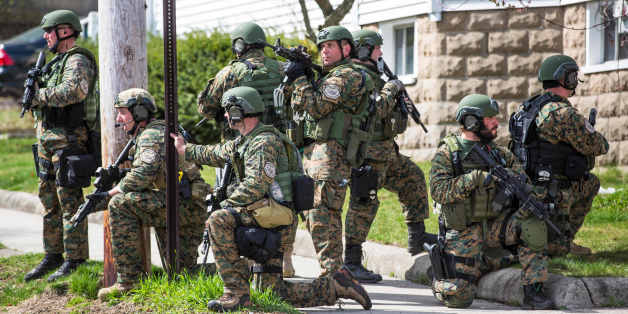 Boston, on Monday after the bombing, was a town of people in a daze, in shock. Everywhere you heard people mumbling, "Terrorist attack!?... 2 people dead." TV monitors in the larger stores showed Obama live as people stared in disbelief. It was a town of virtual zombies.
Some, who had friends at the marathon, visibly shook and were unsteady on their feet. "Are you all right?" someone would ask. "My friends went to the marathon and I haven't heard from them." When you talked to them, their voices were low and their sentences short and quick.
This morning we were all awakened or interrupted at 6:45 a.m. by robocalls. "Because of the police situation in Watertown, we are advising everyone to stay inside." That's about all they said. After a week of bombings and ricin-laced letters, the lack of details only made things worse. "Are we under attack?" we wondered. "Has there been another, bigger bombing?" The media slowly filled in the details, albeit inconsistently.
No, we are not under "lockdown." Some still walk the streets and even drive. But 98 percent are afraid to leave their homes. No cars are allowed in or out of neighboring Watertown, but people have been gathering near the suspects' home on Norfolk Street until pushed back by authorities.
Gradually the vehicles on the street diminished to only an occasional emergency vehicle, with one exception: the garbage collectors apparently had not heard the news and were emptying dumpsters. The empty streets, periodic sirens in the background and the lone garbage truck created a surreal scene.
Eventually even the emergency vehicles' presence stopped as all resources available converged on Watertown. Friends from across the U.S. and around the world called asking if we were OK and what was happening. "We're OK," we said. "Yes, we have plenty to eat. No, we're not really prisoners. No, nobody else has been hurt."
But in a way we are used to it. At least twice I have had to stay inside to endure New England snow blizzards. And it is the same thing: sit and wait, hope and pray, watch the story develop on the news. We receive calls asking if we are OK and a stream of notices that events have been cancelled. Yes, we know. No school, no dance lessons. Sit and wait until things get back to normal.
And normalcy will return. It always does. We are in America, where elections are always honored and emergencies are always temporary. We may have an occasional bump along the way, but in the end we are both free and secure. Because we have our freedoms and we have each other.
HuffPost Readers: Were you or someone you know in the area affected by the bombings or the manhunt? If you have any information to share, or want to tell us what you experienced, email openreporting@huffingtonpost.com. Include a phone number if you're willing to be interviewed. Let us know if you wish to remain anonymous.
PHOTO GALLERY
Notes From The Lockdown