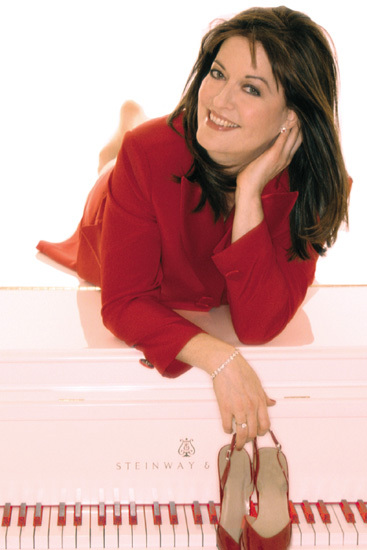 This week I talked with singer/songwriter Ann Hampton Callaway about her upcoming concerts. Ann will be appearing at 54 Below in New York City with her show Songs I Wish I'd Written with the Ted Rosenthal Trio on Nov. 24, 25, 27, 29 and 30. Ann has also been commissioned by the San Francisco Gay Men's Chorus to write a song called "I Love You More," which is a tribute to Tyler Clementi, the youth who took his life after being bullied for being gay. Stephen Schwartz chose several composers to create this suite to honor Tyler's life. Ann will perform the song's debut on March 25 and 26.
I talked to Ann about her upcoming shows and her spin on LGBT issues. When asked about her personal commitment to LGBT civil rights, she stated:
It's very interesting: Through the years, one of the most important things to me that I've noticed in terms of the quality of living is how essential it is to be yourself, and each person has to define that for themselves. I think being a lesbian, or bisexual, to be more specific, in this lifetime has been a fascinating adventure, because in my early years I felt so alone and so uncertain how safe it was to be me and how to define how to share that, especially pursuing a life in the public eye. So my own adventure and journey, sharing my real self, has really evolved through the years. I've tried to write many songs that address these issues. I've sung with numerous gay choruses through the years, and I've politically, in a private way, been very supportive of organizations that have helped equality and helped educate people who don't understand gay people. ... Now we're in a very exciting time where marriage equality is really kind of shocking, how much progress is being made. But at the same time, anytime there's progress, there's also a lot of very strong resistance. And how do you address that resistance? It's an interesting challenge for all of us to think about. I'm so grateful for the incredible political progress that so many have worked hard to make, and I've tried to commit myself to speaking out and raising money at various concerts. I've been invited to be part of, and I've been on, about 30 gay cruises, where part of being an entertainer is talking to people and telling stories and sharing stories, trying to heal wounds by listening and loving and sharing the ups and downs of being who you are. So I feel very strongly now, after finally coming out more publicly, that the rest of my life I'm going to do everything that I can to help people be their true selves. Whether they're gay, straight, bi, confused, sexuality is a very complicated thing, and it took me a while to fully understand my own, because I was complicated. So I celebrate that beautiful part of ourselves and looking forward to marrying my beloved partner Kari Strand in the very near future.
LISTEN:
Ann Hampton Callaway is a champion of the Great American Songbook whose gifts as a singer, pianist, composer, lyricist, arranger, actress, educator, TV host and producer have given her one of the most unique careers in music today. Callaway won the Theater World Award and received a Tony nomination for her starring role in the Broadway musical Swing! Known for writing and singing the theme of the hit TV series The Nanny, she's written over 250 songs, including the Platinum Award-winning hits for Barbra Streisand "At the Same Time," "I've Dreamed of You" and "Christmas Lullaby," which has just been rereleased on Barbra's latest holiday collection, The Classic Christmas Album. Ann has recorded 12 solo CDs and will be releasing The Sarah Vaughan Project: Live at Dizzy's early next year. Her critically acclaimed shows Sibling Revelry and Boom!, with her sister, Broadway star Liz Callaway, has been recorded live on CD, and Ann's three-time award-winning show The Streisand Songbook has taken the symphony world by storm.
For more information on Ann Hampton Callaway, visit annhamptoncallaway.com.
Listen to more interviews with LGBTQ leaders, allies, and celebrities at OUTTAKE VOICES™.
Download interviews on iTunes.