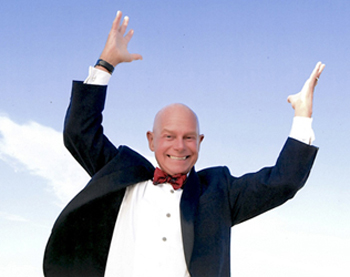 This week I talked with piano bar icon Bobby Wetherbee, who is celebrating 50 years of entertaining audiences in Provincetown, Mass. His talents have led him to perform at some top venues (including the St. Regis' King Cole Room, the Oak Bar at the Copley Plaza in Boston, New York's Top of the Sixes, the Colony on Madison Avenue, and the Carlyle), but it's Provincetown, on the tip of Cape Cod, that has played an enormous part in the growth of Bobby's career. Patrons from all over the world find their way to his piano bar. Bobby confesses that the show can change from very sophisticated to just plain sophisticated fun, with lots of audience participation, which he loves. He says he enjoys the diversity of the crowd and hearing from a gifted singer or two. I talked to Bobby about the longevity of his career and his spin on LGBT issues.
When asked what his reaction is to the Democratic National Platform finally coming out in support of marriage equality and a trans-inclusive Employment Nondiscrimination Act (ENDA), Bobby stated:
That was major, but I also feel that because I do remember Stonewall, the thing is it was just a matter of time. I'm so thrilled that within my lifetime I've seen this happen. As a kid and as an early gay man, everything was hidden. I was arrested three times for just coming out of a gay bar. I personally feel that along with the militants, the women, the gay women, keep it in the forefront, and I think that is amazing.
LISTEN:
Bobby has had his years of ups and downs, always battling his demons at the keyboard, finding a life of free expression in gay-friendly Provincetown, where the crowds fill his shows nightly and treat him like a cultural icon in his renaissance years. He now calls the Crown and Anchor lounge home, and he now carries the Key to the Town around with pride, saying it was an honor to be called a 50-year destination. Bobby will be performing at the Crown and Anchor through October.
For more information, visit onlyatthecrown.com.
Listen to more interviews with LGBTQ leaders, allies, and celebrities at OUTTAKE VOICES™.
Download interviews on iTunes.