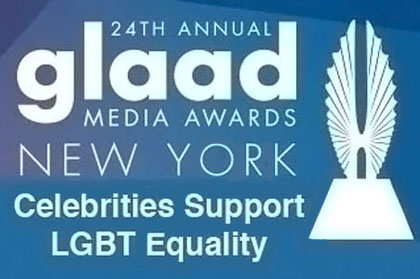 This was my fifth year covering the red carpet at the GLAAD Media Awards in New York, and there's always an abundance of celebs participating in this glitzy yearly ritual. With this week's Supreme Court cases on everyone's mind, I had the opportunity to ask LGBT leaders, straight allies and members of the entertainment industry about their spin on issues of LGBT equality, which I've compiled in the exclusive audio montage below.
Here's the rundown, in order:
Wilson Cruz, an openly gay actor and a GLAAD spokesperson, spoke with me about the cases before the Supreme Court and GLAAD's commitment to the transgender community.
Mel Wymore, the first openly transgender candidate for New York City Council, had a lot to share about teen bullying and the fight for LGBT equality. Mel went on to win a GLAAD Media Award for Outstanding TV Journalism in a Newsmagazine.
Carole Radziwill, a Real Housewives of New York City star and a straight ally to the LGBT community, told me about the GLAAD Media Award she won in 2000 and her take on LGBT issues.
Herndon Graddick, the president of GLAAD, talked about the Supreme Court cases and the direction that GLAAD will be taking in the next few years.
Craig Zadan and Neil Meron, a producing duo who won last year's Vito Russo Award and this year's Outstanding Drama Series for the NBC show Smash, gave me their thoughts on the show and some advice for LGBT teens who are dealing with bullying. It's always fun to catch up with them every year.
Krysta Rodriguez, an actress and singer who appears on Smash, discussed being a straight ally.
John Leguizamo, an actor, also talked about being a straight ally.
Laverne Cox, an actress, producer, transgender advocate and one of my faves, discussed her role in Susan Seidelman's new film Musical Chairs, which was nominated for a GLAAD Media Award this year.
Brent Ridge and Josh Kilmer-Purcell, stars of The Fabulous Beekman Boys and The Amazing Race, talked about their plans for their wedding, which is scheduled for this summer. They accepted the GLAAD Media Award for Outstanding Reality Program for The Amazing Race.
Christian Borle, a Tony-winning actor and singer who also stars in Smash, stopped by to talk about the show and his commitment to LGBT equality.
Avan Jogia, an actor who appears in the upcoming ABC Family show Twisted and co-founded the organization Straight but Not Narrow, gave me his spin on teen bullying and talked about his new TV show.
Bobbie Birleffi and Beverly Kopf, the filmmakers behind the GLAAD Media Award-nominated documentary Chely Wright Wish Me Away, talked about their film. They're also getting married this summer -- must be something in the air!
Sam Champion, the weather man on ABC's Good Morning America, stopped by with his husband, Rubem Robierb, to talk about married life and changing attitudes toward the LGBT community.
Finally, Josh Elliott, a news anchor on Good Morning America, shared with me an intimate story about his gay dad and how Josh wishes his dad could have lived long enough to find love and legally marry.


LISTEN:
The 24th annual GLAAD Media Awards were hosted by Good Morning America anchors Sam Champion, Josh Elliot and Lara Spencer and were held at the Marriott Marquis Theater in New York City on March 16. Additional awards will be presented in Los Angeles on April 20 and in San Francisco on May 11.
For more information on the GLAAD Media Awards, visit glaad.org/mediaawards.
Listen to more interviews with LGBTQ leaders, allies, and celebrities at OUTTAKE VOICES™.
Download interviews on iTunes.