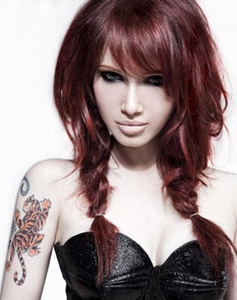 I talked with sultry pop songstress Emii, whose recent remix of her hit song "Stilettos" grabbed the attention of "MTV Buzzworthy," landing on their ultimate Friday-night "getting-ready playlist." "Stilettos" is the follow-up to Emii's Snoop Dogg collaboration, "Mr. Romeo." "Stilettos" has all the right ingredients for a fabulous, hot dance-floor sensation. Emii is a gay-club favorite, having performed at the U.S.'s number-one gay nightclub, Krave in Las Vegas. According to her press kit:
Emii has been taking the world by storm with her infectious music and her rocking style. Her controversial video for "Stilettos" can be found on MTV Logo's on demand channel amongst club favorites Lady Gaga and Beyonce. No stranger to the stage, Emii has performed all over the world, singing at the hottest spots in Miami, New York, and Los Angeles, and touring Beirut, Lebanon, on the NJR Music Tour. With her eyes on the prize, Emii is focused on breaking boundaries, inspiring others, and sharing her musical prowess with the world.
I talked to Emii about her music and her spin on our LGBT issues. When I asked what her personal commitment is to LGBT civil rights as a heterosexual woman who has performed in gay clubs and licensed her songs to the gay TV network Logo, Emii stated:
Actually, I would correct you a little bit there. If we have to put a label on my sexuality as it stands, I honestly believe I would more accurately define it as pansexual. It is entirely irrelevant to me what gender someone is. For me, personally, falling in love is purely dependent on the quality and personality of the individual, so I'm open to falling for the right person for me, whatever that may be. But regardless, I believe it is our fundamental right as human beings to love who we love. I think it is a crime against humanity to chastise people for their personal decision when those decisions have no ill effect on society.
LISTEN:
For more information on Emii, visit emii.net.
Listen to more interviews with LGBTQ leaders, allies, and celebrities at OUTTAKE VOICES™.
Download interviews on iTunes.