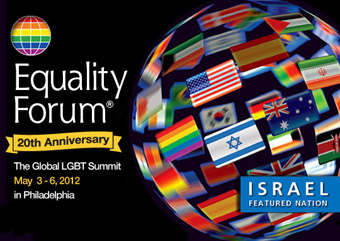 Equality Forum is a national and international LGBT civil rights organization with an emphasis on education. This year Equality Forum is celebrating its 20th anniversary May 3 to May 6 in Philadelphia. I talked to Malcolm Lazin, founder and Executive Director of Equality Forum, about this significant event. Israel is this year's Equality Forum International focus. In addition to exceptional panels with LGBT leaders and allies, there are also lots of dance parties, entertainment, and just basic fun events.
When asked what special guests and events we can expect this year, Lazin stated:
Well we really do have the best and the brightest, in terms of all of the major issues, whether it's our religious colloquy, transgender, a panel on Israel, racial panel, legal panel, political panel, sports, military, marriage equality panel, as well as our national youth panel. There are 15 regional, state, national, and international organizations that put on programs about themselves and their mission. I would say that all of these panels are highlights, but certainly, for example, our national politics panel. The moderator is Chuck Wolfe, President and CEO of the Gay & Lesbian Victory Fund, with panelists Clarke Cooper, Executive Director of the Log Cabin Republicans; Rebecca Isaacs, Executive Director of the Equality Federation; Patrick Guerriero, who was really the founder of the Gill Action Fund; and Andy Tobias, the treasurer of the DNC and the highest-ranking openly gay person at the DNC. So it gives you a sense of why I say the best and the brightest that we bring to these panels.
LISTEN:
Equality Forum presents annually the largest and premier national and international LGBT civil rights summit, with over 30 programs, parties, and special events. There isn't a registration fee, and all panels are free. The International Equality Dinner at the National Museum of American Jewish History will be held Saturday, May 5. This year's honorees are Annise Parker, mayor of Houston, with the 17th annual International Role Model Award; and NBC Universal, with the 10th annual International Business Leadership Award. Michael Oren, Israel's ambassador to the United States, is the keynote speaker, and Craig Robinson, Executive Vice President and Chief Diversity Officer at NBC Universal, will accept his company's award. MSNBC Anchor Thomas Roberts is master of ceremonies.
For more info and to reserve dinner tickets, visit equalityforum.com.
Listen to more interviews with LGBTQ leaders, allies, and celebrities at OUTTAKE VOICES™.
Download interviews on iTunes.