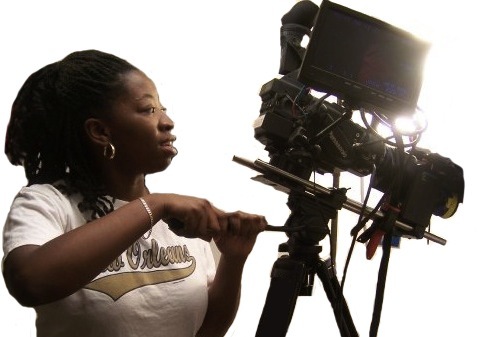 This week I talked with filmmaker Caryn Hayes about her acclaimed short film Clean Hands, which had its world premiere at the 2014 Pan African Film Festival. Clean Hands follows Anna (Grasie Mercedes) and Kirsten (Dawn Noel), a married lesbian couple who are caring for Anna's terminally ill father (Kurt Sinclair). Anna is forced to deal between her homophobic father, her wife, her Christian beliefs and her sexuality. Clean Hands, which also appeared at the Miami Gay and Lesbian Film Festival and the Women's International Film and Arts Festival, will be available for a digital download Aug. 22.
I also talked with Caryn about her spin on LGBT issues. When asked about her personal commitment to LGBT civil rights, she stated:
I would say that I definitely put my money where my mouth is, so to speak. I definitely don't go to the Chick-fil-As of the world. I definitely do that, as well as when I create stories, I try and create characters not only for LGBT people but also black characters that you don't always see in the world. People have their singular view, and I want to show that we are very vast and different, and we're just like you.
LISTEN:
Caryn Hayes is originally from New Orleans and is a graduate of Xavier University of Louisiana. She is a two-time winner of the TV Pilot Award in the original-script competition presented by the Organization of Black Screenwriters, for The Ridge in 2007 and Dirty Thirties in 2009. She was awarded Outstanding Writing in a Drama Series at the 2011 Los Angeles Web Series Festival for her series Breaking Point, which has received over 20 nominations and awards in total, including nods for Best Drama and Best Directing from the 2012 International Television Festival. Caryn's most recent Web series, Entangled With You, has already won five awards, with three other nominations, and has just launched its second season. Additionally she has produced, written and coordinated numerous documentary and corporate videos, short films, independent features, TV pilots and commercials. Caryn continues to seek out and create character-driven stories for any format with an unwavering passion for diversity and is a voice to be reckoned with in the lesbian film community.
For more information on Caryn Hayes' projects, visit hardlyworkingent.com.
Listen to more interviews with LGBTQ leaders, allies, and celebrities at OUTTAKE VOICES™.
Download interviews on iTunes.