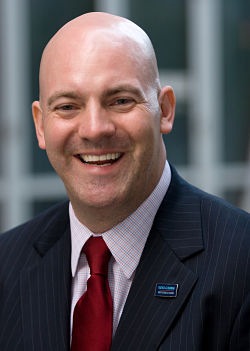 As a diehard Democrat, the 2012 GOP primaries look bleak to me. I do believe in nonpartisan government as long as the candidates are pro-gay and pro-choice. Over the last few years I've interviewed a number of openly gay Republicans, including R. Clarke Cooper, Executive Director of the Log Cabin Republicans. After Mitt Romney and Rick Santorum finished head to head in the Iowa Caucus, I thought this would be an ideal time to talk to Clarke about the GOP candidates running for president and where they stand on gay rights.
The last time Democrats and Republicans were in agreement on LGBT issues was during the Carter-Ford election back in 1976. When asked where the Republican Party stands on our LGBT issues today, Cooper stated:
Well, Charlotte, that's a very good question, and that's a question asked by fellow Republicans within the party. There's actually a divide that's mostly generational within the party. What I mean by that is one can look at the generational groups within the party. Log Cabin Republicans are only one of many ancillary groups in the party. We happen to be the gay group, but you also have groups that are more generationally oriented. Young Republicans, College Republicans are where you find most of your millennials, the people who are 30 and under. Why is this important, you ask? It is important because these are the registered Republicans who are either supportive of gay rights at best or minimally are agnostic when it comes to issues like marriage equality, employment nondiscrimination, or, at the time, the repeal of "Don't Ask, Don't Tell." It's a huge divide, and that's not just anecdotal; it's actually measured by internal polling by conservatives for conservatives, and also reflective in polling in media like CNN, ABC, you name it. It is noted by the party that there is that shift.
Cooper actually came out while working for the George W. Bush administration. He's an Army Reserve Captain who served in Iraq during DADT. The Log Cabin Republicans were instrumental in the repeal of "Don't Ask, Don't Tell." Clarke also shared with me what it's like serving as an officer in the Army Reserve today, after the repeal of DADT. We also discussed how he would rate the Obama administration's performance on LGBT civil rights and what advice he would have for LGBTQ teens who face bullying incidents.
LISTEN:
Listen to more LGBT leaders, allies, and celebrity interviews at OUTTAKE VOICES™.
Download interviews on iTunes.