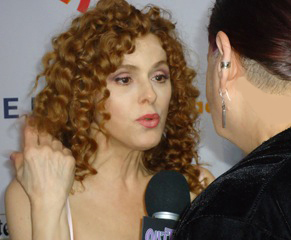 Bernadette Peters chats with me.
I had a fabulous time covering the 23rd annual GLAAD Media Awards Saturday night in New York City. First I chatted with all the celebrities who graced the red carpet (listen to the audio interviews below). Then the festivities got underway with hosts Naya Rivera and Cory Monteith, both stars of Glee. There was a fantastic auction that raised hundreds of thousands of dollars for GLAAD. One of the highlights was Cory Monteith, Naya Rivera, and John Stamos auctioning off kisses onstage for the organization. Then there was the Special Recognition Award, presented by movie industry icon Harvey Weinstein, for openly gay, 17-year-old anti-bullying advocate Katy Butler, who got the movie rating changed on Bully. John Stamos and Bernadette Peters presented the Vito Russo Award to the fabulous producing team of Craig Zadan and Neil Meron (known for Chicago, Hairspray, and Smash).
Craig and Neil talked with me on the red carpet about LGBT teen bullying and the new film they're producing about Constance McMillen for Lifetime. Constance McMillen was the young teenager who ignited a national controversy in 2010 when she was banned from bringing a female date to her prom in Mississippi's Itawamba County School District. In his acceptance speech Zadan stated:
I want to thank GLAAD for selecting us to be honored, and for their extraordinary work every single day. When we did The Reagans movie, we had death threats for telling the truth about that president's outright refusal to acknowledge the growing AIDS crisis in America. We would not have survived that ordeal, I must point out, without the help of GLAAD. They got us through the political firestorm leveled against us by the Republican National Committee. So we got to see firsthand what GLAAD's capable of accomplishing when they mobilize the troops, and thank God for them.
Zadan finished his acceptance speech by thanking his late friend and GLAAD's founder, Vito Russo: "Some people become your heroes, and they don't even know it. Vito Russo was mine. And the lucky thing for me was I got to tell him while he was here."
I also talked about issues facing our LGBT community, with an emphasis on anti-LGBT teen bullying, with a number of celebrities, including fashion guru Carson Kressley; Broadway stars Bernadette Peters and Megan Hilty, both fierce straight allies; GLAAD Board of Directors co-chair Sheri Fults; GLAAD Acting President Mike Thompson; the fabulous transgender actress Laverne Cox; Robin Skye, whose play Southern Comfort won the GLAAD Media Award for Outstanding New York Theatre: Off-Off Broadway; and Zach Wahls, who appeared in a GLAAD Media Award-nominated episode of The Ellen DeGeneres Show and received a standing ovation as he spoke to the crowd about the impact of his 2011 speech to the Iowa senate, in which he spoke about his lesbian moms. Then I chatted with NY Ink's Robear; figure skater Johnny Weir and his new husband Victor Voronov; actress Kim Wayans, who talked about her role playing the mother of a lesbian daughter in Pariah, which won the GLAAD Media Award for Outstanding Film: Limited Release; Chopped host Ted Allen, who shared his spin on LGBT issues; and Jay Manuel, who shared his advice for LGBT teens faced with the bullying epidemic.
LISTEN:
The 23rd annual GLAAD Media Awards were sponsored by Ketel One and Wells Fargo and took place March 24 at the Marriott Marquis Theater in New York City. Additional awards will be presented April 21 at the Westin Bonaventure Hotel and Suites in Los Angeles, and June 2 at the San Francisco Marriott Marquis.
For more information and a list of winners, click here.

Listen to more interviews with LGBTQ leaders, allies, and celebrities at OUTTAKE VOICES™.
Download interviews on iTunes.