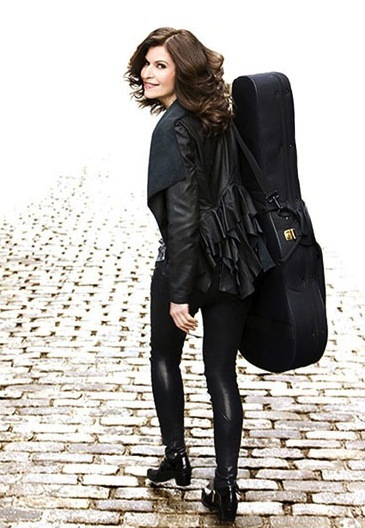 This week I talked with Sharon Isbin, the multiple Grammy-winning guitarist, about the new American Public Television documentary she stars in, Sharon Isbin: Troubadour. As one of the most acclaimed classical guitarists in the world, she has made an enormous musical impact, dazzling audiences for over 30 years with more than 25 recordings, winning three Grammy Awards and covering a wide range of styles, genres and composers. The film, produced by Susan Dangel, combines performance and documentary, focusing on Isbin's groundbreaking journey, which has expanded and transformed the landscape of this instrument. The film includes interviews with Martina Navratilova, Joan Baez, Garrison Keillor, Janis Ian, Lesley Gore, Michelle Obama and many others.
I talked with Isbin about this inspirational documentary and her spin on LGBT issues.
When asked what she would like to see happen for LGBT equality in the next few years, she stated:
Wouldn't it be a wonderful world if you didn't have to worry about simply wanting the same rights as everyone else has, whether it be marriage, whether it be job security, whether it be education opportunity, not to be bullied? I mean, these are basic human rights that we are still fighting for today, and it would be wonderful if that world would change and people could really feel free to be who they are and be accepted by their families, be accepted by their colleagues and their friends, and really live their lives without having to worry about a sexual orientation being a determining factor in whether or not they can be accepted or successful.
LISTEN:
Sharon Isbin began her guitar studies in Italy at age 9 and later studied with Andrés Segovia and Oscar Ghiglia. Since then she has performed with more than 170 orchestras around the world. She has also commissioned more concerti than any guitarist in the modern era and has won numerous awards and accolades. Currently she is the director of the guitar departments at the Aspen Music Festival and The Juilliard School, where, in 1989, she became the first and only guitar instructor in this prestigious institution's 100-year history. Sharon Isbin: Troubadour, the American Public Television documentary, begins broadcasting on Nov. 14 and will continue throughout December and January on nearly 200 public television stations, including New York WNET and Chicago WTTW.
For more information on the film, visit sharonisbintroubadour.com.
Listen to more interviews with LGBTQ leaders, allies, and celebrities at OUTTAKE VOICES™.
Download interviews on iTunes.