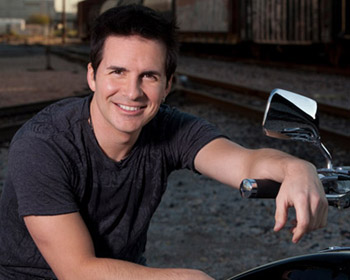 I talked with actor Hal Sparks, star of Disney XD's top-rated TV series Lab Rats and one of my personal favorites, the groundbreaking series Queer As Folk. Sparks also appears as a regular guest and fill-in host on The Stephanie Miller Show, a national radio show, providing three hours of commentary and humor on Wednesday mornings. I talked with Hal about the new season of Lab Rats and his spin on LGBT issues.
When asked about his personal commitment to LGBT civil rights, Sparks stated:
In my life growing up in Kentucky, I used to hang out with four running buddies as a kid -- 6, 10, and 11 years old. Two of them would later come out, and so 50 percent of my friends as a kid were gay. So in the long run, I guess, the short answer is people will ask you why you care about gay rights or why you care about LGBT issues, and my question would be, "Why wouldn't you?" If you are for freedom and equal rights, which we hear a lot of talk about these days, then you have to include the LGBTQ community in that. And if you're not willing to put your time where your mouth is, then I don't know quite what you mean by commitment in your life. I think the AIDS crisis was a shock to the community. It required sort of a new level of commitment to all of these issues. And I think the primary one was lack of hospital visitation rights, which is probably the crux of my involvement early on working with Marianne Williamson and AIDS Project Los Angeles and Project Angel Food. And once you get past the life and death of it, you know you get to the life of it.
LISTEN:
Sparks is very politically active, not only in his cutting-edge stand-up and weekly Saturday radio show The Hal Sparks Radio Sow, which was picked up by Sirus XM for this fall, but as the celebrity spokesperson for major equality and civil-rights movements, including the NOH8 Campaign and AIDS Walk. Hal appears in top shape with two sold-out tours: Stephanie Miller's Sexy Liberal Comedy Tour, which boasts the country's number-one album on the Billboard comedy charts, and SRO dates with his leading rock band, ZERO 1. All new Lab Rats episodes air through the summer on Thursday nights at 7:30 p.m. on Disney XD, and the cast returns to tape the new fall season in August. I just wish they would make a reunion film for Queer As Folk. That would definitely be must-see viewing. Hal resides in Los Angeles and is a proud new father to son Camden.
For more information on Hal Sparks, visit halsparks.com.
Listen to more interviews with LGBTQ leaders, allies, and celebrities at OUTTAKE VOICES™.
Download interviews on iTunes.