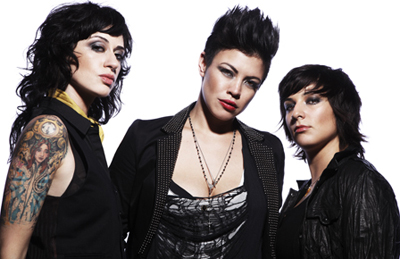 Lesbian rock band Hunter Valentine are currently on their North American tour after starring in Season 3 of Showtime's hit reality series The Real L Word. No one can deny the momentum behind Hunter Valentine, with their third studio album, Collide and Conquer, out Oct. 23 on Megaforce/Sony. It all began when lead singer/guitarist Kiyomi McCloskey met drummer Laura Petracca in a dark, dirty bar in their hometown of Toronto and forged an unbreakable bond. Now, eight years later, with two studio albums under their belt, the band has grown into a veritable powerhouse, performing worldwide on over 200 tour stops a year with bassist Veronica "Vero" Sanchez and lead guitarist Aimee Bessada, the band's newest member.
This week I talked with the ladies of Hunter Valentine, who were literally on the road, heading east from Chicago, about The Real L Word, the new album and their spin on LGBT issues. When asked about their personal commitment to LGBT civil rights, they stated:
As a band, as a public figure, you're constantly in the spotlight, and we have a lot of young people that approach us and ask questions about their sexuality, and our contribution is to be a role model within the LGBT community. So you know, whether we're on stage playing a Pride festival or we're answering an email about a kid who's getting bullied at school for being gay, that's kind of how we contribute. Or having a 50-year-old woman confused because she's finding out that she's a lesbian and has children and is married and doesn't know what to do. Like, we get all kinds of different sorts of people -- fans, friends -- that approach us, and we feel that our part is trying to be there and answer as many questions as possible, because we want to try and help anybody in any situation. And the more people feel like they have that positive equal space, it's going to show the rest of the world that everyone deserves to have equal rights, and that queer people are just the same as everyone else.
LISTEN:
Hunter Valentine's Collide and Conquer Tour is currently playing North America through November, then they're headed to Japan and Europe. Their new Megaforce/Sony Album Collide and Conquer will be available Oct. 23. For more info on the band and to find tour dates, visit huntervalentine.com.
Listen to more interviews with LGBTQ leaders, allies, and celebrities at OUTTAKE VOICES™.
Download interviews on iTunes.